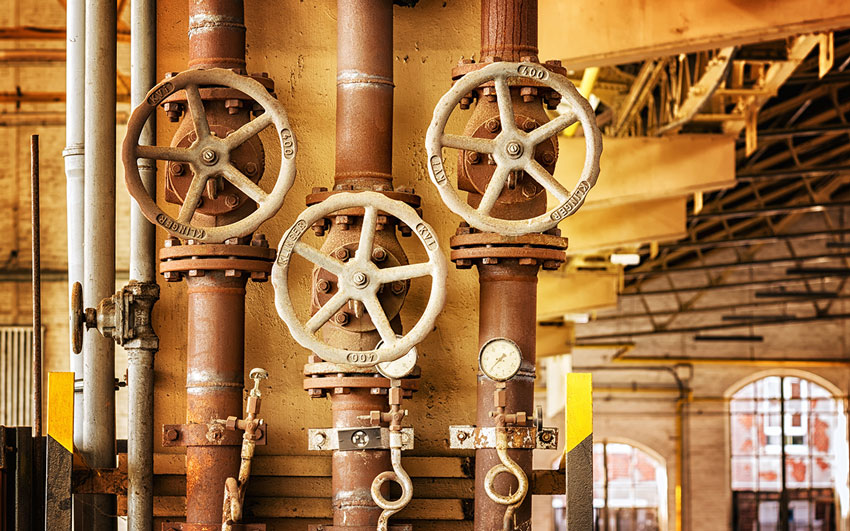 A 451 Alliance survey of IT professionals who have direct involvement with Internet of Things (IoT) or operational technology (OT) found some interesting trends in the present and future of these technologies.
What is OT?
451 Research defines operational technology as technology that uses data from connected endpoints (valves, road sensors, etc.) to monitor changes in physical processes. Operational technology is one application of IoT technology. For example, operational technology can help municipalities track how much traffic is traveling over their roads via the use of embedded, connected sensors.
What People Expect from IoT/OT Deployments
We asked Alliance members what was the most important outcome from IoT deployments; here's what they said.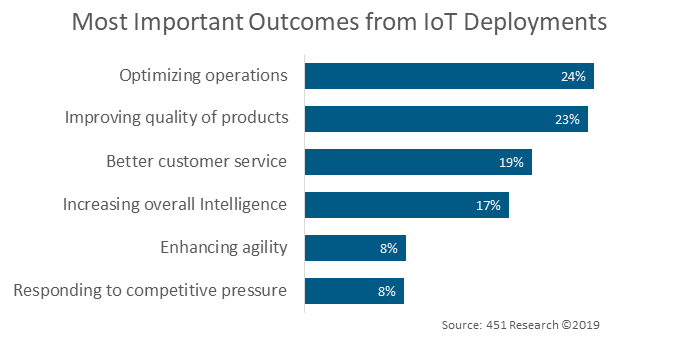 More efficient, higher-quality systems were the most important benefits to their organizations, with optimized operations (24% of respondents) and improved product/system quality (23%) topping the list. Enhanced agility (8%) and responding to competitive pressure (8%) were tied at the bottom.
Drilling Down into Manufacturing
The manufacturing industry is changing with the times, and operational technology is instrumental to building, maintaining and improving the factories of tomorrow.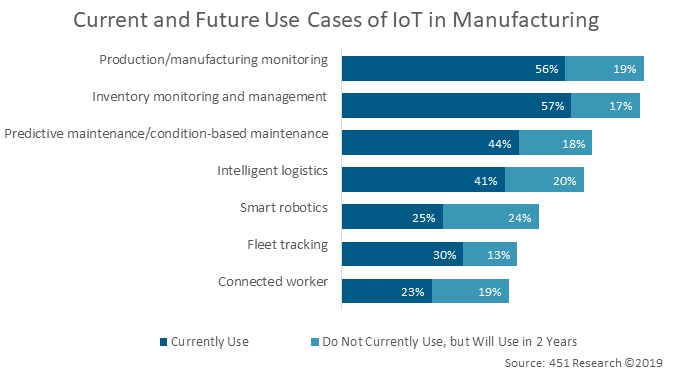 Inventory management is the operational technology with the highest current adoption among manufacturing industry respondents (57%). Our data shows that an additional 17% plan to start using inventory management OT within the next two years.
Production monitoring is almost tied with inventory management – 56% of manufacturing professionals are currently using IoT for production/manufacturing monitoring – and looks poised to keep that pace over the next two years as an additional 19% of manufacturing respondents expect to start using IoT to monitor production.
As automation progresses in the manufacturing industry, smart robotics is ready to take off. Twenty-five percent (25%) of manufacturing professionals' organizations are using smart robotics today.
An additional 24% expecting to start using smart robotics in the next two years, giving it the highest growth potential of the IoT use cases our survey asked about within the manufacturing industry.
Barriers to IoT/OT Deployments
As with all new technologies, implementation of operational technology comes with some hurdles. We asked Alliance members about the barriers they experience when deploying IoT technologies at their organization.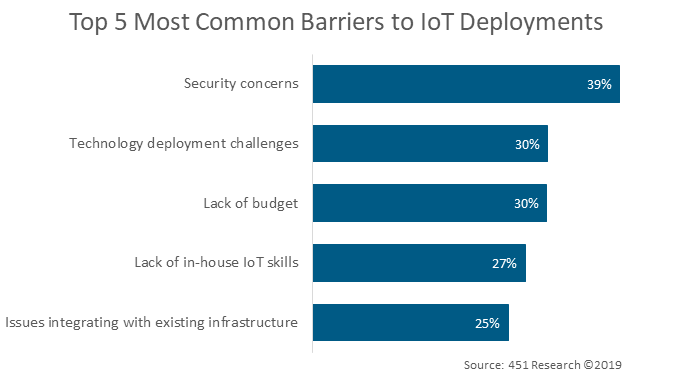 Four of the five most common barriers to IoT deployments suggest a talent acquisition and management challenge: hiring or developing IT staff that can build, install and maintain new IoT/OT technologies.
Twenty-seven percent of respondents indicated that a lack of in-house IoT skills was a barrier to new IoT deployments. There are echoes of this sentiment in three of the other five most common barriers:
39% identified security concerns as a barrier to new IoT deployments at their organization.
30% encountered technical issues with deploying IoT.
25% experienced issues integrating new IoT deployments with existing infrastructure.
How Are You Handling OT at Your Company?
Do you work with IoT/OT technologies at your organization? Share your experience as a member of the 451 Alliance. Apply to see if you qualify for free membership.
---