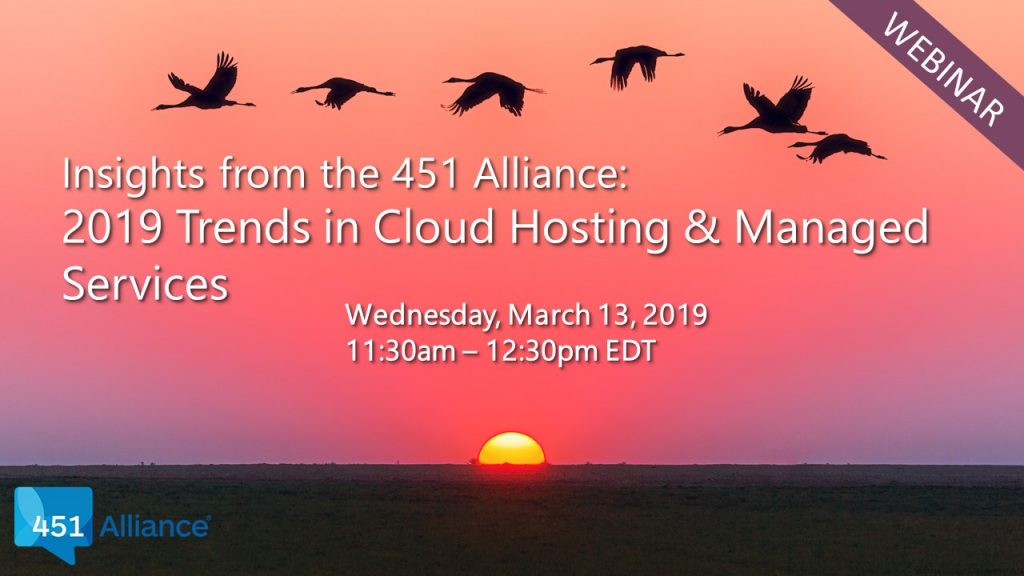 Join us at the upcoming 451 Alliance webinar, 2019 Trends in Cloud Hosting & Managed Services on Wednesday, March 13, from 11:30am-12:30pm EDT.
451 Alliance members will receive the slide deck and a recording following the presentation.
Not a member of the 451 Alliance? Submit an application to join the IT think tank and enjoy invitations to this and future webinars, the slide deck and recording,  and unlimited access to our archives.
Apply here to see if you qualify for membership:

Webinar Details
As cloud becomes more central to how IT is executed, the platforms and enterprise deployments become increasingly complex. 
Dealing with this complexity is becoming the role of the cloud enablement provider, offerings managed and professional services ranging from assessment and design to ongoing optimization and security of deployments. 
Service providers from every category are converging on this market, and facing a range of new challenges. 
Join Liam Eagle from 451 Research's Managed Services and Hosting for a webinar that will cover: 

Service provider trends around partnering upstream and across services 

Adding value through specialization

The growing importance of security

This session will include a Q&A period.