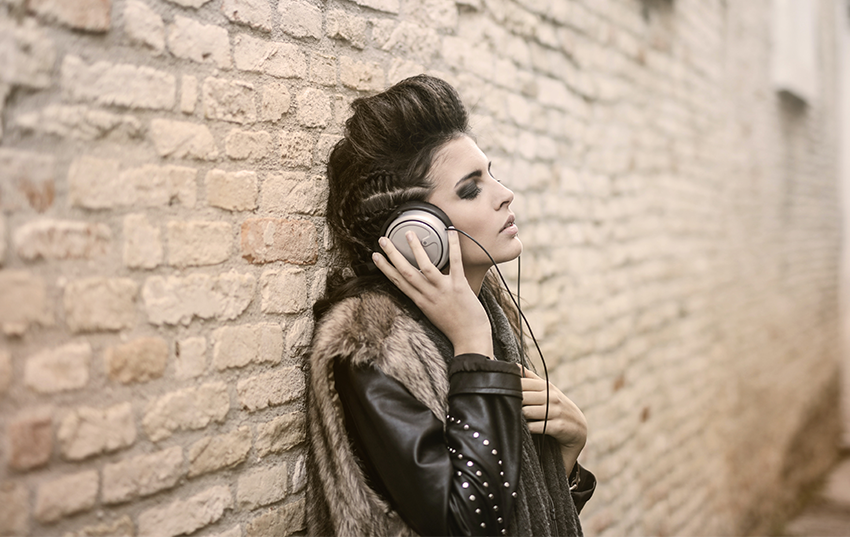 As the Internet of Things (IoT) continues to gain traction across key vertical sectors, users are finding that they need a faster and less costly way to extract value from the IoT data they collect. The secret to a more efficient IoT experience, says 451 Research senior analyst for IoT Rich Karpinski, is bringing the processing and analysis of data out to the edge.
"We've seen growing interest in the edge as an execution venue for IoT, and also an analytics venue," said Karpinski in presenting a webinar titled, The Keys to IoT Project Success. In reading out the findings from a survey of 451 Alliance members, Karpinski noted that IoT initiatives that commenced in the cloud have been pushed to the edge to achieve a number of key benefits.
There's a real need and interest in doing as much processing close to where the data is analyzed to be able to move just the right data to just the right place for just the right reasons.

Rich Karpinski, 451 Research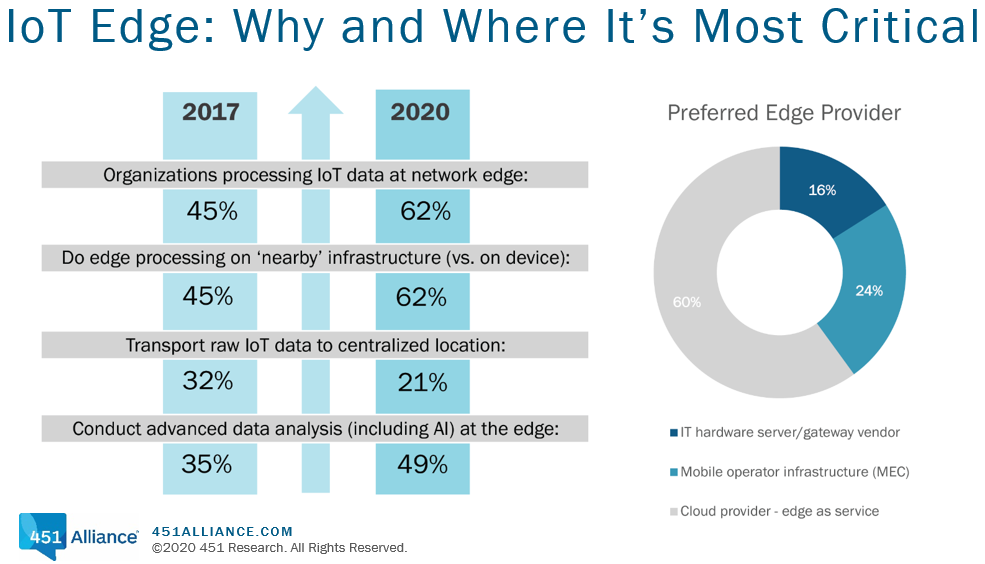 "There's a variety of reasons why some of [the IoT work] handled in the cloud early on needed to be pulled out and handled at the edge," he reported.
"Performance [and] latency are obvious reasons for certain types of applications…. There's a real need and interest in doing as much processing close to where the data is analyzed to be able to move just the right data to just the right place for just the right reasons."
The lingering challenge of pushing projects from POC to production
Despite noticeable growth in such industries as manufacturing, retail and government, there remain inhibitors that have acted to restrict the expansion of IoT as a mainstream technology.
"[Many] enterprise IoT projects get to trial, and then there's a fairly large hurdle to get them out of proof-of-concept and into production," Karpinski observed.
The Alliance study revealed a marked increase (from 54% in 2019 to 70% in 2020) in the percentage of respondents identifying the stalling of IoT projects in POC as 'a problem.' And, Karpisnki added, "one-third of those 70% are calling it a 'major issue' that hampers their overall project success…. So that's not necessarily a great story."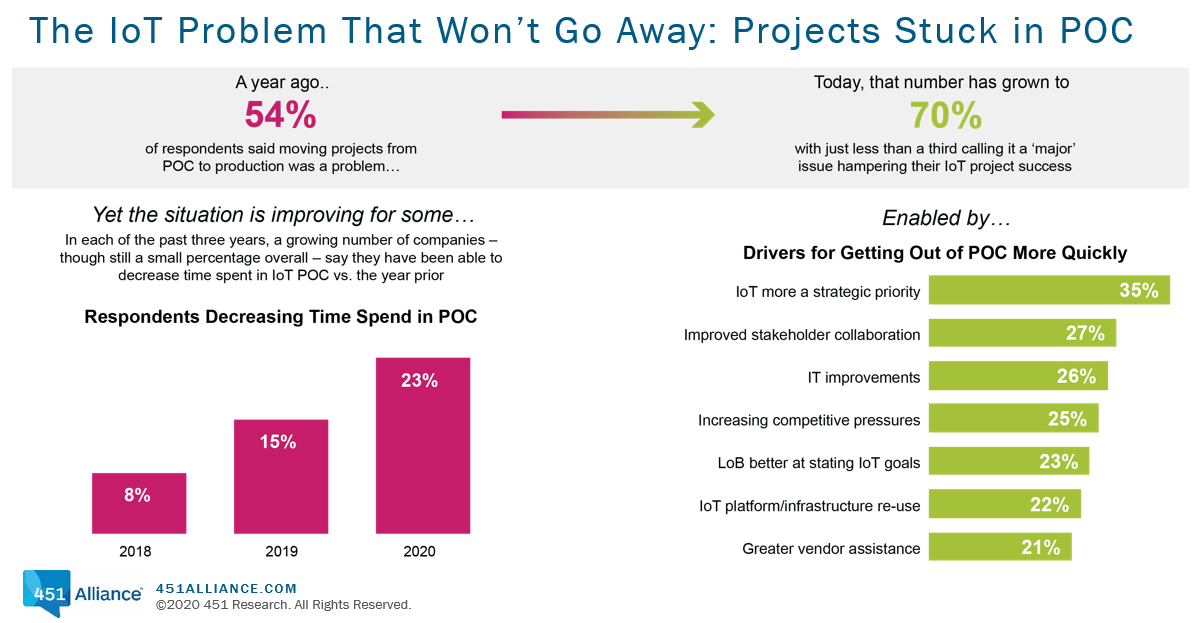 "It's fun to play around with IoT as a hobby, but to get it deployed from an infrastructure-integration and a business-process perspective, [to where it's] really deeply embedded into an organization, is quite a challenge."
IoT skills gaps also a gating factor
As with many emerging technologies, it takes know-how to use IoT effectively. The survey research demonstrated a few critical skills gaps even in the sectors heavily invested in IoT. A dearth of qualified staffers with skills in security, operational technology (OT) and data analytics/AI plays a role in suppressing further investment in IoT-based solutions.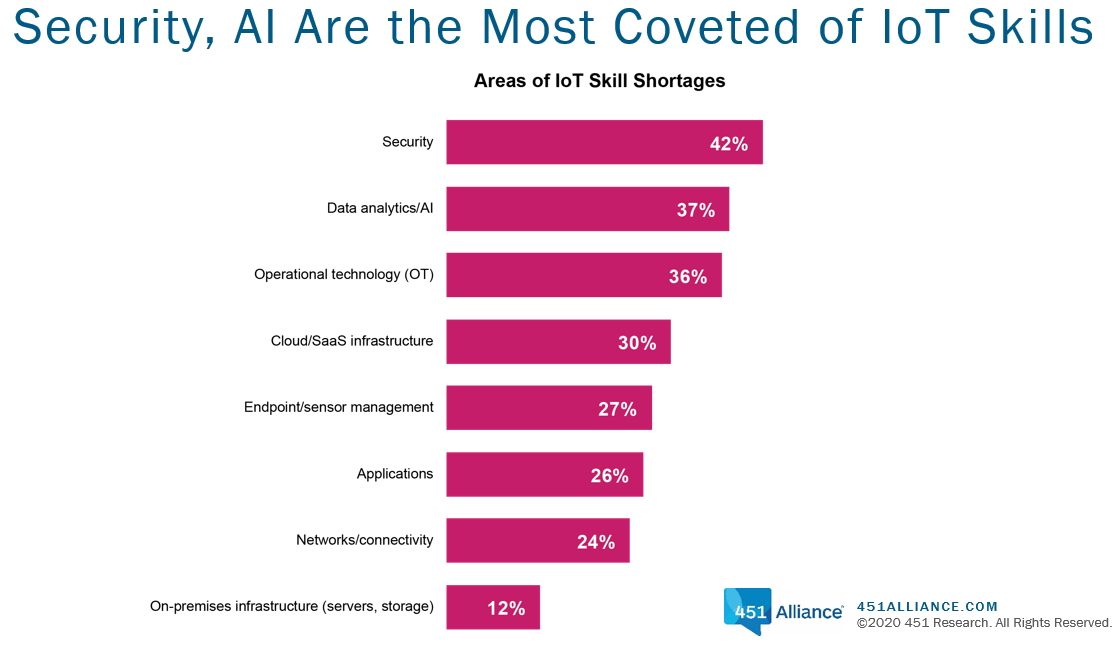 "These projects don't work without… well-understood security practices for dealing with the new vulnerabilities that IoT endpoints and new types of connectivity and network usage require," Karpinski said.
Pandemic has organizations thinking IoT
Karpinski touched on the impact of the COVID-19 pandemic on IoT deployments. Although one might have expected the virus to have suppressed an emerging tech application like IoT, just the opposite was true.
"It goes to the fundamental challenge the pandemic has presented all of us, which is [that] we're suddenly [experiencing] less direct-touch," he said. "Can you leverage IT, and in this case, IoT, to touch… or keep those customers safe in new ways?"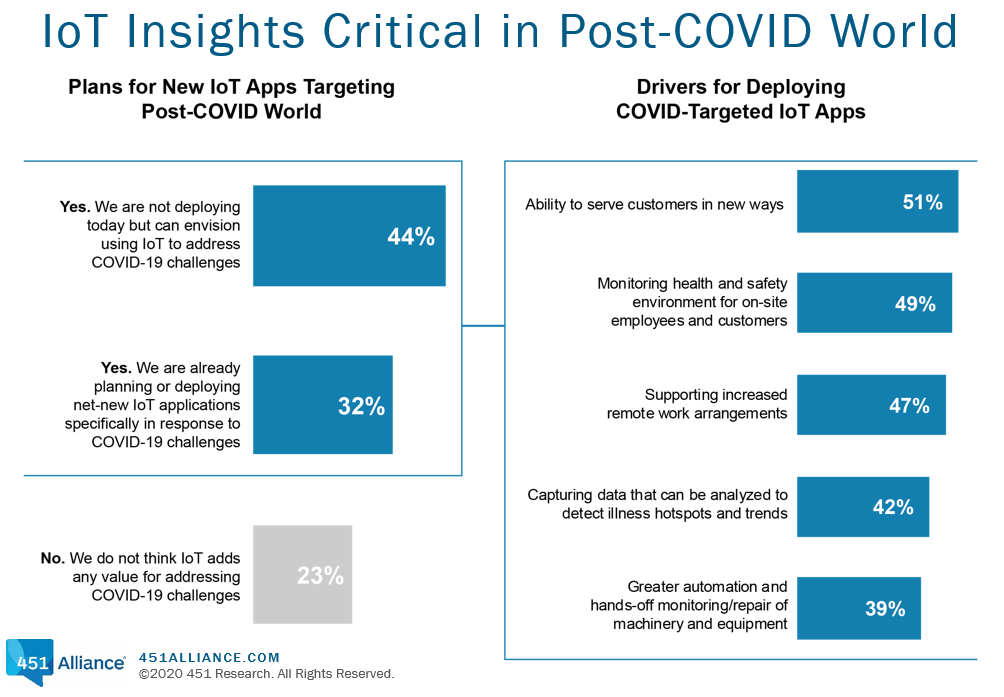 ---
Members of the 451 Alliance can view this webinar and accompanying slide deck at their convenience on the 451 Alliance member portal. Our complete catalog of on-demand content is available exclusively (and at no cost) to the IT professionals who have taken part in our invitation-only surveys and interviews.