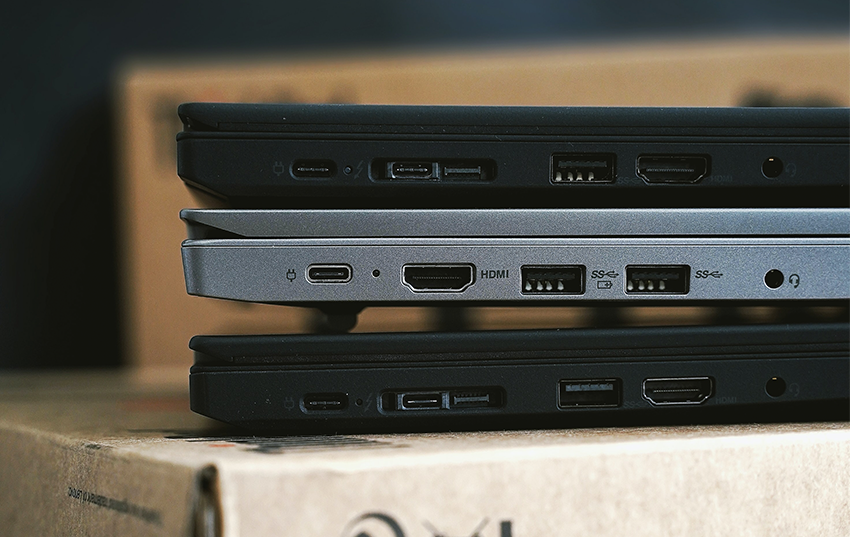 The 451 Alliance finds that companies have plans to increase spending on tablets and PCs for 2021. These results are also from the 451 Alliance's November 2020 IT Spending survey.
Tablets
Corporate tablet buying plans hold steady with a slight 1-point gain compared to our previous survey in August. These findings are also equal to our reading from a year earlier in November 2019.
Notably, this increase is being driven by larger companies (>1,000 employees; 19%) which are showing a 4-point uptick compared to smaller companies (<1,000 employees; 8%) which report a slight 1-point downtick compared to previously.
After an increase in demand last quarter, Apple (74%) is settling back down in the current survey, but still holds a commanding lead among companies planning to buy tablets. Like corporate smartphone purchasing, Apple is firmly in the top spot.
Among top manufacturers, Apple is the only one to show a decrease this quarter, with Microsoft (17%), Samsung (15%) and Dell (11%) all experiencing increases in demand. These are likely short-term bumps as the pool of potential Apple buyers was reduced after last quarter's uptick.
PCs
Corporate spending plans for laptops (34%) and desktops (16%) are producing gains compared to our previous survey in August, up 2 points and 1 point respectively. These increases are in-line with this quarter's readings across other areas of IT spending that were previously reported.
Digging deeper, our PC findings uncover greater planned spending among larger vs. smaller enterprises. The increase in laptop purchasing by larger companies (64%; up 6 points) is more than offsetting the slight 1-point dip among smaller ones (23%). Desktop buying on the other hand is down across both groups, a slight 1 point among smaller companies (12%) and 2 points among larger ones (21%).
The improvement in planned laptop spending has in turn led to some changes in the positioning among manufacturers. Dell (45%; unchanged) remains the top choice by companies, maintaining their lead despite improving demand for Lenovo (29%; up 3 points) and HP (27%; up 2 points). After seeing an uptick in demand over the last couple quarters, Apple (27%; down 3 points) has settled back down in the current results, similar to what we are seeing with regards to iPad demand.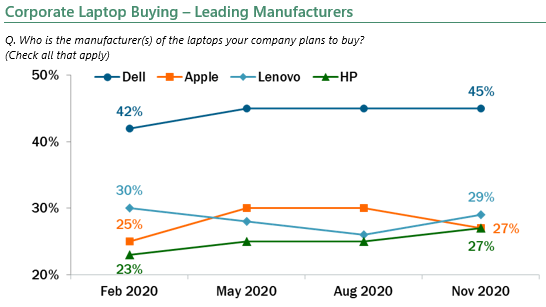 The same cannot be said for desktop purchasing. While Dell (55%), Apple (24%), HP (23%) and Lenovo (13%) are all experiencing upticks in demand their relative positioning stays the same as last quarter. One big factor creating these across-the-board upticks is the decrease in the number of respondents choosing "other" or "don't know" (10%; down 11 points). This suggests that there is more certainty at companies about their desktop purchasing plans to warrant more specificity on these expenditures.
---
Want insights on business spending trends delivered to your inbox? Join the 451 Alliance.