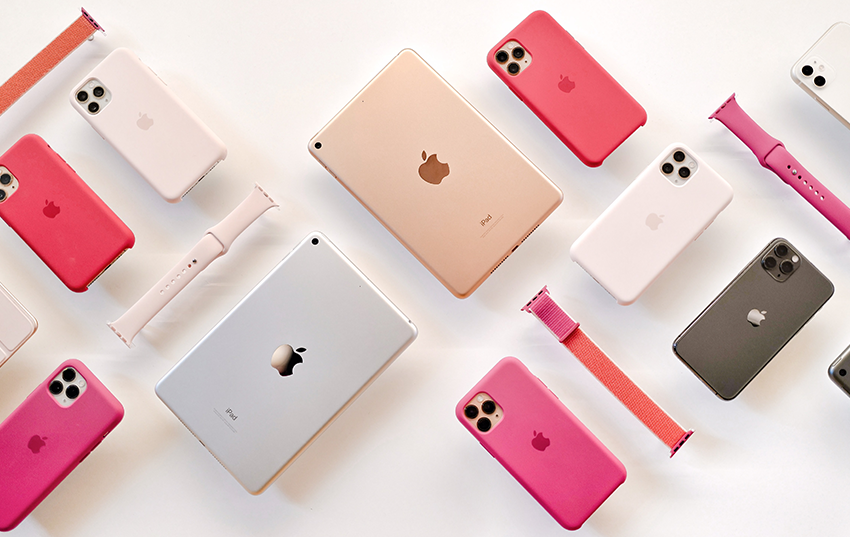 In the 451 Alliance's November 2020 IT Spending survey, we asked corporate respondents about the latest trends in smartphones. The results provide insights into their companies' smartphone purchasing plans, current usage and customer satisfaction.
Planned Purchasing
Our current findings show an increase in overall planned smartphone purchasing (21%; up 2-points) for the second quarter in a row. This is on par with our results from a year earlier in November 2019 (22%) and as with other recent findings shows businesses are getting back to normal spending where they can, especially on products that help keep employees engaged while they continue to work remotely.
Like last quarter, the uptick in purchasing plans favored larger companies (>1,000 employees; 41%). This group is only up a slight 1-point compared to August, but it's more than enough to offset the slight 1-point decrease from smaller companies (<1,000 employees; 14%). Even with the down tick, the purchasing level for smaller companies is equal to the pre-pandemic level we saw in February.
Apple (84%) continues to be the biggest beneficiary of the current purchasing environment, further solidifying their position as the top smartphone manufacturer for businesses. Samsung (38%) is a distant second, though the company is well ahead of Google (8%) and Motorola (5%). Interestingly, all of these manufacturers are seeing upticks in planned buying this quarter compared to previously.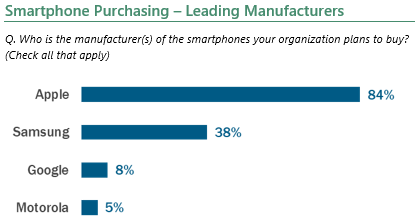 Yet, even with all these manufacturers getting a boost this quarter, there continues to be little actual movement within the relative level of demand for each manufacturer's devices. Businesses' intent to purchase is controlled by the top two companies, which are well entrenched with huge leads over their nearest rivals, notwithstanding the fluctuations in planned buying across quarters.
Among specific models, the iPhone 12 Pro (24%) is the top Apple smartphone that companies plan to buy. Demand for the iPhone 12 (20%) and iPhone 11 (19%) is solid as well. Importantly, 24% of respondents don't know which models their company will purchase; the phones this group ultimately purchase will have a material impact on the final tallies for iPhone model demand.
For Samsung, the Galaxy S20 5G (25%) and Galaxy S10 (25%) are the most in-demand models, with the Galaxy Note20 Ultra (14%) and Galaxy S10e (14%) showing decent interest, but well behind the leading models. Just as with Apple, a large number of planned buyers are undecided at this time.
Current Usage
The number of companies providing smartphones to their employees (43%) remains stable as companies have adjusted to the new normal for business communications. In terms of manufacturers, Apple (82%; unchanged) remains the most popular brand, having maintained their highest market share of the last few quarters.
Samsung (36%; up 4 points) shows a bit of an uptick as it stays unchallenged for second place in the corporate market. Google (10%; up 5 points) languishes in a distant third but has again pulled away from Motorola (5%; up 1 point) after being neck and neck last quarter.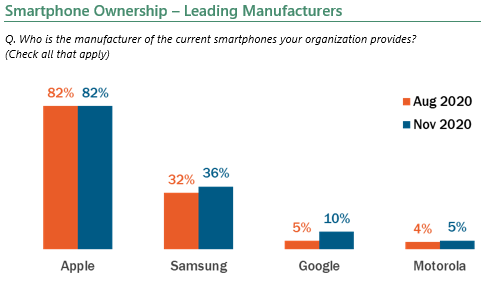 Clearly, Apple remains the dominant force in the corporate smartphone market, something they do not appear to be relinquishing any time soon. The improvements other manufacturers are enjoying in the current quarter's results only seem to reinforce the feeling that Apple has built an insurmountable lead in the corporate market.
A primary reason for Apple's strong performance is their outstanding customer satisfaction ratings – and this quarter is again no different. Current iOS users are more satisfied with their phones (53% very satisfied) than their biggest rival platform, Android-powered phones (51%).
Interestingly, Android has experienced a big improvement in satisfaction, likely due to new phone releases, which helps to explain the tightening gap between the two. But can Android-based phones maintain this level of satisfaction? In the past they have been unable to consistently match Apple's always high satisfaction ratings.
---
Track the future of smartphone spending and adoption as a member of the 451 Alliance. Do you qualify?