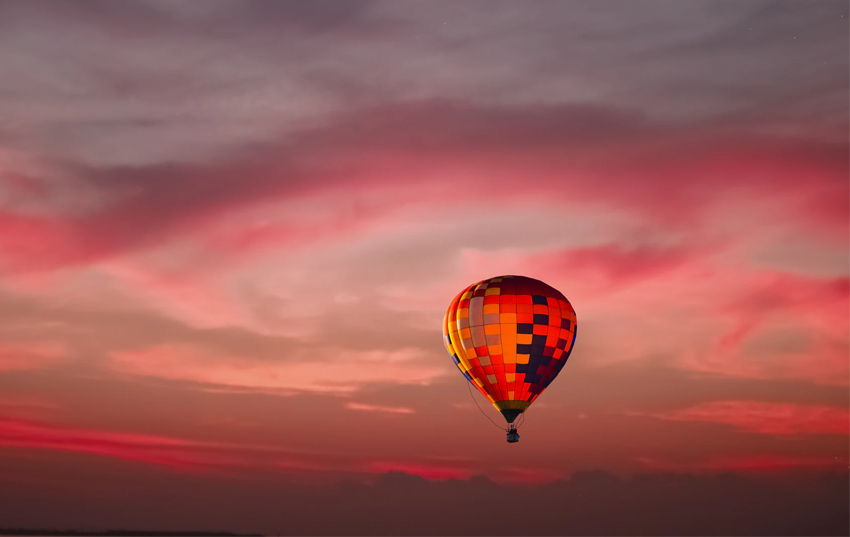 Intent on lightening the load carried by internal infrastructure and staff, information technology decision-makers have fully awakened to the importance of digital transformation. Upward (and outward) migration of applications and data is a critical component of any such transformation, and IT professionals are increasingly viewing enterprise storage as best served from way on high – in the cloud.
The shift of data to the public cloud is a trend that continues to gather steam, said Henry Baltazar, Storage Research VP at 451 Research, in the webinar, "Disaster Recovery and Data Migration in the age of Cloud Storage." Led by such use cases as data protection and archiving, the upward migration of key storage workloads is making ever more sense for many organizations.
Secondary Storage Functions Roost in the Cloud
Fewer than two in five participants in a 451 Alliance survey on data management topics indicated that they back up data exclusively on-premises (that is, without using a full or hybrid cloud alternative of some kind). Organizations that manage less than a petabyte of storage are even more unlikely to protect data exclusively on-prem. "For smaller companies, a lot of you don't have preexisting investments in on-premises backup," said Baltazar, addressing the audience of storage and general IT professionals.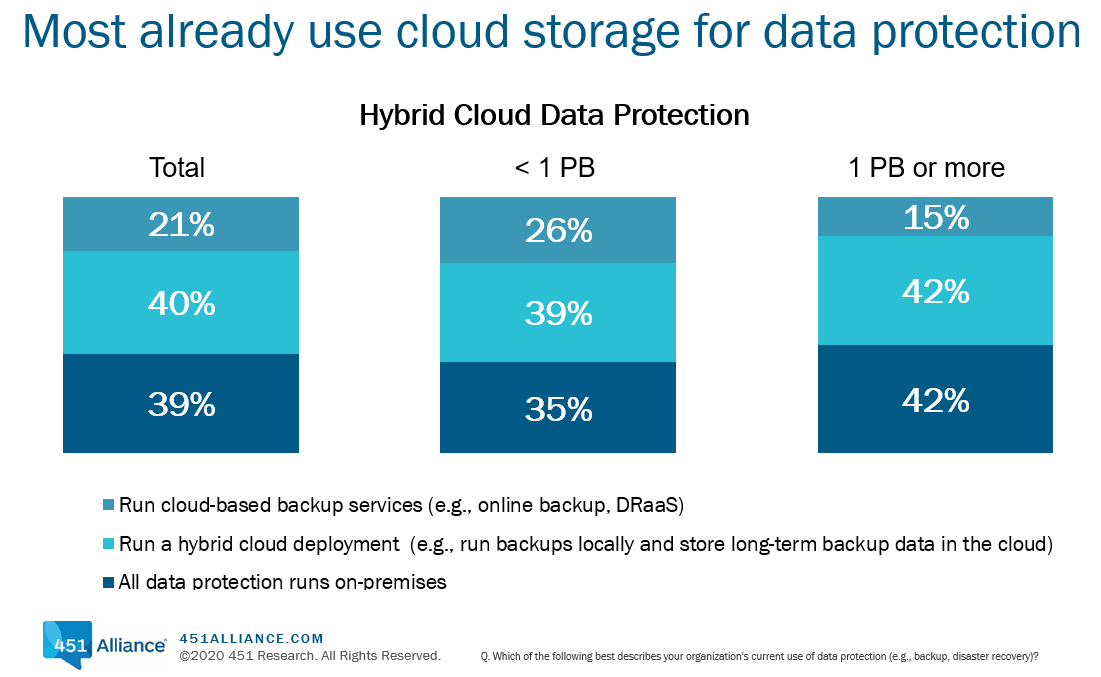 Data archiving is another secondary storage operation that is heavily leveraging cloud functionality. A full 74% of companies of all sizes indicated that they use cloud-based systems to archive at least some of their data volumes.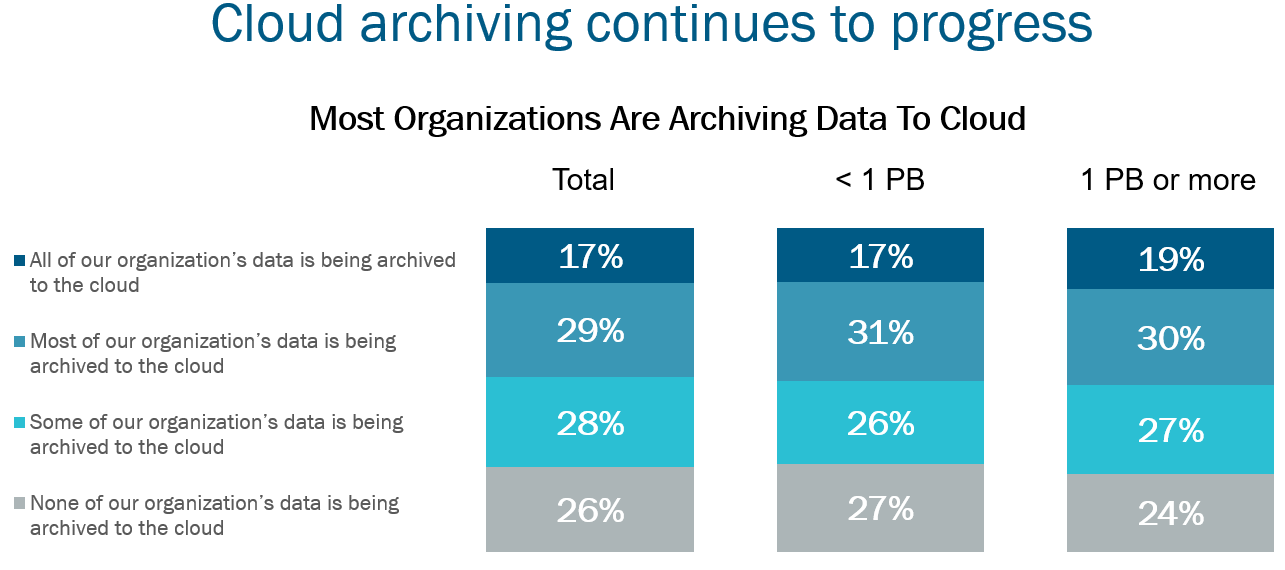 The Cost of Failure
Among the many important insights of the study was a set of findings detailing the varied costs associated with storage outages.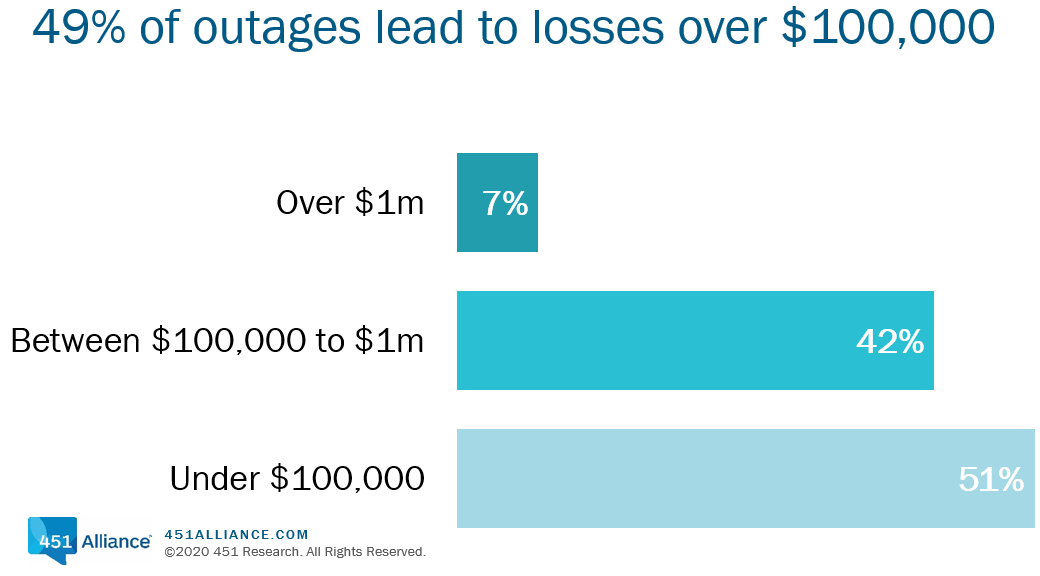 While about half of respondents noted that their most recent outage caused losses that totaled more than $100,000, Baltazar was quick to add that the cost of storage downtime is measured in ways other than dollars and cents. Lost productivity and reputational hits are two of the most widely reported consequences of storage crashes and failed backup operations.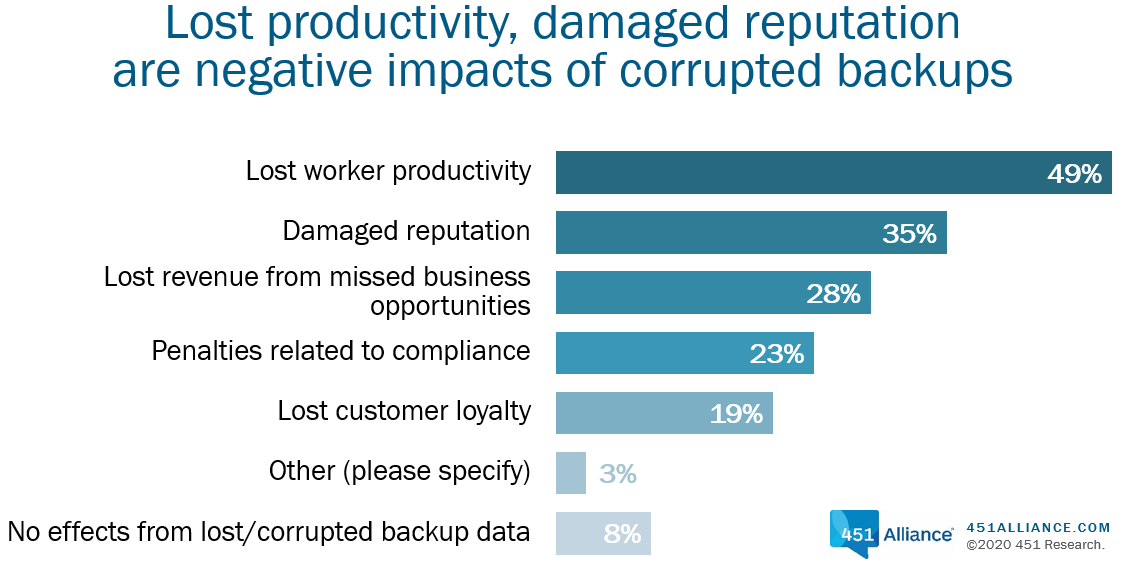 With Cloud Comes Freedom… to Overspend
Although the increasing applicability of cloud technology in enterprise storage was a steady refrain throughout the presentation, Baltazar emphasized that the use of cloud – in storage and all IT operations – is not the slam dunk many organizations assume it to be. Do it wrong, he observed, and there will be consequences.
The coronavirus pandemic, he noted, presented a chance for organizations to apply due diligence to the introduction of cloud-based services. In response to an audience member's question about the impact of the pandemic on enterprise storage operations, Baltazar said the survey revealed this to be "…a good opportunity to rip off the Band-Aid and make sure we're doing a really good job with resource [management]."
"There's a large percentage of you who said… [we're] not doing chargeback [or] showback… to enforce fiscal responsibility…. That, to me, is a huge warning sign," said Baltazar, signaling that the lack of proper cloud governance is one of the most common cost management failures in IT today.
"As we get to more automated types of environments… [and] more cloud… if we don't have financial guiderails, that's not going to be a happy outcome for us."
Baltazar's webinar, "Disaster Recovery and Data Migration in the Age of Cloud Storage," can be viewed, along with all 451 Alliance reports, newsletters and webinar presentations, at the 451 Alliance member portal. This on-demand content is available exclusively to the IT professionals and users who have taken part in our invitation-only surveys and interviews
---
Not a member of the 451 Alliance?  See if you qualify.