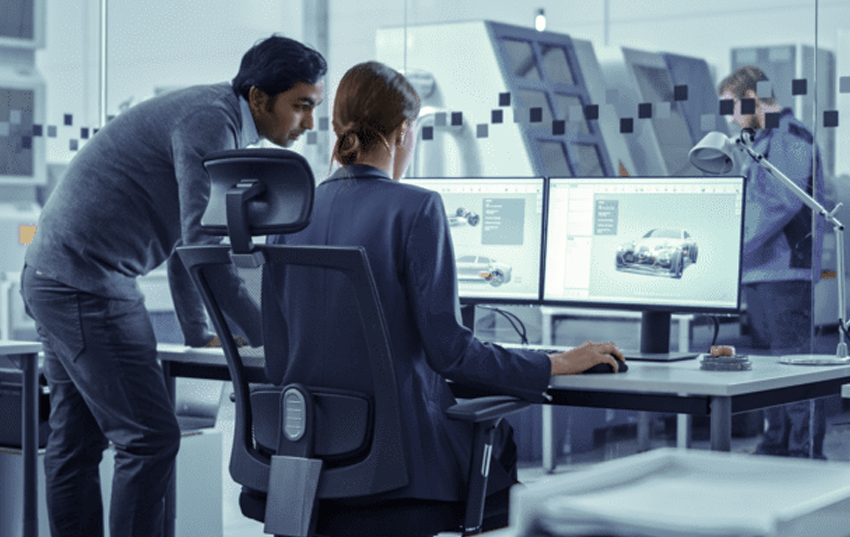 Hybrid work practices that evolved during the COVID-19 outbreak (and continued afterward) require more flexible remote access tools that can support workers who divide their time between home and the office, using a range of devices. The challenges are even greater for the most demanding user segments working with graphics-heavy software — such as engineering product design, semiconductor design, software development, financial services, and oil and gas. Open Text Corp. (OpenText) is targeting such users with Exceed TurboX (ETX), a mature, virtual desktop infrastructure (VDI) product derived from its 2006 acquisition of Hummingbird Ltd.
The Take
Exceed TurboX is a long-established remote access tool that has its roots in high-performance Unix software services, but now also fully supports Windows remote desktops and VDI. It might be particularly attractive for those that still need to integrate legacy system environments (e.g., Unix, VMS, X-Windows) with modern Windows, Linux and cloud-based infrastructure, and for those looking to replace or supplement very large and expensive workstations that aren't very mobile. The offering enables seamless migration to the cloud, but some will take their time or never put everything on the cloud, especially those using high-end engineering applications.
Company background
Hummingbird was a Canada-based company best known for its client connectivity products, including terminal emulation, X-Windows and virtual desktop capabilities. It diversified into enterprise content management in 1999, and in October 2006 it was acquired by OpenText, where it is now part of its parent's Connectivity Solutions division. OpenText is Canada's largest software vendor, with $3.5 billion in revenue for fiscal 2022 and 14,800 employees. Its founding expertise (back in 1991) was in content indexing and it then expanded into enterprise content management. But since its IPO in 1996, the company has grown through a series of over 40 acquisitions and broadened its focus to enterprise information management. OpenText's biggest purchase by far is its recent bid for Micro Focus (enterprise value of almost $6 billion), which was announced in August and is expected to close in the first quarter of 2023.
Context
Our research shows that post-pandemic, a substantial number of office workers are increasingly embracing hybrid work — a flexible model supporting a blend of in-office, remote and mobile workers. According to 451 Research's Workforce Productivity & Collaboration, Work Execution Goals & Challenges 2022 survey, 82% of employees want to work at least some of the week remotely — up from 45% in our pre-2020 survey. This is driving organizations to invest in adapting the workplace to accommodate flexible work arrangements. According to our Workforce Productivity & Collaboration, Technology Ecosystems 2022 survey, more than one-third (36%) of organizations have invested in remote work equipment and peripherals over the past 12 months. Survey results show that this trend will continue throughout 2023, with 21% of respondents saying they will continue to invest in these technologies over the next 12 months. Results also indicate that nearly four of 10 (39%) organizations have already deployed a digital workspace offering, while an additional 27% are currently in discovery/proof of concept. As shown below, organizations in the healthcare and retail sectors are more likely to have already deployed this technology.
Details
The first generation of Exceed TurboX came out from Hummingbird in 1990, based on the then-popular X-Windows standard for Unix applications. Through acquisition and internal development, Hummingbird added Transmission Control Protocol communications and terminal emulation tools to the bundle. The second generation added Windows desktop and thin-client support in 2004 and the third web clients in 2013. The most recent major addition (in 2021) was the Exceed TurboX Windows Server, including full support for VDI. Web client endpoints of all types (Windows, MacOS, Linux, tablets and smartphones) and from multiple locations communicate via virtual private network, wide area network or local area network, with all of the data encrypted to on-premises datacenters or the cloud, where multiple ETX servers (for high availability) are run alongside ETX connection nodes on the application servers.
OpenText claims that its differentiation over mainstream competitive offerings from Citrix, Microsoft Corp. and VMware Inc. are features such as ease of deployment and administration; its performance and stability; support for mixed Windows, Linux and Unix environments (including cut-and-paste); and its sharing and collaboration capabilities. For administrators there is a single web dashboard, no client endpoint software for remote workers, and representational state transfer APIs for further virtualization automation.
The performance comes from use of OpenText's own TXP (ThinX) protocol (Windows Direct Protocol is also supported). Additionally, 4K displays and multiple monitors can be used, and there is virtual GPU support for server-side rendering, with a single Nvidia graphics card able to support virtual machines for hardware-accelerated rendering, H.264 compression and direct frame buffer access. The built-in high availability features prevent any lost sessions and eliminate single point of failure.
Because of its Unix heritage, Exceed TurboX's customer base is not typical of VDI and desktop virtualization offerings. Its greatest penetration has been with demanding users in the healthcare and life sciences, plants and manufacturing, aerospace and defense, oil and gas, chip design, software development and financial service verticals. The company shows demos running applications including Dassault CATIA, Matlab and Simulink.
Competition
OpenText can work in conjunction with virtual desktop incumbents VMware, Citrix and Microsoft, but they are also rivals. However, all three have a broader infrastructure play and offer VDI and remote desktops as part of a larger software stack. Citrix is the longest tenured, but has been less successful in its efforts to establish itself outside of the remote desktop space. In September, Citrix finally lost its independence and was sold to Vista Equity Partners and Evergreen Coast Capital, where it is in the process of being combined with a previously acquired company, TIBCO.
Meanwhile, VMware is set to be sold to Broadcom Inc. in a giant $61 billion deal announced in May, although it is currently facing scrutiny by the European Commission for regulatory approval. All of this creates uncertainty. The big cloud suppliers also offer virtual desktop cloud services, with Amazon WorkSpaces the most established. There are still some smaller independent players in this sector, including 10Zig, IGEL, Nutanix, Parallels and WorkSpot, which is also targeting use cases involving graphics-intensive applications such as computer-aided design and building information modeling. As for the impending Micro Focus buy, there is no direct remote desktop overlap, but Micro Focus is an established vendor of mainframe-oriented terminal emulation software and there is some opportunity for cross-selling and integration.
Want insights on workforce productivity and collaboration trends delivered to your inbox? Join the 451 Alliance.