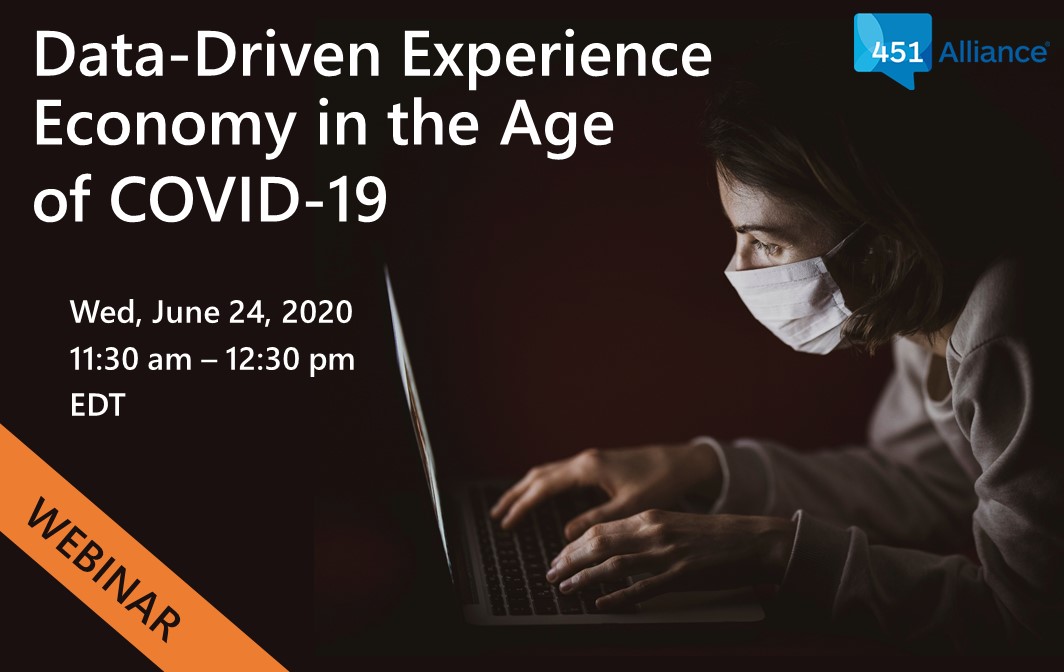 Join us at the upcoming 451 Alliance webinar, Data-Driven Experience Economy in the Age of COVID-19, on Wednesday, June 24, 2020, from 11:30am-12:30pm EDT.
451 Alliance members will receive the slide deck and a recording following the presentation.
Not a member of the 451 Alliance? Submit an application to join the IT think tank and enjoy invitations to this and future webinars, the slide deck and recording, and unlimited access to our archives.
Apply here to see if you qualify for membership:
Webinar Details
The coronavirus is changing the face of customer experiences while igniting dramatic shifts in consumer spending patterns. Technology today can ensure that businesses rise to meet changing customer expectations, but considering that 48% of the market is still formulating its digital transformation plans, many businesses have a long way to go to ensure that vision meets reality.
However, there has to be a specific reason to start. Finally there is a true business case for many to wake up, especially when it comes to delivering contextual experiences.
We expect the coronavirus will be an inflection point for the market that drives a reshuffling of the proverbial deck of priorities. Implementing technologies that facilitate data-driven experiences, ensure seamless customer journeys and drive stickier relationships are likely to rise to the top of that deck as businesses work to simultaneously secure loyalty and revenue.
In this session with Research VP & GM Sheryl Kingstone, you will garner insights on:
The state of the economy amid the COVID crisis
Are you a digital leader or laggard?
What are the top customer experience technology investments by digitally-driven businesses?