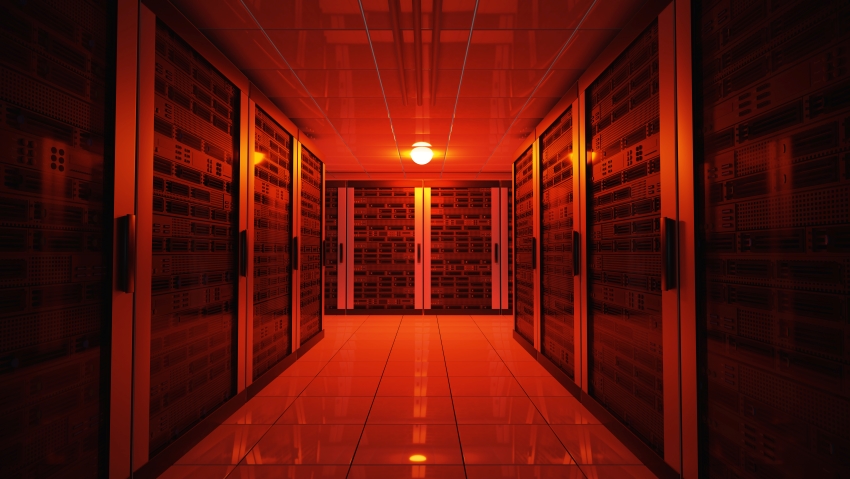 Planning for infrastructure outages and disaster recovery is an unfortunate yet crucial reality for IT professionals.
All this planning is useful when the inevitable happens. 451 Research recently surveyed IT professionals in the 451 Alliance and found that one-third had experienced some form of infrastructure outage or degradation within the past 12 months.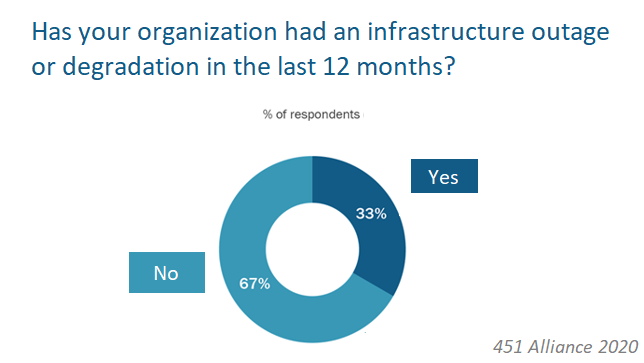 Does Size Matter?
In this case – it does! Larger organizations in the 451 Alliance were more likely to report an infrastructure outage or degradation than small organizations.
24% of organizations with fewer than 1,000 employees had reported an infrastructure outage or degradation in the past 12 months; while 41% of organizations with more than 1,000 employees had reported an infrastructure outage or degradation in the past 12 months.
Responding to Infrastructure Service Outages
When infrastructure outages or degradation happens, how do organizations respond?
51% of organizations within the 451 Alliance had their storage vendor resolve the infrastructure outage or degradation incident, while 32% collaborated with other vendors. Notably, in nearly 8% of cases, the storage vendor themselves had denied responsibility for the incident.
These percentages portray an important lesson to be learned: your choice of storage vendor could directly impact your organization's ability to respond to the inevitable infrastructure outage or degradation.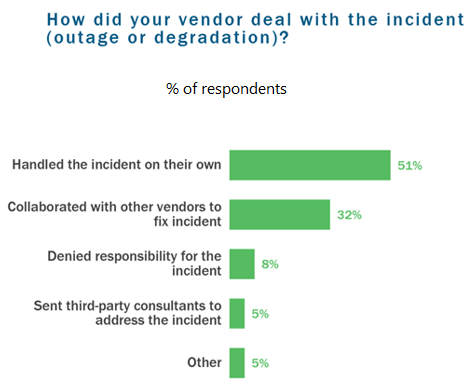 Key Drivers When Selecting a Storage Vendor
As could be imagined, infrastructure outages that involve critical data or assets can be huge headaches both operationally and financially. When the inevitable occurs, the responsiveness (or lack of, for that matter) of a storage vendor plays a determinant role when it comes time for an organization to renew.
In order to provide multiple levels of support and prevention, primary storage vendors are continuously placing emphasis on facilitating hybrid cloud use.
However, not all organizations have adopted public cloud technology. 451 Alliance IT professionals find that customer service and support take precedence over multiple platform options when selecting a storage vendor.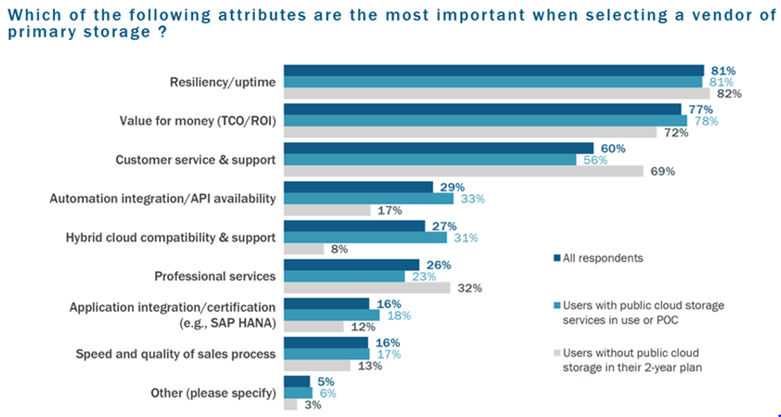 The impact of infrastructure outages can be extremely costly for organizations, resulting in underscoring the importance of vendor selection. Both resiliency of vendor offerings and customer support for organizations responding to service outages are key to planning for the inevitable.
---
Do you have your finger on the pulse of tech trends? Join the 451 Alliance for exclusive research content on industry-wide IT advancements. Do I qualify?