As with any trending business or consumer technology, digital strategies associated with enhancing the customer experience (CX) have seen a wide range of acceptance and adoption. Some businesses have dived head-first into an ocean of digital engagement strategies, embracing personalized and interactive approaches to customer outreach, while others have dipped their toes in the water and retreated to the safety of land.
In the June 2021 451 Alliance webinar Measuring the Customer Experience: Benchmarking your Maturity, Sheryl Kingstone spoke about the digital pacesetters and procrastinators of the CX marketspace, providing cogent insights into the enthusiasm and reluctance, respectively, of those groups.
Kingstone, who is director of Customer Experience and Commerce at 451 Research, presenting a number of compelling findings drawn from the most recent survey of 451 Alliance members.
Data analytics separates leaders from laggards
Increasingly, businesses are uncovering the once-hidden treasures of the data around customers' shopping experiences. "[Of] digitally driven organizations, 71% are really prioritizing a formal strategy and culture to become more data-driven across the entire organization," Kingstone noted.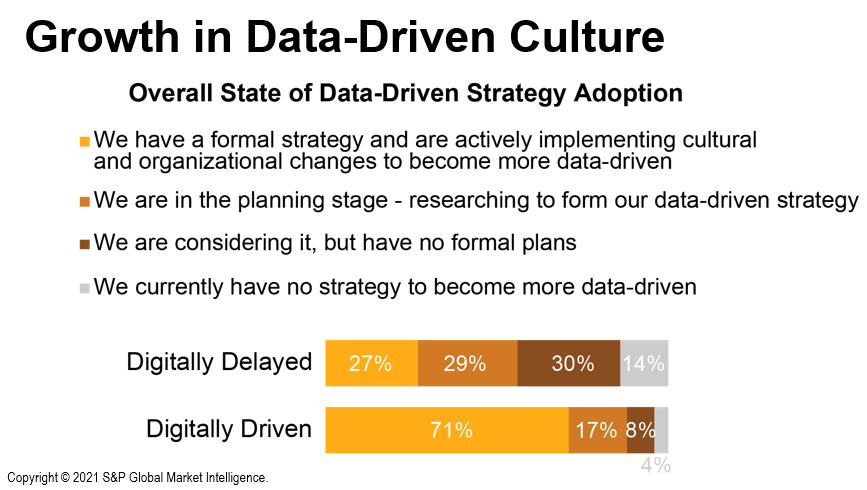 Referencing the growing interest in leveraging data, Kingstone explained that "83% of 'drivers' [aggressive adopters of data analytics] said that CX technology is really essential for competitive differentiation. That's extremely important because 32% of the drifters [slower adopters] said it wasn't."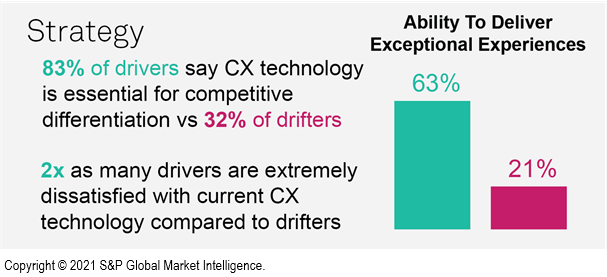 Kingstone also highlighted the fact that three times as many respondents – 63% vs. 21% – identified a data-driven strategy as being critical to delivering exceptional customer experience. "That's really all about strategy to deliver more real-time information and real-time experiences," she observed.
The tech is new…
From AI and machine learning to the instant, in-store delivery of personalized messaging, leading-edge digital technology sits at the core of efforts to drive CX forward.
"Where are we with using machine learning and AI to improve the customer experience? [There's a] huge gap there, between 82% [for digital drivers] and 53% [for digital drifter]," Kingstone said. She noted the competitive importance of "things like intelligent process automation, using machine learning to reduce customer friction points and improve business agility."
…and so are the titles behind the tech
Kingstone drew a distinction between old- and new-guard organizations with respect to the use of advanced technology to leverage the knowledge embedded in captured data, specifically referencing some new executive titles that have emerged.
"When we look at these new guards, [many featuring titles] like Chief Data Officer and Chief Digital Officer, [it's based on the fact that] CX decision-makers have historically not understood how to use new tools," Kingstone said. "So, these new guards are in the position to guide…organizations into what I call [a data-driven] experience and economy."
Emotion fuels the shopping experience
"Experiences, not products, are really going to be the battleground in the future," Kingstone stated emphatically. "Since emotion is the currency of that experience, we're going to strive to change what we're doing with a lot of our technology [and] our data-driven decision-making so that we're really understanding behavior…[and] driving brand loyalty."
Experiences, not products, are really going to be the battleground in the future.

Sheryl Kingstone, 451 Research
You can take a deeper dive into the topic of customer experience and commerce by viewing Kingstone's webinar. Members of the 451 Alliance receive on-demand access to the entire library of research-related materials at the 451 Alliance portal. Our sincere thanks for sharing knowledge with your peers through participation in our studies.