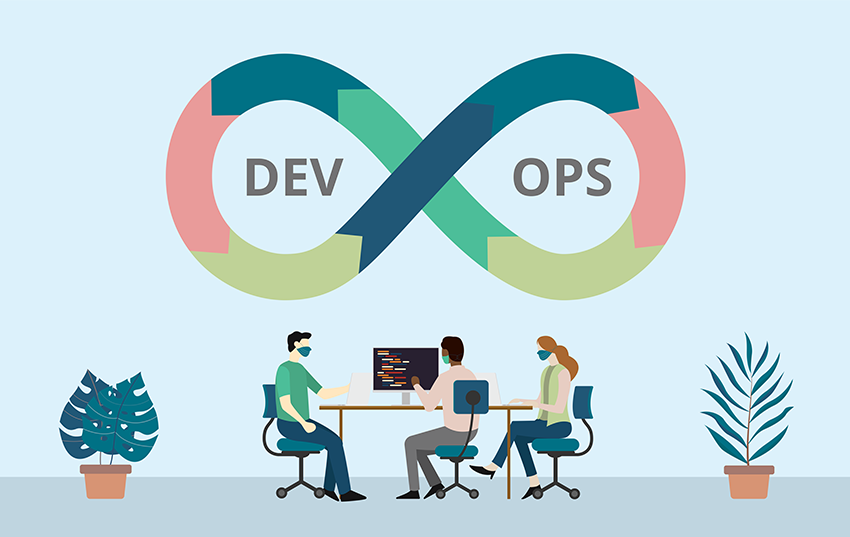 According to a survey conducted by the 451 Alliance, the coronavirus (COVID-19) outbreak has played a major role in the adoption of DevOps practices: 44.3% of respondents indicated that they have either initiated or accelerated the adoption of DevOps practices at their organization as a result of the COVID-19 outbreak. Speed, efficiency and flexibility in responding to changes in the market are a few other key drivers when it comes to adopting DevOps practices.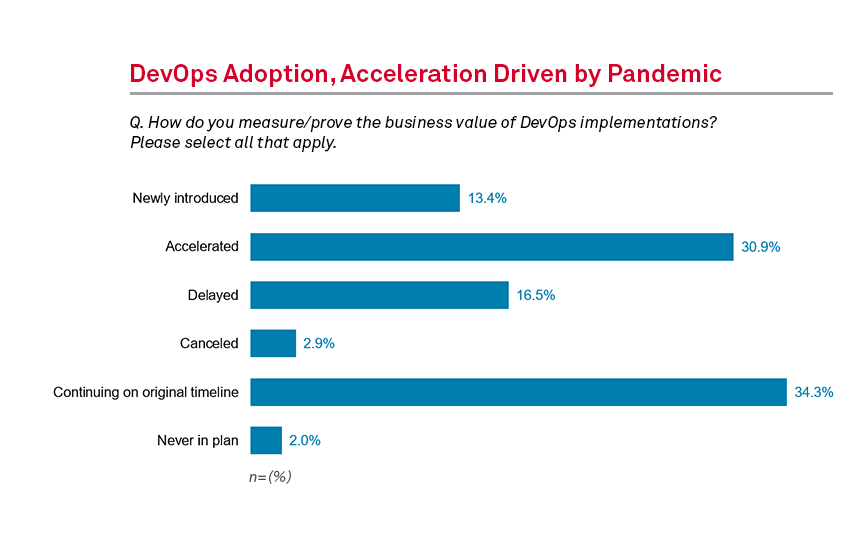 How did COVID-19 drive DevOps adoption?
DevOps practices play a central role in digital transformation, a process many organizations had to implement, if they had not done so already, as a result of the coronavirus outbreak. When a major industry disruptor emerged, these factors became even more critical for organizations to adapt and survive in the market because they allow for faster software releases, more efficient IT operations and better integration with the cloud.
In darkness there is light
The COVID-19 outbreak has had a positive effect on cloud-native technology (e.g., containers), which is critical to DevOps teams. Although development, security and operations (DevSecOps) practices have also experienced growth as a result of the outbreak, DevOps and security teams still work independently from one another. This indicates that a separation between the two functions persists, possibly due to technical or even cultural reasons. However, we expect that to change in as developers combine software quality and security tools to avoid any possible slowdown.
The COVID-19 outbreak has also demonstrated what might happen if organizations choose to delay their digital transformation efforts and DevOps practices. Doing so can result in a significant disadvantage when compared to peers that choose to pursue those initiatives and are able to adapt to changes in the market as a result of their progressive efforts.
The metrics: How many organizations switched to DevOps?
Out of the respondents surveyed, 30.9% indicated they had accelerated their adoption of DevOps practices because of COVID-19, while 34.3% of respondents said they continued on the timeline they had before the outbreak. In addition, 13.4% of respondents surveyed said their organization had recently adopted DevOps, while on the other hand, 16.5% or respondents said the process had been delayed, and 2.9% of respondents stated DevOps adoption was canceled entirely.
Agility/flexibility and improving user experience were the main drivers for adopting DevOps practices, (46% of survey respondents), followed by accelerating time to market for new services (42% of survey respondents).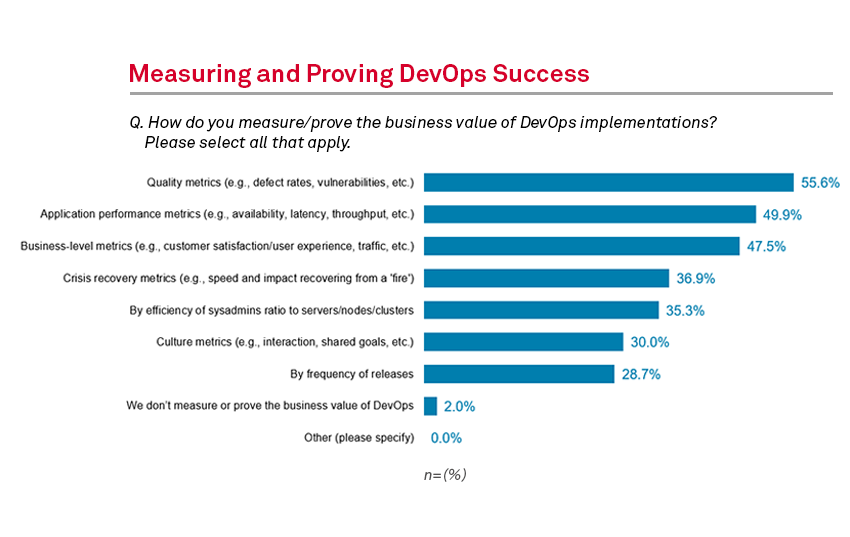 Another important metric has to do with measuring DevOps success. Organizations mainly used technical indicators like quality (55.6%) and application performance (49.9%) in tandem with more business-oriented metrics (47.5%), such as customer satisfaction, to prove the value of DevOps to their organization. A growing number of organizations are contemplating DevOps for return on investment and other business metrics, as opposed to total cost of ownership.
Finally, shifting to cloud is notably a long-term priority for 49% of organizations, followed closely by developing a DevSecOps approach that incorporates security (48.8%) and focusing on business objectives and outcomes (46.3%). Nearly two-thirds (64%) of organizations indicated that their DevOps approach includes security elements, up from 52% in 2019, yet 29% still work independently on those requirements.
---
Want insights on DevOps trends delivered to your inbox? Join the 451 Alliance.