While strong US job numbers have somewhat shrugged off fears of a recession, job cuts at banks and technology companies signal that certain sectors are disproportionately affected. A hiring winter is setting in for the tech industry as organizations commit to a leaner workforce, according to Malav Parekh, analyst at 451 Research, a part of S&P Global Market Intelligence.
Cautious of economic conditions
Respondents to a 451 Alliance survey who report labor/skill shortages as one of the three greatest threats to their organization's overall sales have nearly halved compared to a year ago. This suggests that robust hiring could just be due to pent-up demand for talent. Employment data typically tends to be a lagging indicator.
Regarding the US economic outlook, a large proportion of US respondents (87%) believe that the economy will either worsen (62%) or remain the same as it was in the first quarter of 2023.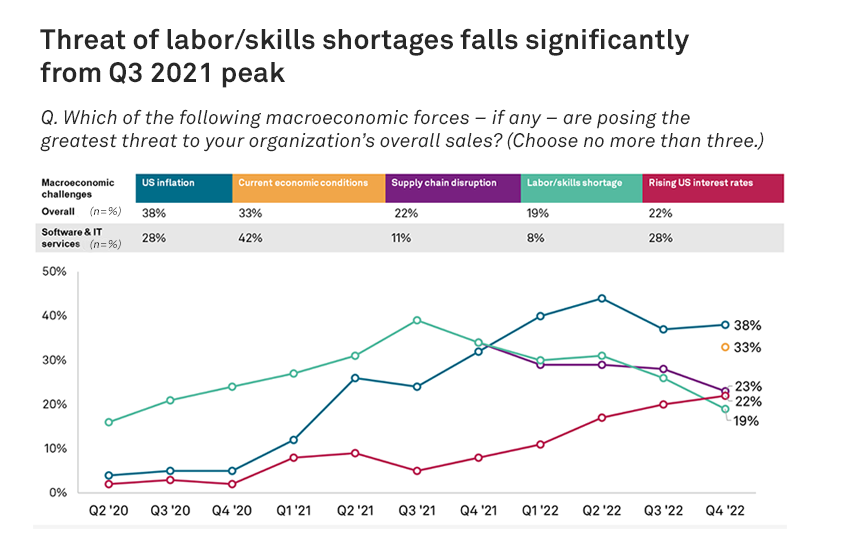 Are organizations running lean?
Large organizations, comprised of more than 1,000 full-time employees, are four times more likely to let go workers (21%) in 2023, compared with small to medium-sized enterprises (SMEs), comprised of less than 1,000 full-time employees, (5%). Yet nearly 37% of large organizations also expect to expand hiring in the next 12 months, suggesting that the layoff exercises are being carried out to reduce bloat.
A tech winter
Sentiment in the technology industry has sharply dropped following several high-profile layoffs by some of the tech giants. Respondents in the Software and IT industry (19%) are less likely to increase their workforce, compared to 29% of the overall US respondent base, according to the survey. Additionally, only 19% of technology respondents intend to focus on employee retention.
Strategic priorities in technology organizations have taken a hit as well with only 22% of tech respondents citing hiring and wages as a top priority for their organization in 2023. The tech sector also turns out to have the lowest proportion of respondents (28%) who agree that their organization currently focuses on data security and privacy.
Manufacturing in, technology out
Survey respondents from the manufacturing sector (34%) are still impacted today by the labor market challenges and could be among the top hirers in the months to come.
---
Want insights on AI trends delivered to your inbox? Join the 451 Alliance.