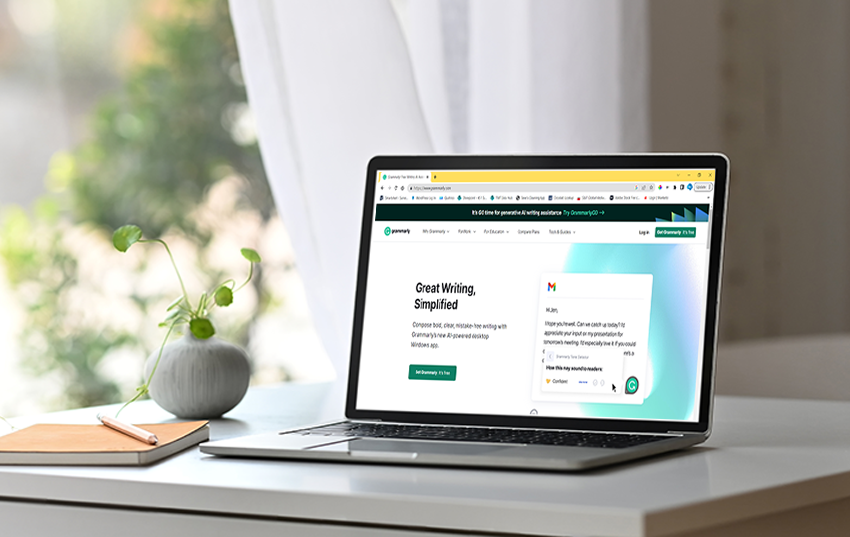 Generative AI was thrust into the limelight seemingly overnight, with extensive coverage over the past year on the tools developed by startups and big tech companies including OpenAI, Google and Microsoft Corp. Grammarly is one of the latest companies to augment its widely used writing assistant technology with generative AI. The company recently unveiled GrammarlyGO, a set of Generative Pretrained Transformer (GPT)-powered, chatbot-style auto-composition features that will be available across its product offerings starting in early April.
The Take
Generative AI stole the spotlight with extensive coverage over the past year. Although a bit late to the party, the launch of GrammarlyGO should help the company gain momentum from the hype building around generative AI. It also translates into an increasingly competitive space for Grammarly. However, its trajectory has enabled the company to build a strong reputation and an extensive footprint. Coupled with its approach, based on supporting users in their flow of work, these factors position Grammarly to benefit from the growing opportunity for AI-enabled enterprise software productivity tools.
Company background
San Francisco-based Grammarly was founded in 2009 by product manager Alex Shevchenko, head of language technology Dmytro Lider and head of revenue Max Lytvyn. Shevchenko and Lytvyn are the founders of MyDropBox, a plagiarism detection tool that was acquired by edtech company Blackboard in 2009.
The company boasts 30 million-plus daily active users and supports 50,000-plus teams worldwide. Named customers include Align Technologies, Atlassian Corp., Caterpillar Inc., Databricks, Upwork Inc. and Zoom Video Communications Inc. Grammarly is a private company, having raised $400 million to date. Its latest funding round in November 2021 raised $200 million backed by Baillie Gifford & Co., BlackRock Inc. and other investors.
Context
As outlined recently, generative AI refers to AI models that are taught on large training sets that aim to predict the probability of a sequence of words and generate text. The report identifies four broad categories for companies in this space: those focused on underlying models, such as AI21 Labs, Google and OpenAI's GPT-3; companies generating text from text, including Grammarly, Typewise and Wordtune; those generating images from text, such as OpenAI's DALL.E and Meta Platforms Inc.'s OPT-175B; and those generating code from text, such as GitHub Copilot.
Grammarly specializes in the design and development of a general-purpose, automated writing assistant platform for users to find and correct writing mistakes. The platform supports users in their flow of work, providing AI-enabled insight that to help improve productivity within enterprise software productivity systems such as word processors, calendaring and email.
Augmenting its products with generative AI capabilities could help Grammarly enhance its value proposition. According to 451 Research's Workforce Productivity & Collaboration: Work Execution Goals & Challenges 2021 survey, the top enterprise software productivity tools that contribute the most to employees' personal productivity include productivity suites (e.g., spreadsheet/word processor/slide suites such as Microsoft 365, Google Workspace and Zoho Workplace), followed by communication tools (e.g., Zoom, Slack, Google Meet) (see figure below). Grammarly works across productivity platforms and within the browser via an extension, making it available across all of the various places where people write.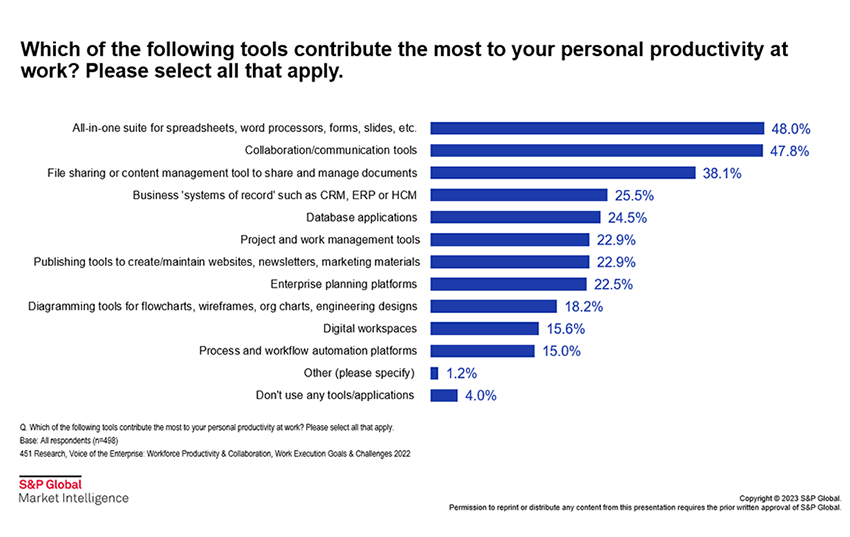 Products
The company's portfolio — comprising Grammarly's free product, Grammarly Premium, Grammarly Business, Grammarly for Education and Grammarly for Developers — provides communication assistance technology to support users with real-time suggestions and comprehensive feedback, powered by sophisticated AI technology. In addition to grammar and spelling correction and assistance with punctuation and conciseness, key capabilities include tone detector, plagiarism detection, and assistance with word choice, formality level and fluency.
Grammarly supports a wide range of platforms and devices, including Windows, Mac, iOS and Android devices; browsers such as Safari, Microsoft Edge, Chrome and Firefox; and enterprise productivity tools such as Gmail, Outlook, Slack, Word and Excel. The company also provides a Text Editor SDK, which enables developers to embed real-time writing assistance into their applications.
In March, the company unveiled GrammarlyGO, a new generative AI product that aims to drive productivity by helping users rewrite, compose, ideate and reply within the applications and websites they already use in their flow of work.
Key capabilities in GrammarlyGO include:
Composing a high-quality, tailored draft right where they are working (i.e., word processor, email or other applications).
Email quick reply using one-click prompts like "I'm interested" or "I'm not interested."
Rewrite for length, tone and clarity.
Speed up content creation by generating outlines or ideas to reference or add directly into text.
Users can set their preferred tone to generate writing personalized to their voice and needs.
GrammarlyGO will be available across the company's product offerings, including Grammarly's free product (in select markets), Grammarly Premium, Grammarly Business, Grammarly for Education (higher education) and Grammarly for Developers. Individual users will have GrammarlyGO activated by default and can toggle it off or on in their settings. Grammarly Business and Grammarly for Education administrators will have the option to opt into using GrammarlyGO for their organizations — so they are in control of which Grammarly features are most helpful for their needs.
Competition
The competitive landscape for Grammarly includes other companies and products focused on text generation, including large tech vendors such as Google Cloud and Microsoft, which have incorporated AI-enabled writing capabilities into their respective productivity and collaboration suites. This includes Microsoft Teams Premium, which was the recently made generally available and features advanced AI-enabled features powered by OpenAI's GPT-3.5.
Other competitors include Copysmith, a content-generation tool that leverages OpenAI's GPT-3; Jasper.AI, a writing assistant focused on business use cases in sales, marketing and social media that works in 26 languages and leverages OpenAI's GPT-3; and Wordtune, a Chrome extension writing tool from Tel Aviv-based AI21 Labs.
---
Want insights on AI trends delivered to your inbox? Join the 451 Alliance.