Regardless of your personal feelings about the situation, many of our federal and state governments are pushing forward with their plans to slowly reopen economies. And while that may mean we can meet friends in restaurants or shop at our local mall, it also means that for many of us, the office is reopening.
Over a quarter (27%) of 451 Alliance members said their organization is planning to operate under altered conditions (e.g., remote working, etc.) until the end of the year, while 12% said their organizations are either no longer operating under altered conditions or are planning to discontinue those practices once the first half of 2020 comes to a close.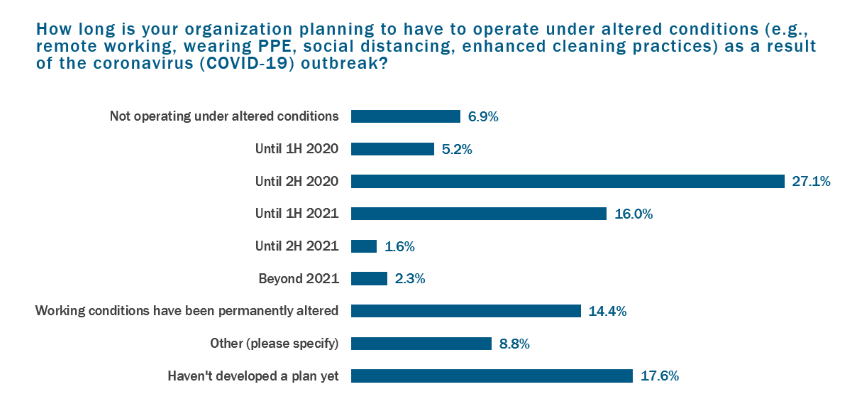 However, our time in the office could look very different than it has. Voice-only and contactless interfaces and technologies will likely have a much more visible presence when you return to your desk.
Voice-Driven Technology in the Workplace
While many of us probably have a smart assistant like Amazon's Alexa or Apple's Siri plugged into our homes, the technologies are much less ubiquitous in the workplace.
These intelligent, voice-activated assistants can manage meeting room equipment and team collaboration technologies across multiple physical locations. Alexa for Business has also been used outside the conference room environment, with shared devices that can be deployed in building lobbies and other common areas to provide directions, logistics information and announcements.
While all these technologies were nice to have before, with social distancing in place, they're gaining traction as must-haves.
Essential Services for Frontline Workers
Voice-driven interfaces could also be used across a variety of industries to protect frontline workers who have direct contact with clients: doctors and nurses, grocery employees, food delivery and rideshare drivers, to name just a handful.
According 451 Research's M&A KnowledgeBase, there were 14 mobile-messaging-related deals in 2019. Adopting mobile messaging applications could not only enhance the digital experience and safety of frontline workers, but also optimize their operations.
For example, Orion Labs provides capabilities that include voice user interfaces, speech-to-text technologies, real-time communications and location management services, as well as integration with voice-enabled intelligent assistants to enable a 'heads-up, hands-free' user experience.
The combination of these capabilities is particularly relevant for frontline and deskless workers but can be also be useful for employees as they return to the office.
Contactless Interfaces
Transit operator Transdev, the largest private operator of transit in North America, and Boston's public transit system both utilize Orion's technologies. Using a web-based dispatch console, instant team communication and location management services, employees have been able to work from home efficiently while restrictions have been in place.
That COVID-19 will change how we work is a foregone conclusion thanks to the past months that millions have spent working from home. But for many frontline workers and employees expecting to soon return to the office, more changes will come. The adoption of voice-driven technologies will aid in limiting physical contact and promote safe social distancing once we return to the workplace.
---
Want insights on workforce productivity and collaboration trends delivered to your inbox? Join the 451 Alliance.