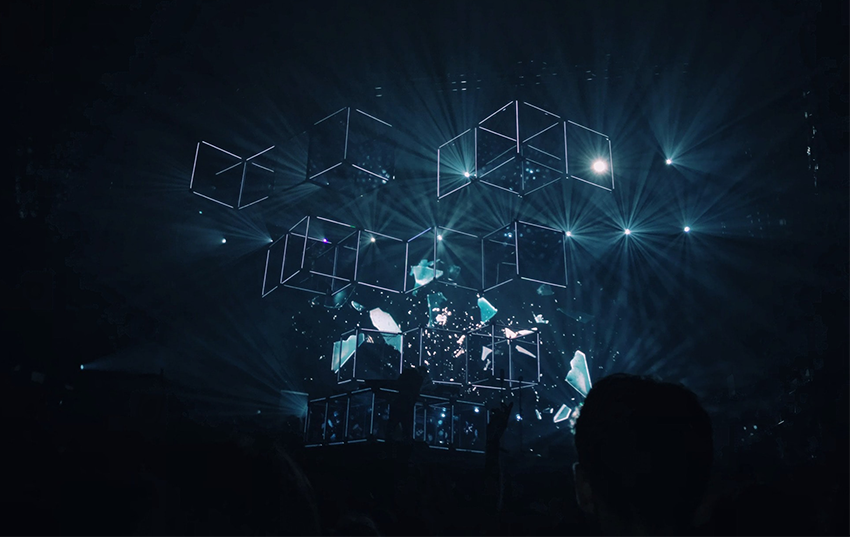 Among businesses surveyed by the 451 Alliance, 38% now use hyperconverged infrastructure (HCI).
HCI has matured as a technology and has found its place in many enterprise datacenters. However, it continues to evolve, and we expect that the role of HCI for end users will broaden to tackle a wider range of use cases as adoption increases.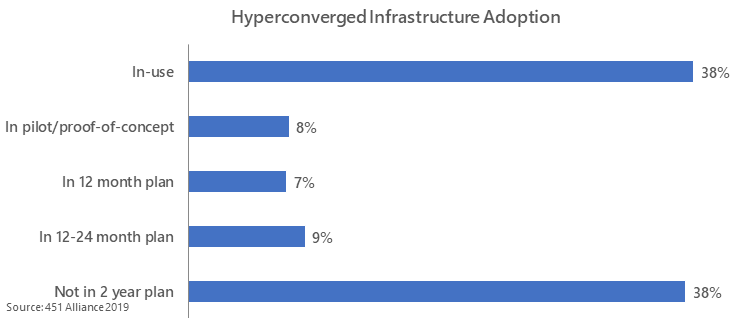 HCI will branch out from the core
In the 451 Alliance webinar Unpacking Workload Deployment Strategies, we discussed the types of environments where we expect to see the most growth of HCI. Since there are already substantial deployments in core datacenters, we expect (and Alliance members indicate) that growth is more likely to occur at the edge and in remote/branch office locations. We see that edge deployments will grow 12% over the next three years.
The compactness of HCI in comparison to traditional infrastructure makes it well suited for these remote and edge environments. This is in addition to the trait of simplified deployment and management, since businesses are typically less likely to have skilled IT staff further away from core and regional locations.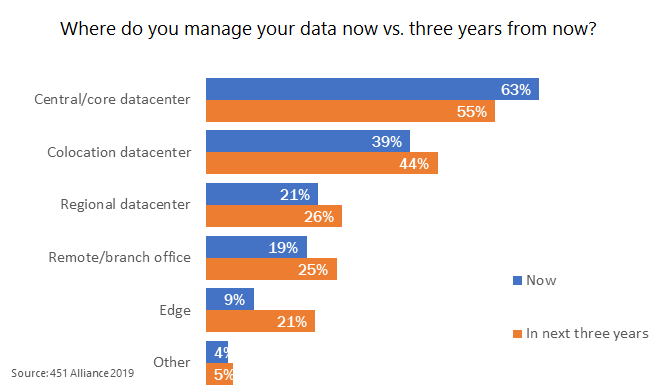 How is HCI evolving?
HCI is meeting end-user needs in several ways. Three prominent trends include resource disaggregation, secondary storage uses and leveraging AI enhancements.
It is still an emerging trend, but several system vendors have brought disaggregated HCI products to market. These disaggregated HCI products differ from preexisting ones in that they decouple storage and compute so that they can be scaled independently from one another. While these systems are ultimately less converged, they offer a degree of flexibility that many prior products have not, which will be valuable for certain users.
Over the past year, we have also seen larger HCI vendors forming strategic partnerships with backup vendors to offer HCI for more secondary storage use cases. This is something that a few startups have found success in, and we now see that this is a driver toward using HCI in place of traditional infrastructure to support increasingly more data.
In the storage industry, there has been an emphasis on using artificial intelligence and machine learning to augment storage management (75% of Alliance members previously indicated that they agree that AI/ML capabilities will simplify IT management). Such capabilities can help with various tasks such as capacity planning and predicting problems before they can occur.
As these types of AI enhancements make their way into some HCI systems, they will become more commonplace. And as work for IT infrastructure teams increases, so too will the need for better management.
451 Alliance will continue to track the adoption of HCI and the role it is playing for IT influencers around the world.
---
Want insights on HCI trends delivered to your inbox? Join the 451 Alliance.