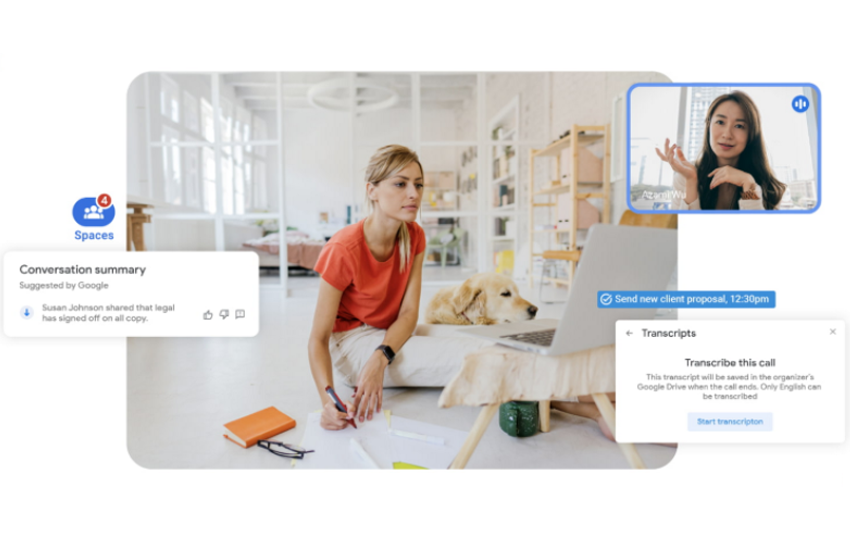 At I/O '22, Google's annual developer conference, the company unveiled new artificial intelligence (AI)- and machine-learning (ML)-enabled features in Workspace, its enterprise productivity and collaboration suite.
The new features include built-in summaries in Spaces, automated transcription and capabilities to make the meeting experience more immersive and meaningful in Meet, and extended phishing and malware protection for Slides, Docs and Sheets.
The updates to Google Workspace announced at I/O '22 include:
Automated summaries in Spaces. Google is extending built-in summaries – previously introduced for Google Docs – to its group conversation platform, Spaces, in the coming months, providing a digest of conversations for users to quickly catch up on any missed conversations.
Automated meeting transcription in Google Meet. Hosts will be able to enable transcriptions, allowing meeting attendees to reference the discussion at a later time, and making it easier for users who did not attend to stay in the loop. Transcripts are saved as a Google Doc that can be shared, viewed and edited by users. Automated transcription will be available later this year, with meeting summarization coming in 2023.
ML enhancements in Google Meet. Coming later this year, ML enhancements to image, sound and content sharing capabilities in Meet will improve how users look and sound in a virtual meeting. They include portrait restore, which improves video quality by addressing issues such as low light, low-quality webcams and poor network connectivity; portrait light, which simulates studio-quality lighting in a user's video feed; and de-reverberation, which filters out echoes to provide conference room audio quality.
Live sharing in Google Meet. Users can synchronize media and content with other meeting participants and interact within the meeting by streaming application content across devices in real time. This enables users to "co-watch" a YouTube video or share a playlist; they can also share controls, such as starting and pausing a video or selecting new content. Additionally, Google is enabling partners and developers to use its live sharing APIs to integrate Meet experiences into their Android, iOS and Chromecast applications. For instance, users can share their screen to watch YouTube videos, with other meeting participants visible as a picture-in-picture window.
Phishing and malware protection in Slides, Docs and Sheets. Google is expanding its zero-trust approach by scaling the phishing and malware protections in Gmail to Google Slides, Docs and Sheets, to alert users about suspicious links. The protections are expected to be available to all users later this year.
Google's focus on helping organizations enable productivity in a hybrid work environment aligns with key trends identified in 451 Research's Workforce Productivity & Collaboration, Technology Ecosystems 2021. When asked about a return to the office, nearly half (48%) of survey respondents say they expect a majority of desk workers in their organization will work remotely full-time (28%) or have a hybrid schedule (20%) a year from now.
Furthermore, survey results also show that two of three respondents (68%) believe it will be significantly (24%) or somewhat (44%) challenging to support a distributed workforce over the next two years; only one-third (30%) believe it will not be much of a challenge (25%) or no challenge at all (5%).
---
Want insights on workforce productivity and collaboration trends delivered to your inbox? Join the 451 Alliance.