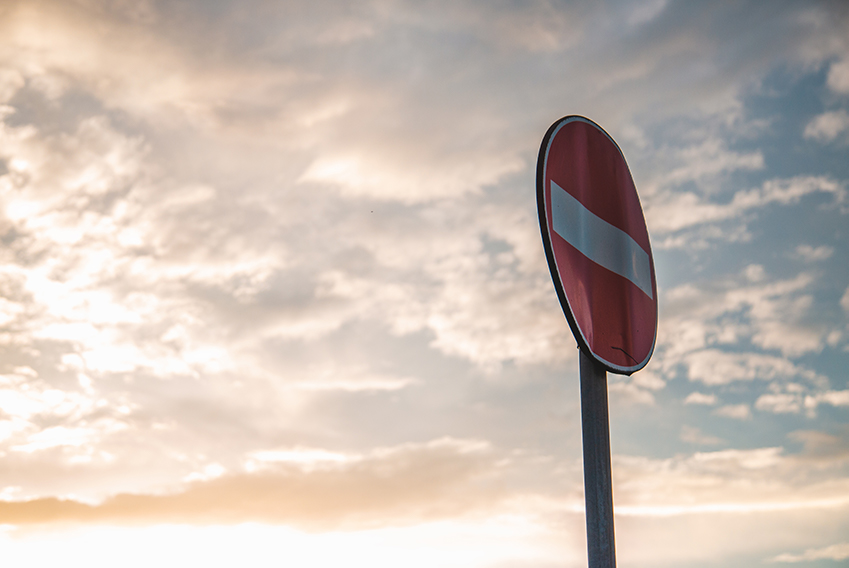 The inexorable flow of workloads from on-premises infrastructure to public cloud continues. However, enterprises are encountering roadblocks that slow the flow – and sometimes even stem it.
Let's examine some of the gating factors to adoption of public cloud IaaS – including IT organizational and environmental factors – based on a survey of the 451 Alliance.
Security is Still the #1 Bugaboo
Security remains the primary barrier to adoption of public clouds, as cited by 64% of the survey participants (see figure below).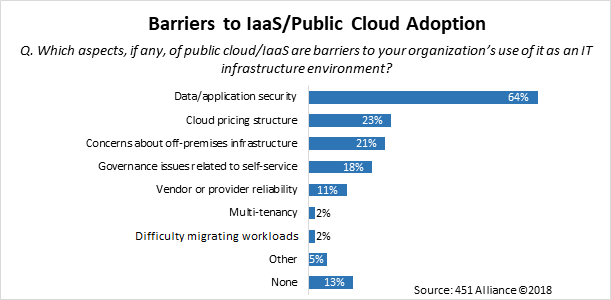 Over the last few years, security concerns regarding public clouds have been subsiding; however, they remain a serious issue – particularly for large enterprises.
This in part explains the huge increases in IT organizations' security budgets this year. In fact, IT managers report that information security is second only to off-premises cloud services as the area of greatest budget increases in 2018. Very large organizations (10,000-plus employees) are on track for, on average, 20% increases in security budgets this year.
Security concerns around public clouds also explain why increasingly more IT organizations are turning to managed security service providers (MSSPs). Spending on third-party services averaged 15% of total security budgets this year, and is expected to top 17% in 2019.
Although cloud costs have been declining as a key gating factor to adoption, concerns about cloud pricing structures remain the #2 hurdle. This is because the utility pricing structure can make it difficult for enterprises to manage procurement or control runaway costs.
Despite concerns about security and cloud pricing structures, it's interesting to note that 13% of the surveyed IT managers believe that there are no barriers to adoption of public cloud IaaS.
Size Matters
The percentages in the figure above represent total responses across all global geographies and company sizes. However, it's interesting to break down the statistics by company size.
For example, data/application security concerns are more pronounced among large enterprises (>1,000 employees) – cited by 82%, as opposed to 59% of smaller companies.
For smaller companies, price is a bigger barrier to adoption than it is for large enterprises – 29% vs. 9%.
Organizational Roadblocks
The two primary organizational barriers to public cloud adoption are loss of operational control and limited internal resources or expertise, as shown in the figure below.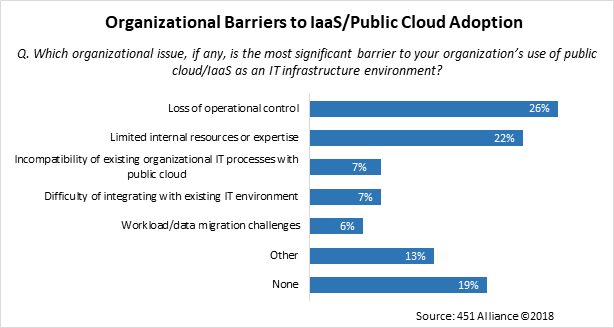 The lack of cloud expertise is startling: A separate 451 Alliance study shows that 59% of companies with fewer than 1,000 employees have no cloud-certified professionals on staff, and even for enterprises with more than 1,000 employees, that number is a surprising 37%.
The fact that cloud certification has not occurred on pace with cloud adoption suggests that extensive cloud platform expertise is not a prerequisite for initial adoption.
However, as enterprises accelerate their use of public cloud, they are hustling to gain expertise in order to optimize cloud usage for performance and cost – and to ensure the security of applications and data in the cloud.
Surprisingly, incompatibility and integration concerns were cited by a mere 14% of survey respondents. T
his suggests that IT organizations are willing – and able – to refactor or re-engineer code to accommodate public cloud environments.
Perhaps the key takeaway from this data is that 19% of IT managers say that there are no organizational barriers to public cloud adoption.
Environmental Roadblocks
In terms of environmental concerns affecting public cloud IaaS adoption, incompatibility issues around IT processes and software dominated, cited by a combined 26% of survey respondents, as shown in the figure below.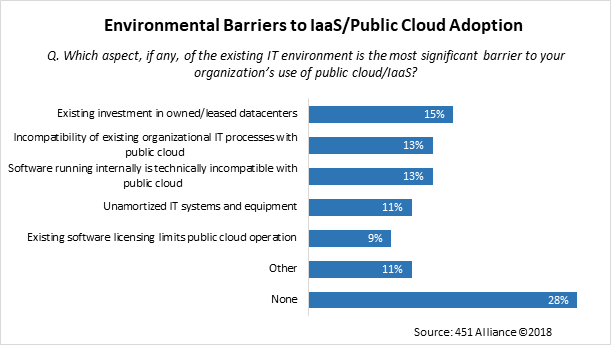 However, more than one-fourth (28%) of the IT managers said that there were no environmental barriers to adoption of public clouds.
Workload Types
Although organizational and environmental issues are significant gating factors to public cloud IaaS adoption, another roadblock is the fact that some workloads/applications are simply not suited to running in public cloud environments.
In another 451 Alliance survey, 26% of the IT managers surveyed said that all of their applications were suitable for public clouds; however, the majority (74%) said that some applications are not suitable to public clouds. Among these workloads, custom (homegrown) applications topped the list (cited by 32% of the survey respondents).
Conclusion
The barriers covered in this article show why adoption of public cloud IaaS is not yet widespread.
According to our research, although 93% of enterprises are now using some form of third-party cloud services, only 25% have reached the stage of broad implementation of IaaS for production applications. As such, on-premises infrastructure will continue to play a key role in IT organizations for the foreseeable future.
On the other hand, the motivations for public cloud adoption are consistent:
Speed of deployment
Lower costs
Organizational agility
Improved security
Increased workload performance
As a result, the share of organizations employing off-premises IT infrastructure as their primary environment is expected to jump from 48% this year to 66% in 2020, a trend that bodes well for the public cloud hyperscalers.
---