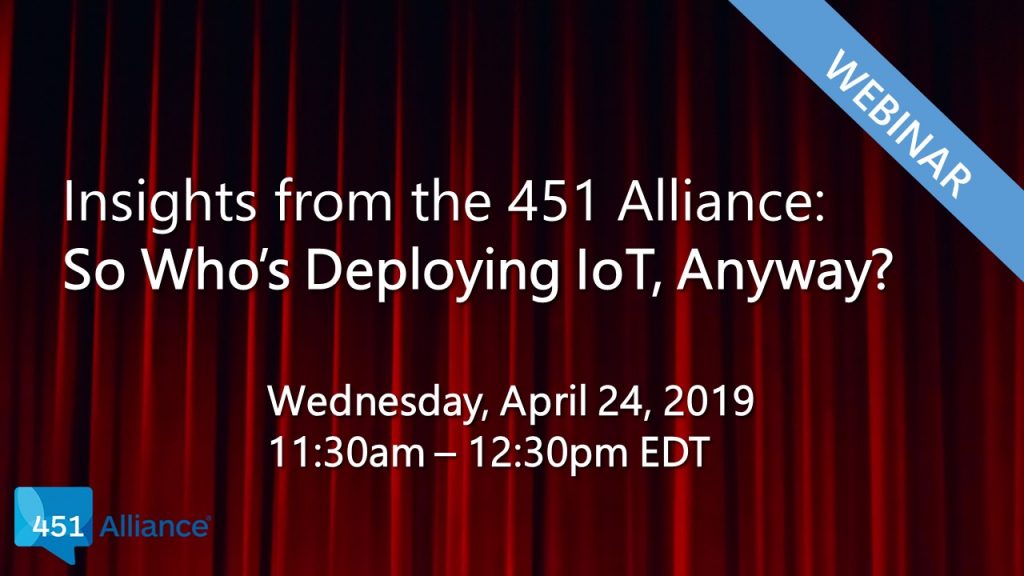 Join us at the upcoming 451 Alliance webinar, So Who's Deploying IoT, Anyway? on Wednesday, April 24, from 11:30am-12:30pm EDT.
451 Alliance members will receive the slide deck and a recording following the presentation.
Not a member of the 451 Alliance? Submit an application to join the IT think tank and enjoy invitations to this and future webinars, the slide deck and recording,  and unlimited access to our archives.
Apply here to see if you qualify for membership:

Webinar Details
Utilizing the most recent data from the 451 Alliance, Senior Analyst Rich Karpinski will provide a deep dive exploration of the when, why and how enterprises today are deploying IoT across their organizations.
What exactly are they deploying, what are the organizational dynamics around IoT decision making, what are the verticals that are most active, and what technology and business trends are driving decisions.
As the deployment of enterprise IoT solutions ramps up, a clearer picture of how companies think about IoT has emerged.
In this webinar, we'll explore the best practices from IT experts across a variety of industries.
Expect to learn:
Who sits at the whiteboard, contributing ideas to the next enterprise IoT project?

Who owns the budget?

Who joins IoT teams and drives deployments?

At each stage, what are key stakeholders looking to accomplish?

What drives their decisions, and what inhibitors must be overcome to get IoT projects off the ground?

How long do enterprise IoT projects take, from conception through proof-of-concept and out to production?

What can speed projects to completion?

Who has bottom-line ownership of enterprise IoT: IT, OT, line of business, digital business unit – or some combination of them all?

What products and technologies are needed to drive those deployments?
Explore the answers to these and other critical enterprise IoT questions by learning the real-world choices IT decision-makers are making and apply those solutions to your organization today.