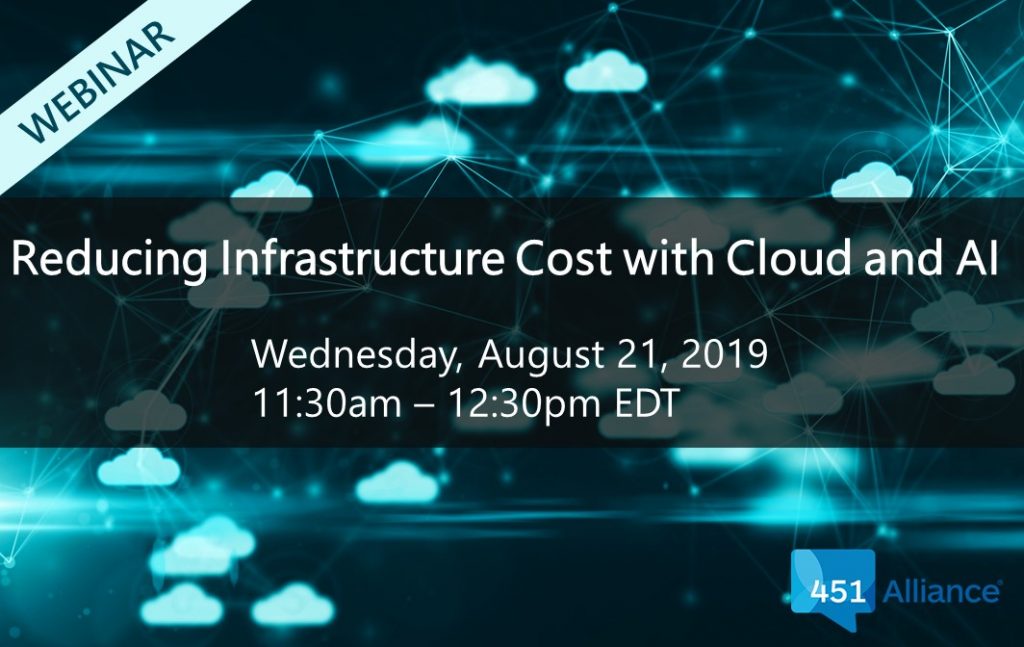 Join us at the upcoming 451 Alliance webinar, Reducing Infrastructure Cost with Cloud and AI on Wednesday, August 21, 2019, from 11:30am-12:30pm EDT.
451 Alliance members will receive the slide deck and a recording following the presentation.
Not a member of the 451 Alliance? Submit an application to join the IT think tank and enjoy invitations to this and future webinars, the slide deck and recording, and unlimited access to our archives.
Apply here to see if you qualify for membership:

Webinar Details
Cost is a perennial challenge for IT infrastructure and with middling storage budgets and data under management growing at a rapid pace the challenge is only being intensified.
To contend with this organizations will need to draw on a variety of tools including cloud and AI-enhanced infrastructure. Achieving the right balance of automation, opex and capex, on-premises and cloud will be crucial.
How are organizations determining execution venue? With what frequency are new and legacy apps moving to cloud How can we expect AI-enhancements to improve infrastructure management?
Join 451 Research VP Henry Baltazar and Associate Analyst Liam Rogers to delve into these and other insights from 451 Research's survey focused on data and analytics adoption in enterprise IT.
In this webinar, you will learn about:
How organizations will balance transformation and cost
How workloads are being moved to cloud and in what volume
What types of benefits we can expect AI to provide infrastructure