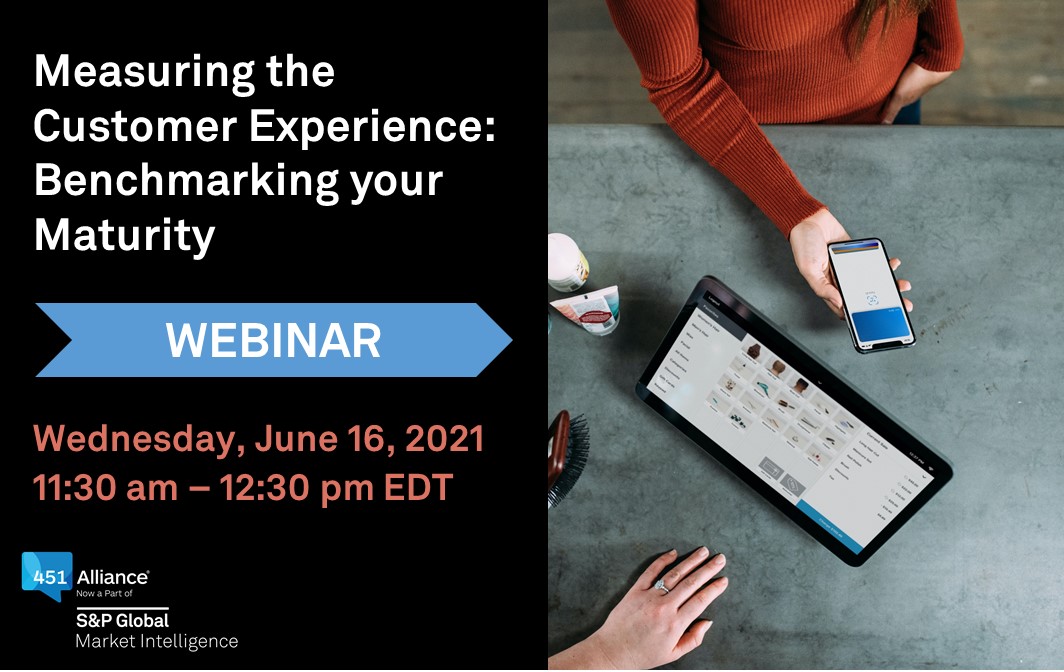 Join us at the upcoming 451 Alliance webinar, Measuring the Customer Experience: Benchmarking your Maturity, on Tuesday, June 22, 2021 from 11:30 am – 12:30 pm EDT.
451 Alliance members will receive the slide deck and a recording following the presentation.
Not a member of the 451 Alliance? Submit an application to join the IT think tank and enjoy direct access to research insights.
Apply here to see if you qualify for membership:
Webinar Details
As businesses continue to invest in their digital transformation to improve the customer experience, benchmarking their digital maturity is critical to business planning and growth. This involves reviewing their status in regard to areas central to disruption and innovation: the automation of customer-facing processes, application and cloud infrastructures, data and content, intelligent automation using AI/machine learning (ML) and CX orchestration.
In this webinar, 451 Research Head of Customer Experience & Commerce, Sheryl Kingstone, will discuss:
Strategic priorities and technology spending trends as they relate to economic and societal changes
Benchmarking your business on data-driven strategies to deliver optimized, differentiated customer experiences (CXs)
Key changes in CX vendor landscape