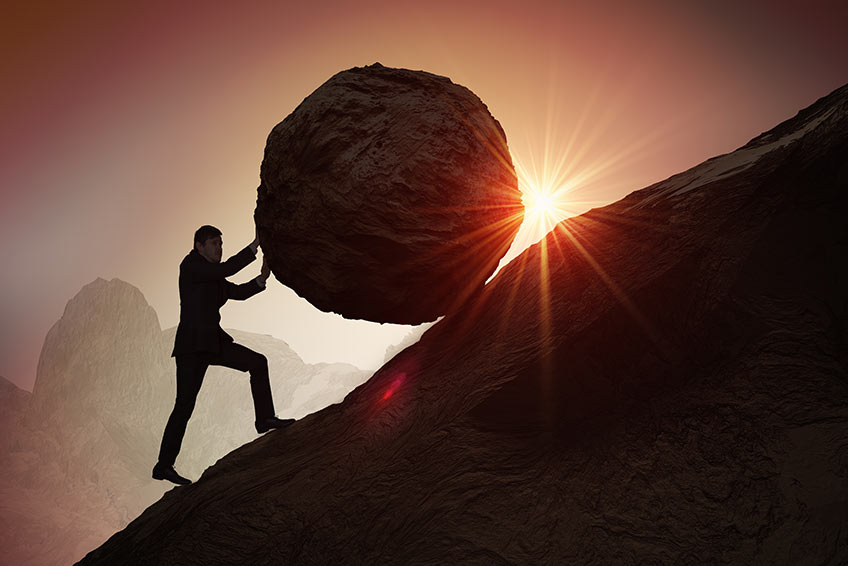 The migration of many workloads to the cloud is a double-edged sword: While the use of cloud resources requires less in-house capacity than traditional technologies, the complexity it brings tends to demand more of organizations' existing IT infrastructure.
These on-premises space savings come with the obvious benefit of a decrease in overall cost and footprint. But on top of that, they bring another, less obvious benefit. As IT systems grow more diverse and complex, they demand more from facilities' often outdated critical infrastructure, and cloud use can relieve this pressure.
Top Pain Points for IT Infrastructure
In a recent 451 Alliance survey, 42% of responding organizations said that aging infrastructure is their top pain point from a critical infrastructure perspective. On top of that, while some managers find that newer IT technology actually relieves the stress on their critical infrastructure, 38% find it difficult to keep up with critical infrastructure demand.
Managing that infrastructure can be so difficult, in fact, that it can lead to organizations throwing in the towel all together. Looking specifically at organizations planning to close datacenters or IT sites in the next two years, difficulty in infrastructure management and aging infrastructure were the top two pain points they identified. Other paint points include: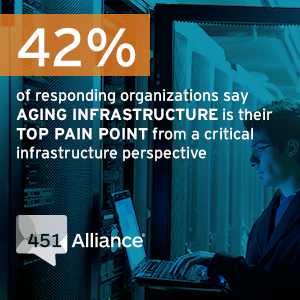 Keeping up with infrastructure demand
Unsatisfactory performance
Security
Equipment reliability
Lack of budget
Digital Infrastructure Challenges Around the Globe
Although survey respondents from all over the world complain of these critical infrastructure growing pains, some regions are feeling them more acutely than others.
For example, 38% of responding organizations from North America and EMEA struggle to keep up with infrastructure demand, compared to more than half (52%) of respondents from Asia Pacific (see figure below).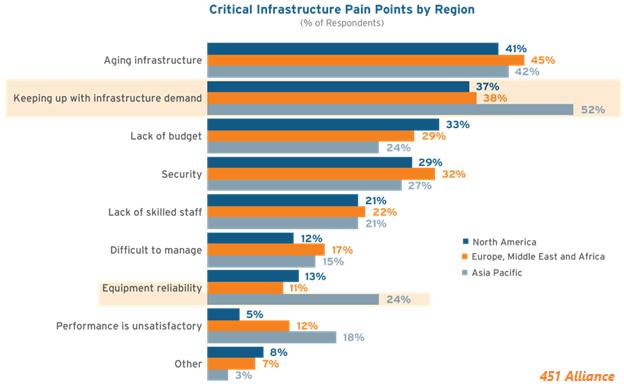 The Good News
Fortunately, there is also some good news here.
Critical infrastructure budgets are projected to increase by an average of 9.3% across all organizations, regardless of whether they plan to open or close datacenters. Survey results point to infrastructure upgrades/refresh (35%) and overall business growth (also 35%) as the primary drivers for this budget growth.
What remains to be seen is how organizations will leverage this budget influx in the face of these new challenges. Even with expanded budgets, IT managers are under pressure from end users and coworkers who increasingly see cloud-based technologies as 'getting a deal' compared with traditional infrastructure.
With on-premises IT becoming more cost-competitive with public cloud providers, we look forward to seeing which becomes the more popular choice between IT and facilities managers in the coming years. While a strategy of balancing investments between on- and off-premises strategies may be seen as playing it safe, it only serves to perpetuate the challenges in complexity and maintenance that IT managers are facing today.
---
Want insights on cloud computing trends delivered to your inbox? Join the 451 Alliance.