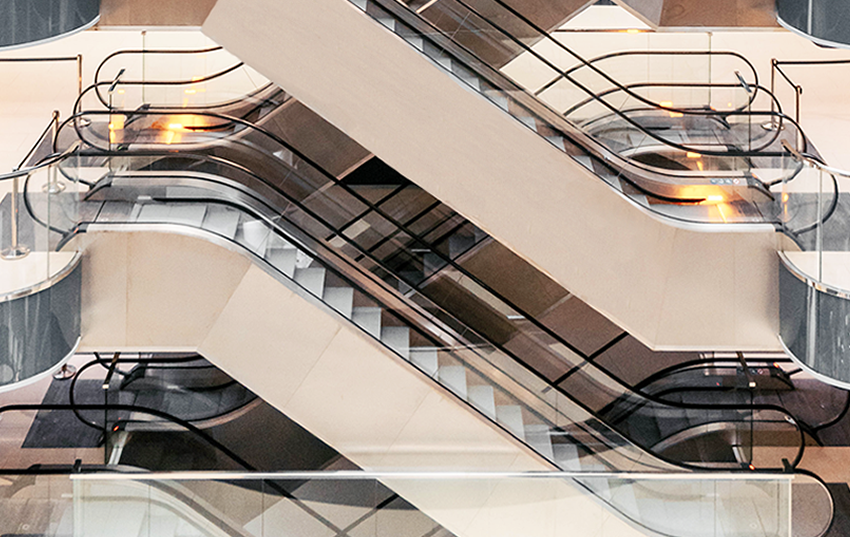 Retailers are facing a gloomy holiday outlook as rising inflation and a looming recession force consumers to rein in spending. A recent 451 Alliance survey found that consumer holiday spending is showing a pullback, with tepid confidence in the job market and the overall economy, according to Michael Nocerino, research analyst at 451 Research, a part of S&P Global Market Intelligence.
A net positive
While the consumer spending outlook has not been able to maintain forward momentum, it has not fallen off a cliff, despite recession worries.
There was almost an equal portion of consumers who intended to spend more over the next 90 days (26%, a 9-point increase from the previous quarter) as those who planned to spend less (25%, a 7-point increase compared to the last quarter) over the same period.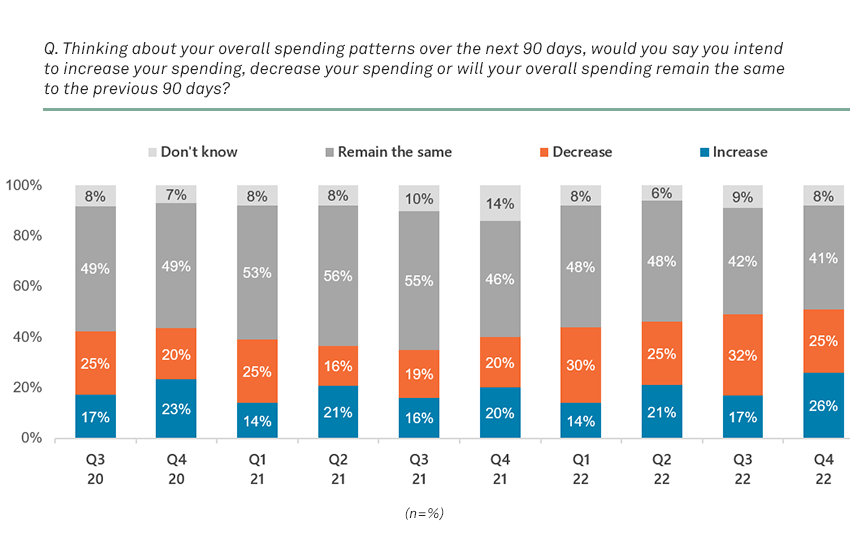 Belt tightening
It's apparent that the era of stimulus check-boosted spending is over, with rising energy prices and inflation hitting a record high. Lower-income households are taking the hardest hit, struggling with higher borrowing costs and limited savings. A larger percentage of lower-income households (22% versus 8%) stated they did not know how they would continue paying higher prices if inflation did not ease soon.
As a result, the bulk of their income will go toward groceries, energy/utilities and housing spending (net +36). Discretionary spending on vacations, movie theaters and restaurants will take a back seat for lower-income consumers (net-12).
A widening gulf
The result extends to holiday spending, which typically falls under the discretionary category. Lower-income households are showing a big pullback on holiday spending (net -29), compared to the higher income households (net +6).
As expected, higher-income households are more resilient against inflation. The positive spending outlook over the next 90 days is driven by respondents making more than $100,000 a year (net +26), while respondents earning less than $50,000 are feeling the brunt of inflation (net -10).
Digital first
Online shopping appears to be a sustaining trend among consumers. E-commerce is the preferred way to shop for 43% of respondents. Further, 31% indicated they planned to spend more online than in 2021, a bright spot amid the gloom for retailers.
Cautious optimism
More than half of consumers (56%) expected the economy to worsen in the next 90 days, against 19% who expected it to improve. Yet the sentiment has lifted after a dip for the past five consecutive quarters.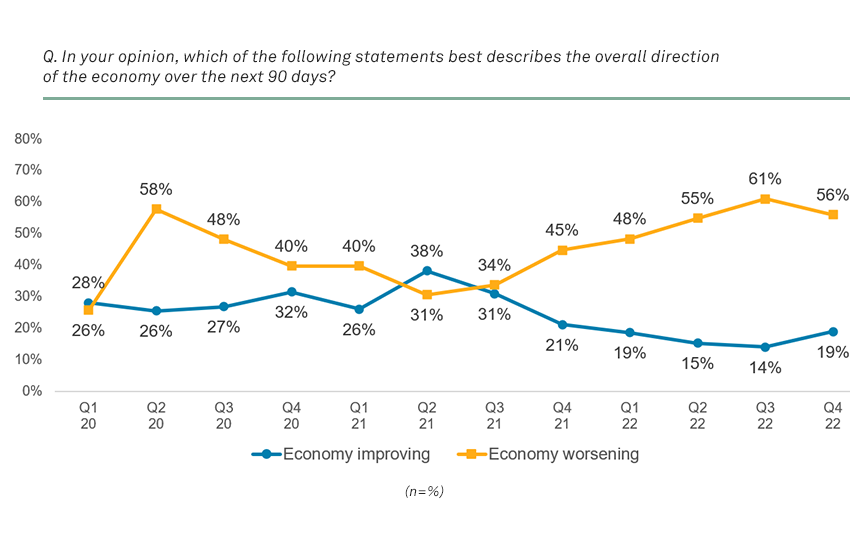 On job security, the number of respondents citing the overall job market as a threat to their personal finances ticked up. Gen Z and Millennial consumers were the most affected. These signs point to leaner times ahead.
Want insights on consumer tech trends delivered to your inbox? Join the 451 Alliance.