Since the advent of information technology in the workplace, organizations have sought to improve the user's experience with tech tools. While technology continues to evolve at an ever-accelerating pace, thought leaders in Workplace Productivity and Collaboration (WPC) have studied its extensive effects on the overall employee experience.
Technology driving employee engagement, satisfaction and productivity
Current research shows that the relationship between employees' technology usage experiences and their level of both job satisfaction and work productivity is significant. While IT's role was once exclusively about improving workflow efficiencies and speeding time-to-market (among other business objectives), optimization of the digital workplace is now about "more than just managing core business systems," noted Chris Marsh, Research Director and Principal Analyst for WPC, 451 Research, a part of S&P Global Market Intelligence. "Managing the digital workplace, I think, is increasingly a matter of managing the employee experience."
Fitting the pieces of the employee engagement matrix together
"The tools and technologies you equip your employees with are some of the most statistically strong drivers of your workforce's overall engagement. More engaged employees are, unsurprisingly, five times more likely to feel a strong sense of belonging in their organization than those feeling disengaged," Marsh said.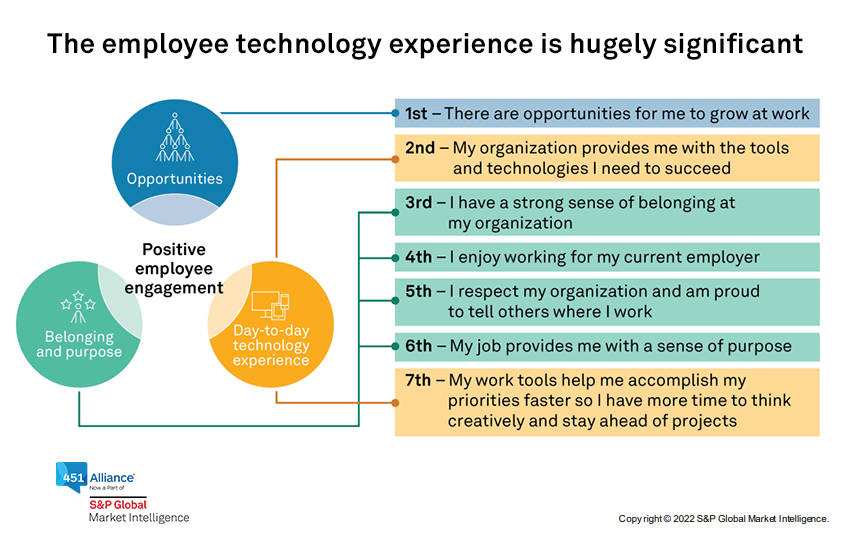 Marsh further drew connections between an employee's engagement level and an interest in enhancing one's skills. "Employees who feel very engaged are more likely to be invested in their own career development," he observed.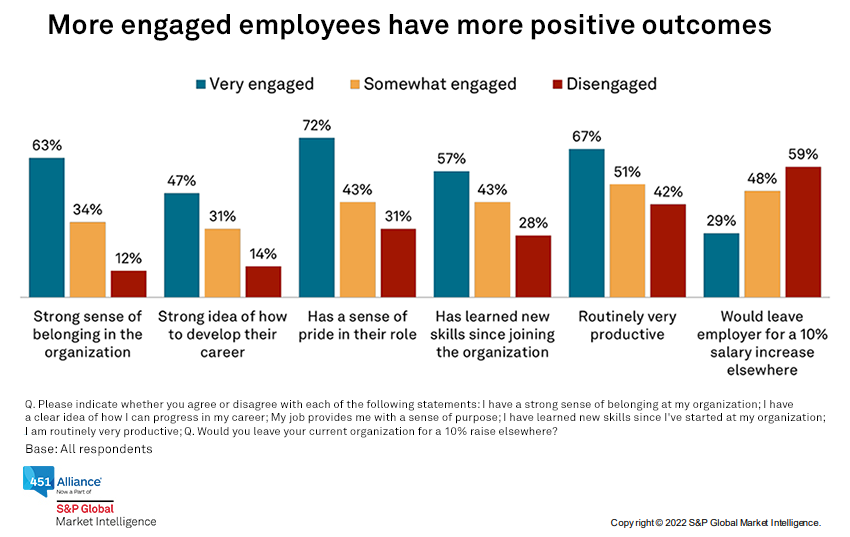 The acquisition of work skills typically translates into higher levels of both productivity and employee "stickiness" within the organization. Marsh said employees are "more likely to feel a sense of purpose to be learning new skills," and "are less likely to be tempted to leave their current organization by the opportunity of a salary increase at another organization if they're feeling very engaged."
An employee's engagement, satisfaction, self-development, productivity and loyalty all feed one another through a virtuous cycle, with much of that cycle being driven by positive technology experiences.
The challenges of application, data and technology sprawl
As workplace technologies have evolved and improved, they have been accompanied by roadblocks that sponsors and users alike wrestle to overcome.
According to Marsh, "The first [challenge] really is addressing the very fragmented, disconnected sprawling experience that most employees have across the different applications they need to use. Two-thirds of employees [who participated in our study] state that among the biggest technology challenges…impeding their own personal performance are struggles with fragmentation – information silos, data silos, the lack of integration between applications."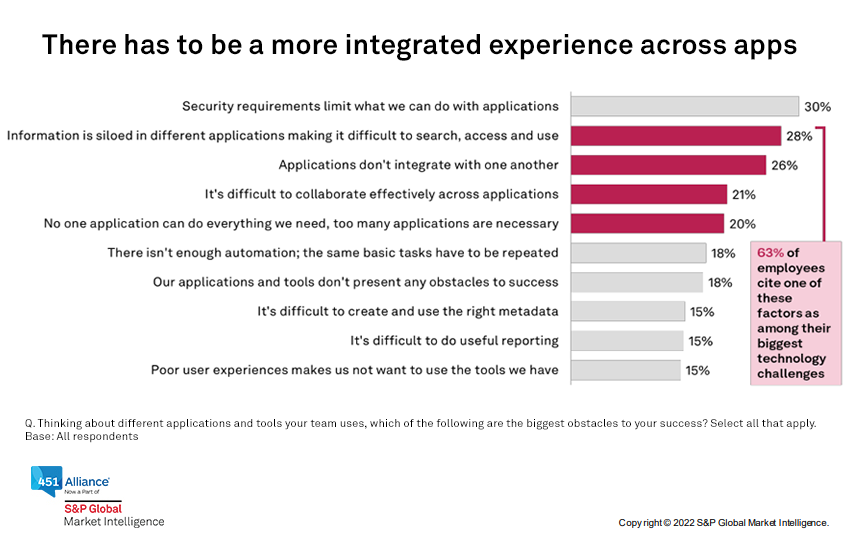 To address that fragmentation, IT teams are tasked with finding ways to integrate the best-of-breed solutions they selected along the way into a cohesive, interoperable portfolio of tools. Marsh said they must build a "strategic architecture with the vision of [the] seamless experience for employees baked into it," adding that these architectures "require a better appreciation of how data and information flow across applications [and] across teams."
As a member of the 451 Alliance, you can watch The Role of Digital Workplace Technologies in the Future of Work at your convenience. In fact, all 451 Alliance reports and materials are available through our member portal for on-demand viewing, at no cost to Alliance members. It's our way of thanking you for your contribution of IT knowledge and experiences through participation in our quantitative and qualitative studies. We appreciate and welcome your continued participation.