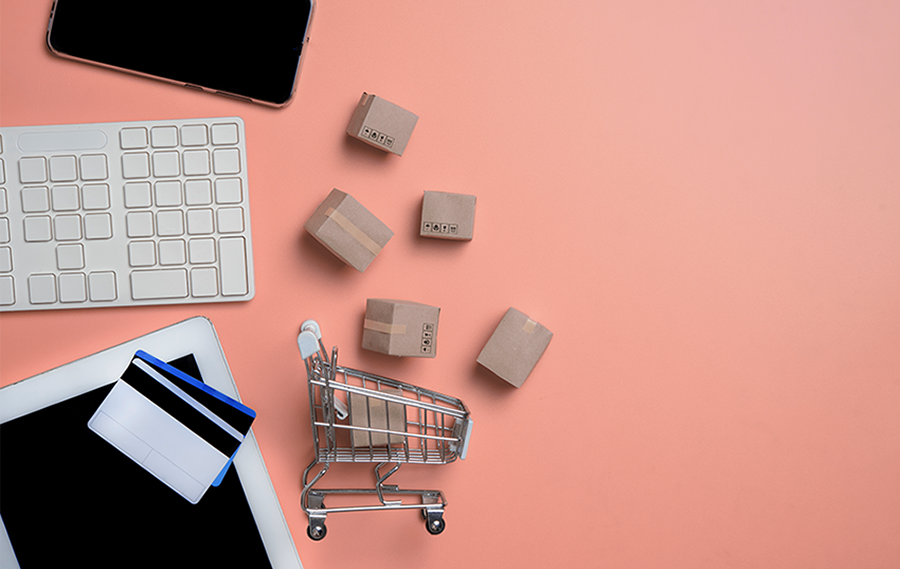 Online fraud poses a large and diversifying problem. Nearly two-thirds (63%) of respondents to a 451 Alliance survey report a year-over-year increase in the volume of fraudulent online transactions experienced by their business, and 29% indicate that the increase has been significant.
Beyond traditional payment fraud, respondents point to notable upticks in fraud volume across their customer journey, including friendly fraud, new account fraud and policy abuse. While fraud losses are undoubtedly top of mind, our survey reveals that the customer experience impact has become a far bigger concern.
The Take
All too often a business's most loyal customers are collateral damage in its fraud-prevention efforts. As the digital economy accelerates, enterprises cannot afford to allow fraud prevention to jeopardize their ability to attract, win and retain customers. Adaptation will require a strategy shift. Enhanced collaboration between fraud management and customer experience teams, a deeper view into identity, and ongoing optimization efforts are needed to ensure fraud-prevention strategies are aligned with business needs, fraud trends and customer behaviors.
Coming to terms with the customer experience implications of fraud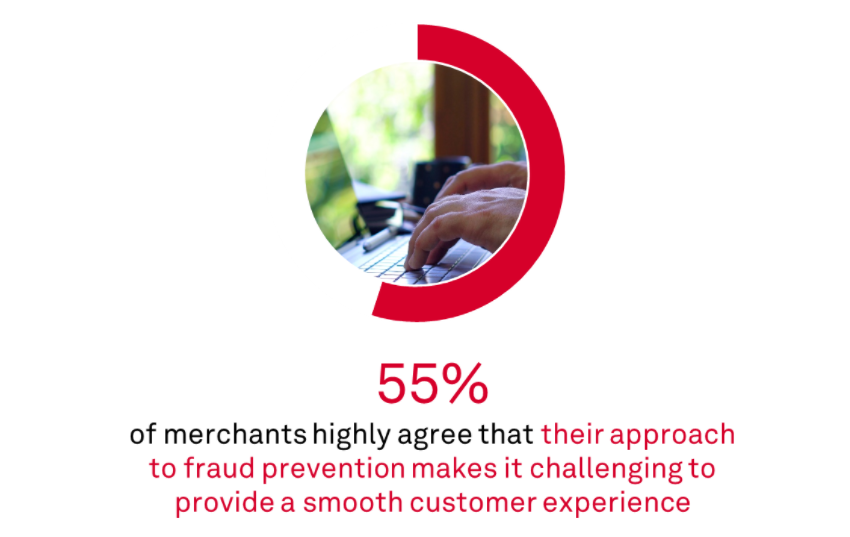 When it comes to balancing fraud-fighting efforts with the customer experience, most merchants tilt more toward preventive efforts. More than three in five (62%) commerce technology decision-makers indicate their business often or sometimes prioritizes fraud prevention over the customer experience. Even more concerning, 55% highly agree that their organization's approach to fraud prevention makes it challenging to provide a smooth customer experience. False declines, persistent login challenges and extended shipping times caused by manual reviews are all examples of customer friction that can stem from unoptimized anti-fraud strategies.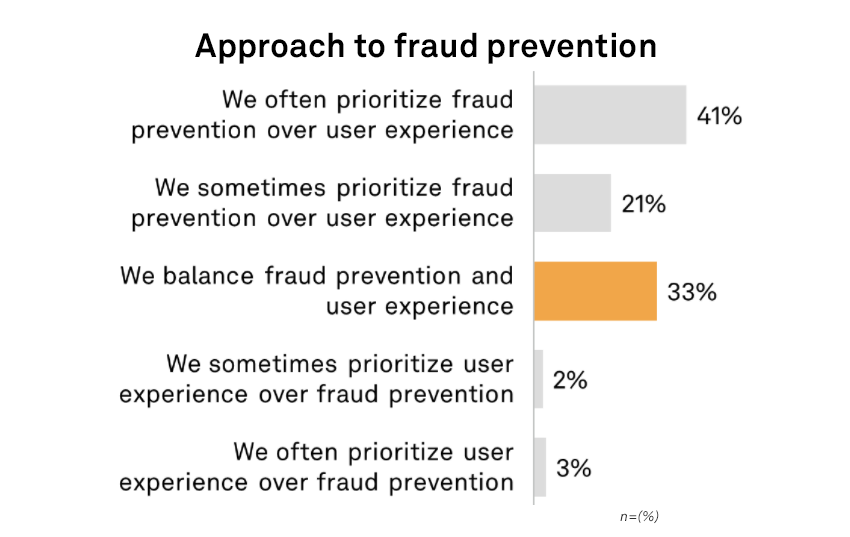 With fraudulent activity elevated against the backdrop of e-commerce growth, it is to be expected that concerns pertaining to the various business impacts of fraud have risen nearly across the board since 2020. However, what is most striking is the consistent year-over-year growth in the percentage of respondents citing "customer experience impact" (up 21 percentage points since 2020) and "damage to brand/reputation" (up 17 percentage points since 2020). These areas rank as the top two concerns that merchants have about fraud, underscoring the way in which unoptimized fraud-prevention efforts are interfering with the customer journey. Fraud should no longer be seen as just a bottom-line problem. Ramifications are increasingly being felt on the top line, adversely affecting not only up-front sales revenue, but also customer lifetime value.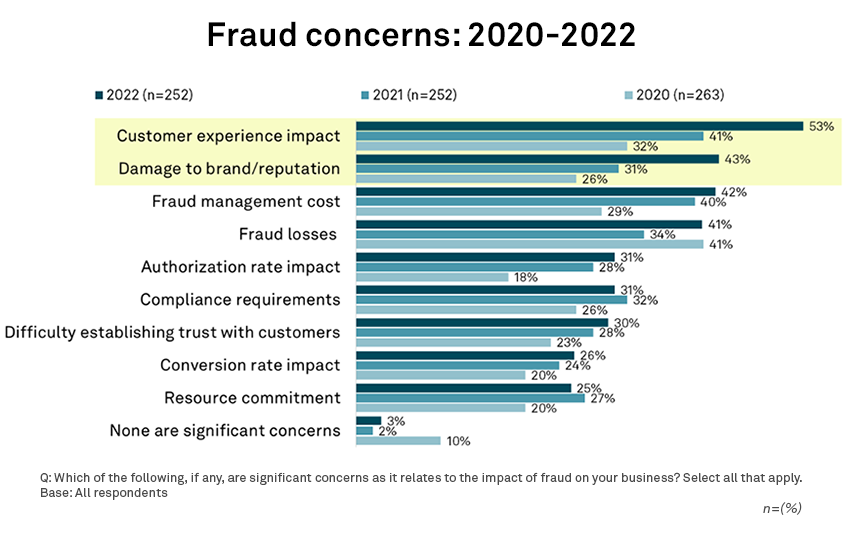 There's a good reason why merchants are concerned about the customer experience implications of fraud: Customers are holding them accountable. This is true not just of actual fraud, but the friction that often occurs when merchants attempt to prevent it. According to a 451 Research survey, a false decline (e.g., a transaction incorrectly declined due to suspicion of fraud) will lead to the following:
One in five consumers will share the experience with friends/family, rising to more than one in four Gen Z-ers.
One in six consumers will stop shopping with the merchant in the future, rising to more than one in five Gen Z-ers.
One in 12 consumers will post a negative comment about the merchant online, rising to one in seven Gen Z-ers.
With both relationships and revenue in jeopardy, merchants must take near-term steps to align their fraud prevention and customer experience priorities. With this in mind, we advise the following:
Ensuring customer experience and fraud-prevention teams are on the same page. Effectively fighting fraud is a task that is bigger than the fraud and risk management team alone. This team should have an active and collaborative dialogue with the customer experience group to ensure that there is a unified understanding of the impact that fraud (and preventive efforts) is having on the end-to-end customer journey. One large enterprise we spoke with accomplished this with the creation of a digital experience center of excellence, of which fraud management is a key focus. The group brings together cross-functional viewpoints, strategies, data sharing and technology buying. A unifying objective of the group is to break down the organizational, experiential and technology silos within their customer journey that traditionally have helped fraudsters thrive.
Working toward a deeper understanding of identity. Without an ability to effectively discern good customers from criminals, the customer experience and the business inevitably suffer. Changing course requires a view into identity. Merchants need data-driven tools to develop a more complete understanding of the identity associated with each interaction (e.g., have we seen this identity or identities like it previously, and what was the outcome?) and, importantly, the extent to which it can be trusted. This allows for a dynamic approach to fraud prevention, where only suspicious identities are "stepped up" with added friction (e.g., 3D Secure). Customer experience professionals should recognize that identity tools are not only relevant for the fraud department — they can also be employed to detect loyal customers and ensure they receive VIP personalized treatment.
Treating fraud prevention as an ongoing optimization exercise. Treating the development of fraud rules and policies as a one-time exercise puts businesses in a vulnerable position. Fraud trends, business needs and customer behaviors are in a constant state of evolution, meaning ongoing monitoring and refinement of fraud-prevention strategies will be essential to deliver continuous value. Reviewing fraud rules and policies on at least a monthly basis is a sound practice to adopt, as is tracking a broad range of KPIs beyond traditional metrics such as chargeback ratios and approval rates. Several examples include the incident rate of specific chargebacks (e.g., item not received, significantly not as described), chargeback "win rates," authorization rates, checkout abandonment rates, manual review rates and false decline rates. Diverse KPIs help to tell a more granular and accurate story on the overall effectiveness — and impact — of a fraud-prevention strategy.
Want insights on consumer tech trends delivered to your inbox? Join the 451 Alliance.