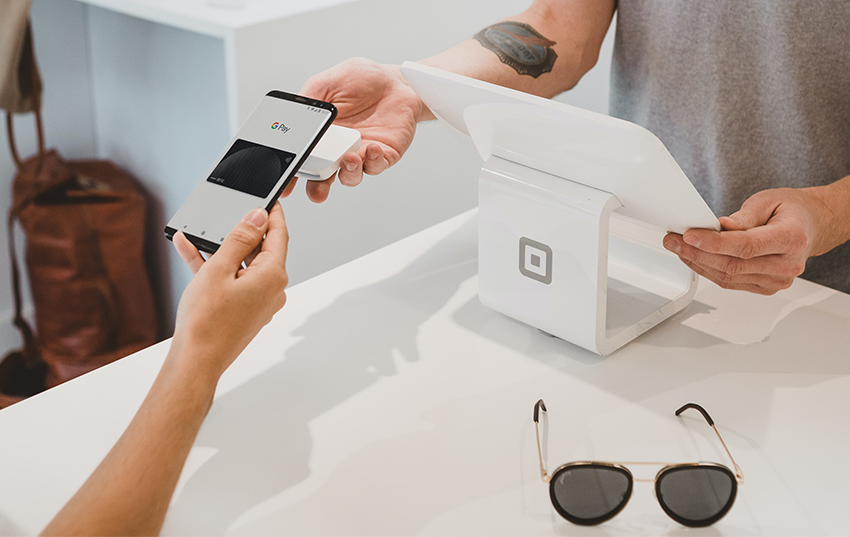 After a year of lockdowns, social distancing and contactless transactions, we saw an expected increase in consumer adoption of digital wallets, yet they are still far from displacing traditional credit/debit cards. One reason for this is the fact that current generation credit/debit cards are anything but traditional.
Credit/debit cards with 'tap to pay' functionality are becoming more prevalent as card issuers get more advanced cards into the hands of consumers as expiring cards are reissued. The 451 Alliance's Q1 2021 connected customer survey took a fresh look at tap-to-pay usage among the US population.
The survey found a third (33%) of respondents currently have a contactless tap-to-pay card and use it, a huge 10-point year-over-year increase compared to our Q1 2020 survey. On a percentage basis, this is one of the sharpest increases in consumer tech usage we've tracked so far this year. Clearly, the pandemic had an even bigger impact on tap-to-pay than it did on digital wallets.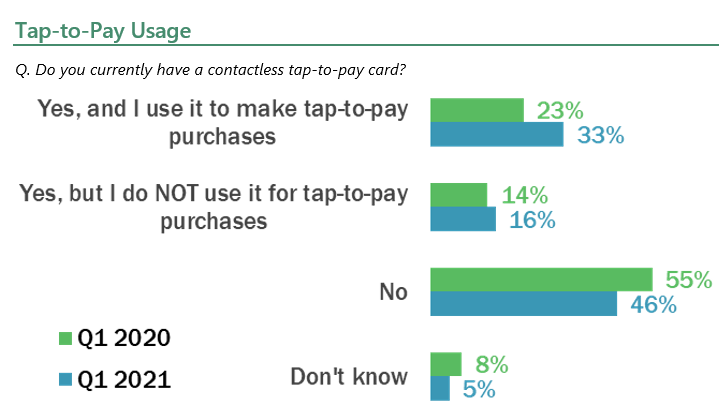 In fact, we asked respondents, if both were available, which did they prefer? Almost three quarters (73%) of respondents said they prefer to use contactless cards over a digital wallet. This is a big increase over last year when 54% said they prefer tap-to-pay cards. The focus on contactless transactions during the pandemic, paired with accelerated contactless card issuance, is what helped thrust tap-to-pay cards ahead of digital wallets. For many consumers, the simplicity of still being able to use a traditional form of payment, but now being able to do so without touching the terminal, is a winning formula in terms of the customer experience.
Among respondents who use the tap-to-pay functionality, half (50%) say they use that card more often as a result, while only 9% say less. This is a net 16-point increase over last year, and hints that there is an acceleration in tap-to-pay cards displacing traditional cards and cash in consumers' wallets. And while we can't track it directly, the data offers insight into the possibility that tap-to-pay cards account for a larger share of transactions than in our previous survey.
To get at the other side of the ledger, we asked respondents who don't currently have a contactless tap-to-pay-enabled card, or don't have a credit/debit card at all, how likely they would be to make tap-to-pay purchases if they did. More respondents from this group said they were very/somewhat likely (41%) to make contactless purchases if they had a tap-to-pay card issued to them than those who said they were very/somewhat unlikely (33%). This shows pent-up demand for these types of cards. All issuers need to do is get them in the hands of consumers to quickly increase overall adoption.
Among this group, almost a quarter (23%) said having a tap-to-pay card would motivate them to use that card more often, compared to 4% who said less. While on the surface these numbers are lower than current users, it's due to this being an abstraction for these respondents. Once they have cards in hand, it's plausible their behavior would normalize to align more with the current users group.
Taking a quick look at a potential future, biometric payments are currently being tested. These would use facial, fingerprint and/or iris recognition to validate the authenticity of a transaction. The survey finds a solid base of initial interest with 20% saying they are very likely to try this method, and another 23% say they are somewhat likely. These results are up compared to last year, and highlight the importance of security and consumer interest in more secure transactions.
---