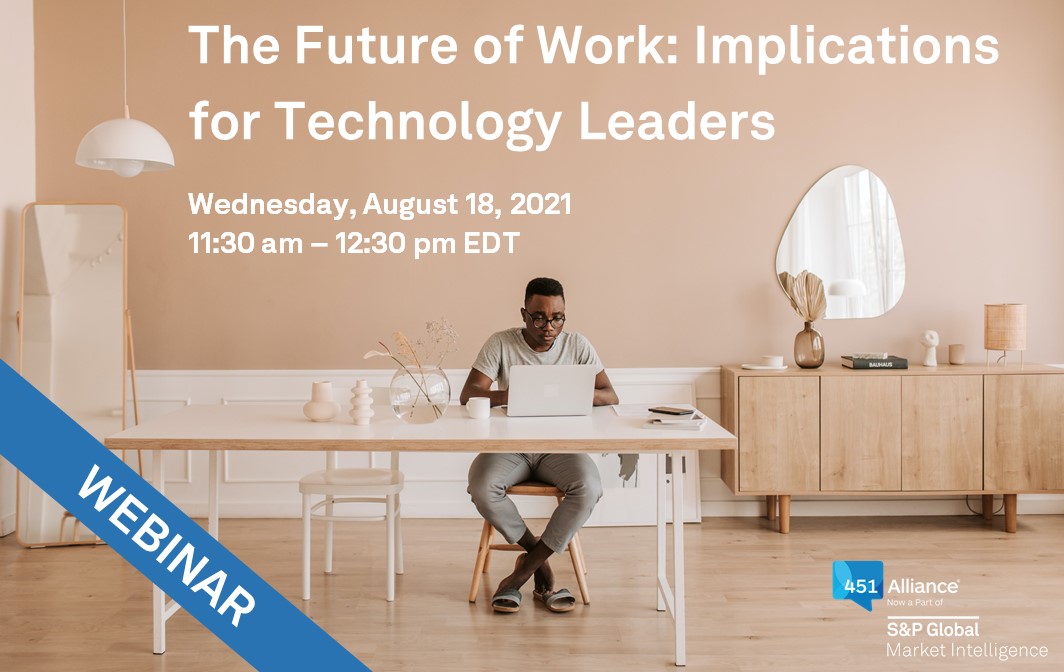 Join us at the upcoming 451 Alliance webinar, The Future of Work: Implications for Technology Leaders, on Wednesday, August 18, 2021 from 11:30 am – 12:30 pm EDT.
451 Alliance members will receive the slide deck and a recording following the presentation.
Not a member of the 451 Alliance? Submit an application to join the IT think tank and enjoy direct access to research insights.
Apply here to see if you qualify for membership:
Webinar Details
In recent years, the workforce's productivity, collaboration and engagement experience has grown as a transformation priority. Business and technology leaders are realizing the negative operational impacts of siloed applications and the lack of ways for non-technical employees to optimize workflows and digital experiences.
The pandemic-induced shift to a hybrid working model has added an additional layer of complexity. As a result, we are at a tipping point in how businesses think about workforce productivity.
The 451 Alliance has been collecting data from employees, technology buyers and HR professionals on this matter. In this webinar, 451 Research Principal Analyst Chris Marsh condenses the key high-level insights that point to the way forward.
Topics covered:
Changes in workplace technology strategies
Spending across technology categories
The emergence of new operational cultures
The evolving role of HR in workforce productivity
A new approach to team collaboration