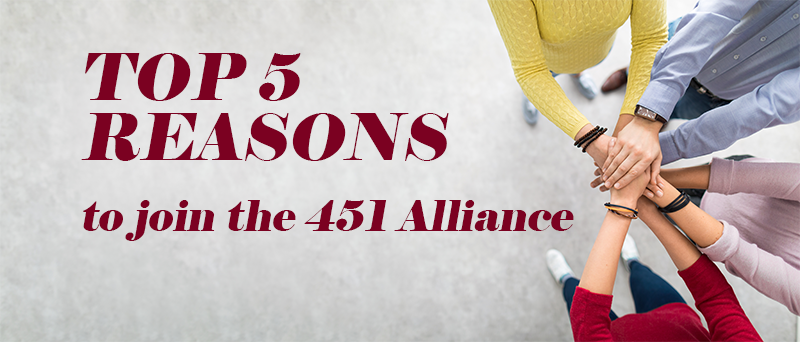 If you received an invitation to join the 451 Alliance, you're probably wondering what's in it for you. Is it worth joining? What do you get out of membership? And is it really free?
All good questions!
We asked our members what they get out of it, and here are the top 5 most commonly cited reasons why they enjoy their 451 Alliance membership.
1.      Be a part of cutting edge research
It's true that 451 Alliance membership is free – we never ask our members for money, nor try to sell you anything. All that is required to sustain your membership is your participation in relevant surveys about how you use technology at your company.
We aggregate the survey responses and send that data for professional analysis by 451 Research analysts. Because we are strict about our membership standards – only admitting qualified, verified professionals in IT, C-suite, or tech-adjacent roles – our member survey data produces a realistic cross section of IT trends across regions and industries.
Our data is anonymized to respect member privacy. One effect of that is that research findings are truly vendor-neutral – which is tough to come by in the research landscape.
Participating in neutral, industry-wide research is repeatedly cited as one of the most valued parts of Alliance membership.
2.      Exclusive access to unbiased research reports
Members enjoy the fruits of their labor by receiving weekly reports based on their survey data. These reports summarize the main findings and illustrate them with graphs and diagrams.
AI and ML Drive IT — and Autonomous Vehicles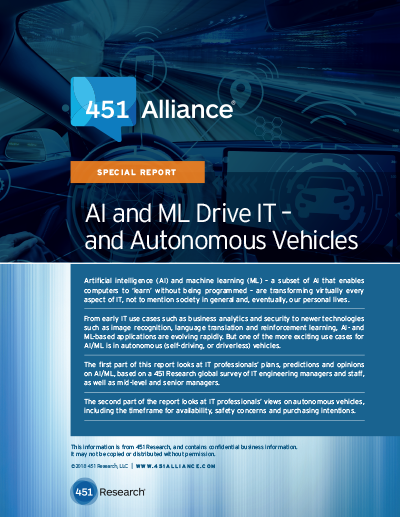 Download report >>
These reports are customized for our membership to ensure we deliver insights that will be most applicable to your day-to-day job.
Members tell us they use our reports in order to:
Make informed strategic decisions
Benchmark their organization compared to overall trends
Forecast staffing and budgeting needs
Anticipate industry changes and how they may affect their business
Identify pain points they share with their peers
Learn about new applications of technology that they should consider
Reports are truly exclusive to members – they are not published publicly online. But members enjoy full access to our entire report archive on our member site.
3.      Live access to IT analysts
Part of 451 Alliance member benefits is an invitation to regular members-only webinars with 451 Research analysts. This is an excellent way for the auditory learner to absorb research findings .
These webinars cover several surveys' worth of data on a given topic area (cloud, IoT, AI/ML, digital transformation, servers, storage, or InfoSec). It's a consolidated explanation of the research with a live Q&A session at the end of the presentation.
Having live access to our analysts is worth its weight in gold. You have the chance to ask clarifying questions about the data, and also pose questions that might steer the trajectory of future research.
4.      An opportunity to assess your strategy
When you set aside 8 minutes to complete a survey, you're not just contributing to important research. You're taking stock of the status of your business.
451 Alliance surveys present an opportunity to assess what you're doing for your company. What decisions have you made, and have they paid off? What challenges do you face? What do you want to change in the near future? How far have you come on your goals?
Some of our members contribute to research in the form of phone interviews where they can talk through the answers to these questions with a researcher. These members frequently remark that they are grateful for the time to put their thoughts into words. Often, they come out of these interviews with an unexpected sense of clarity. That helps them focus on their work with renewed energy and confidence.
5.      Discounts and partner offers
On top of all the professional benefits to 451 Alliance membership, there are additional perks.
We partner with professional organizations and consortiums to provide discounts and special offers that would be of interest to our membership.
Partner organizations like ONUG and ISC2 offer members-only discounts to register for upcoming conferences. Plus, women who join the Alliance get a discounted membership to the Innovation Women speaker database.
New member benefits and special offers are announced in our members-only newsletter.
---
The
 451 Alliance
 is an invitation-only think tank for IT executives, technologists, and tech-adjacent professionals. 
Do I qualify?