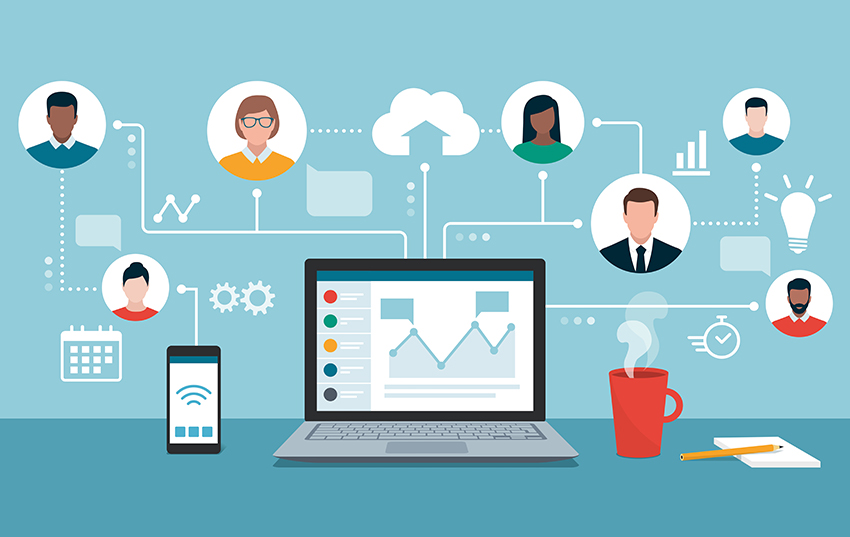 Most of us have been in isolation due to the coronavirus (COVID-19) pandemic for months. So many aspects of our lives have changed – buying groceries, traveling, seeing family and friends – and our workplaces and routines haven't been spared from those changes.
To quantify those changes, the 451 Alliance surveyed its members regarding the impact that COVID-19 has had on their organization. With multiple waves of this survey fielded throughout 2020, we can monitor this impact by conducting a time-series analysis.
Although the most recent survey shows a generalized slowing in IT spending, the segment of unified communications and collaboration (UC&C) is on the rise.
Three key UC&C trends have been uncovered:
1. Organizations are spending more on communication and collaboration, information security tools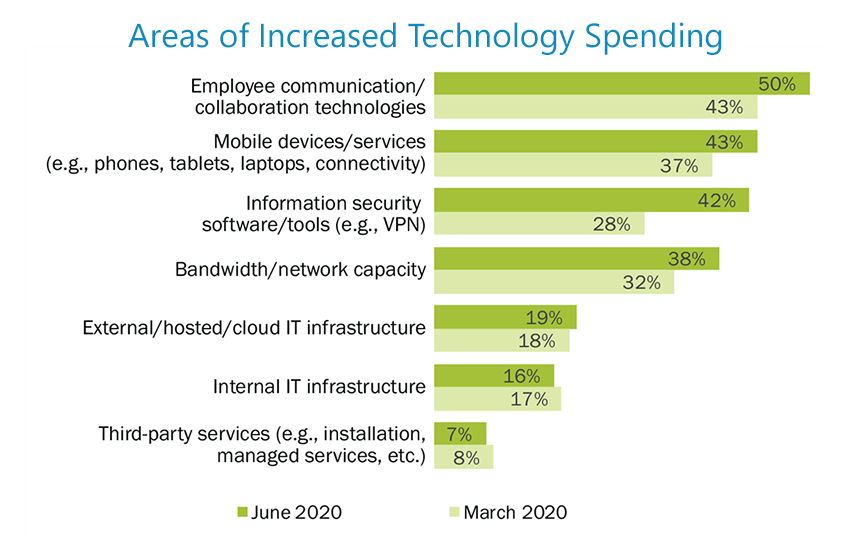 The sudden need to support employees working from home during quarantine led to an increase in IT spending, with employee communication and collaboration technologies and information security tools emerging as key spending areas. Organizations are increasing their spending on employee communication and collaboration technologies (50% of respondents), mobile devices and services (43%), information security tools (42%) and network capacity (38%).
2. Work-from-home is here to stay
The shift in IT budget allocation to support working remotely reflects how organizations responded to the outbreak in the early days of quarantine. Among policy responses to the COVID-19 outbreak, expanded or universal work-from-home policies were implemented broadly and quickly by many organizations. With consideration of the results collected from our most recent survey, these policy changes won't be short-lived.
It is anticipated that most organizations will maintain their expanded work-from-home policies either long-term or even permanently, with two-thirds of respondents indicating as such. This is a significant increase from the 38% of respondents who answered similarly in the first wave of this survey.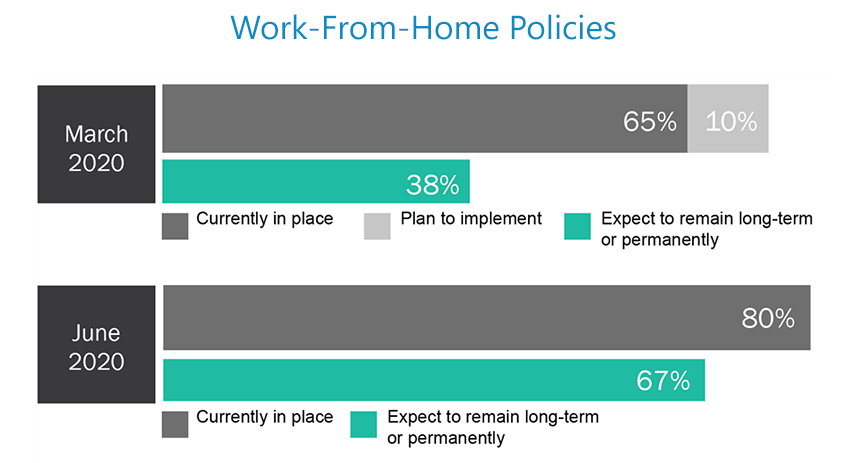 3. The office environment will see a reduced footprint
As the previous trends suggest, many organizations are reconsidering plans to reopen their offices.
Thanks to the relative success of work-from-home efforts, the difficulties presented by the prospect of returning to work in physical office environments, and the conflict between proximity and employee safety, returning to levels of office attendance that were present prior to the COVID-19 outbreak isn't so attractive to many organizations.
Among 451 Alliance members, 25% said their organization plans to wait at least a month or longer once regulations permit employees to return to the workplace.
Furthermore, a significant portion of organizations are expecting to reduce their office footprint. As shown below, 47% of our 451 Alliance members said their organization expects to reduce their physical office footprint, with over 20% expecting to reduce it by more than 25%.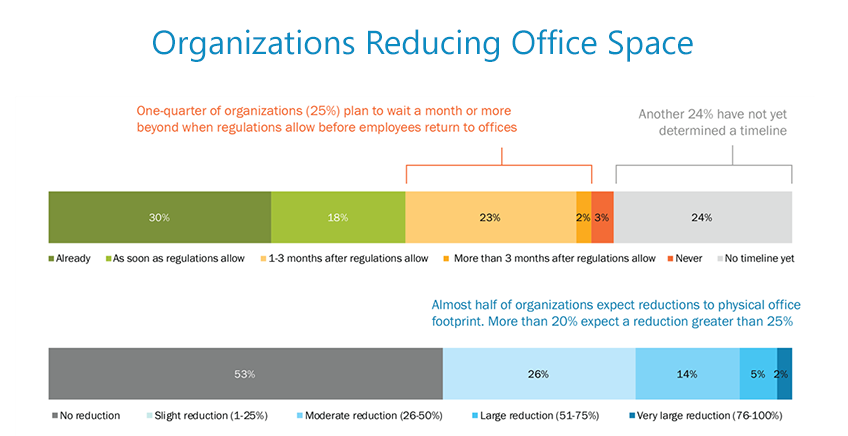 These three trends are supported by something we're all well familiar with at this point: web/video conferencing. Vendors have reported an unprecedented surge in demand during the COVID-19 outbreak, and are investing heavily to expand their infrastructure accordingly. In consideration of the trends noted above, we anticipate you will spend more hours on Zoom calls, or on your organization's communications/collaboration tool of choice in the upcoming months.
---