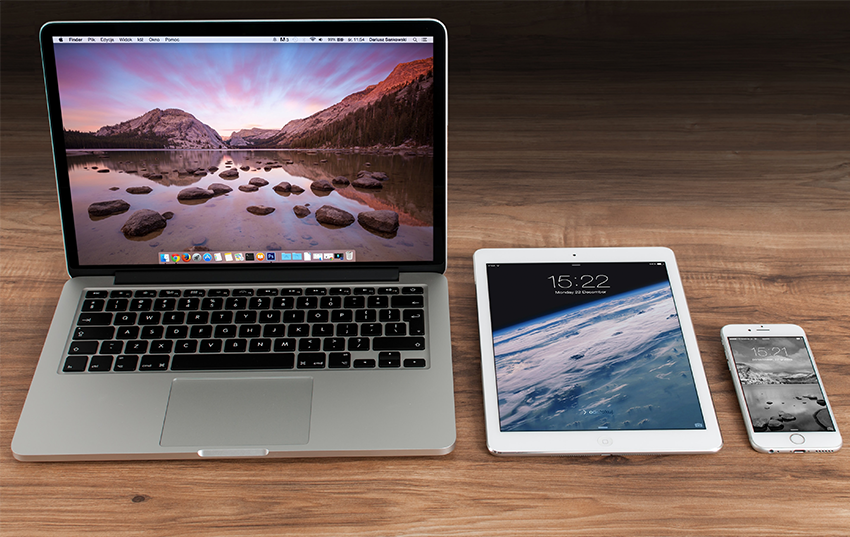 In parallel with the uptick in business spending on smartphones, our February IT spending survey also finds slightly higher spending on tablets and laptops compared with this time in 2020. Desktop purchasing, on the other hand, is down a smidge.
Business spending trends: Tablets
Business tablet-buying plans are up two points compared with February 2020. These findings are comparable to our results on smartphones, which also exceeded the pre-pandemic level from 2020.
Notably, this increase is being driven by smaller companies (fewer than 1,000 employees; 11%), which are showing a 3-point uptick compared with larger companies (more than 1,000 employees; 17%), which report a slight 1-point downtick compared with previously.
Apple (75%) continues to hold a commanding lead among companies planning to buy tablets, unchanged compared with 2020. Like corporate smartphone purchasing, Apple is firmly in the top spot.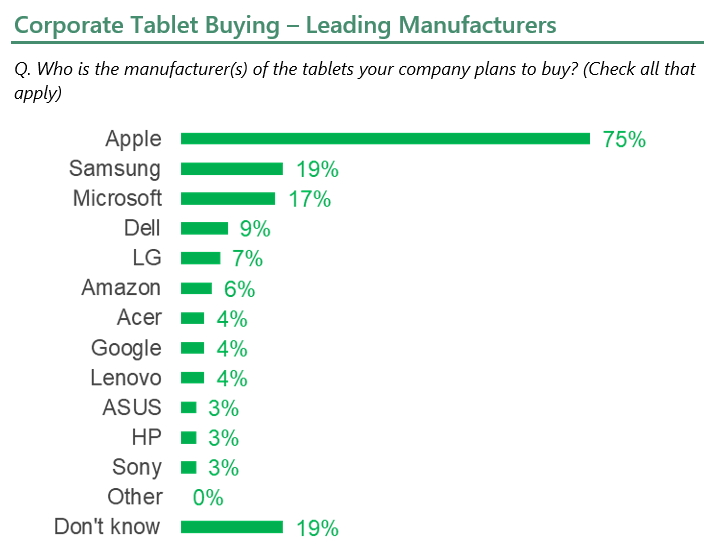 Samsung (19%) and Microsoft (17%) remain distantly behind Apple, but have their own spirited competition to stay ahead of the next tier of manufacturers. At this point in 2020, they were flip-flopped, with Microsoft higher on companies' want lists. It's likely that this jockeying for position will continue for the foreseeable future. Also worth noting is the jump in the number of respondents saying they are unsure which manufacturer's devices they will buy. This indecisiveness could have a material impact on the positioning of providers not named Apple. We will have to wait until next quarter's survey to know for sure.
Taking a closer look at Apple, the iPad Pro (52%) is the top model companies plan to purchase, with the iPad Air trailing at 40%, although that margin has widened compared with last year. Importantly, we see a reduction in the number of buyers who are unsure which model they will ultimately purchase.
Business spending trends: PC
Corporate spending plans for laptops (39%) are showing improvement, while plans for desktops (18%) have settled down slightly compared with our survey in February 2020. These findings are in-line with the category-specific spending we explored in the main IT spending report, where PCs showed a net-positive increase in spending plans over the next 12 months.
Among smaller companies, the survey shows an uptick in laptop purchasing plans (29%) and a downtick for desktops (14%). The opposite is true of larger companies, where there is an increase in spending on desktops (28%) as spending on laptops (70%) remains unchanged.
Dell (45%; unchanged) remains the top laptop choice by companies, maintaining its lead over all other manufacturers. HP (27%) has risen 4-points compared with last year, while Lenovo (26%) has sunk after a choppy year of demand. Apple (25%), for its part, is unchanged compared with February 2020, even after upticks in demand in the middle of the year.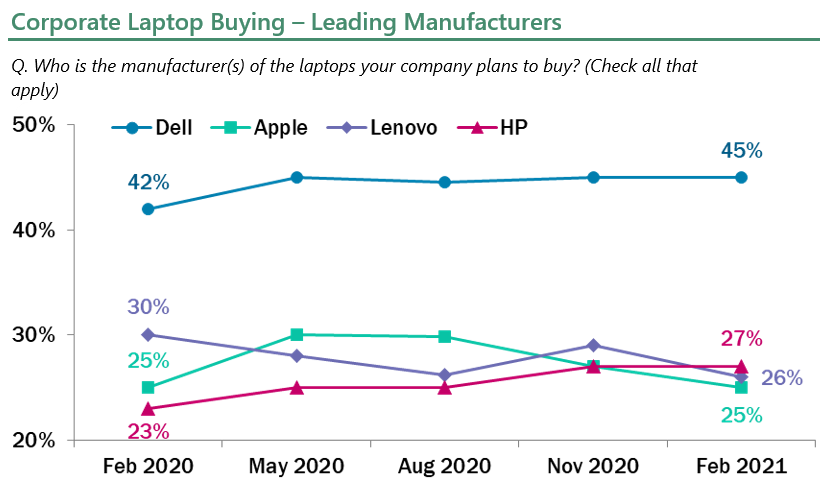 In terms of desktop purchasing, Dell (48%), HP (25%), Lenovo (18%) and Apple (17%) remain the leading manufacturers. Yet Lenovo is the only member of this quartet showing improvement compared with last February, while HP is the only one showing a notable decline. However, the survey does show a jump in the number of companies that are unsure which brands they will buy. When those decision are ultimately made, they will have a measurable impact on the positioning of the different desktop manufacturers. As with tablets, we will have to wait until next quarter's survey to know for sure.
Of course, it is also possible that those companies that are less decided on which desktops to buy may ultimately buy laptops or tablets instead, if those devices fit better with organizational planning as companies navigate the next stage of the COVID-19 pandemic and the potential for bringing employees back into offices.
---