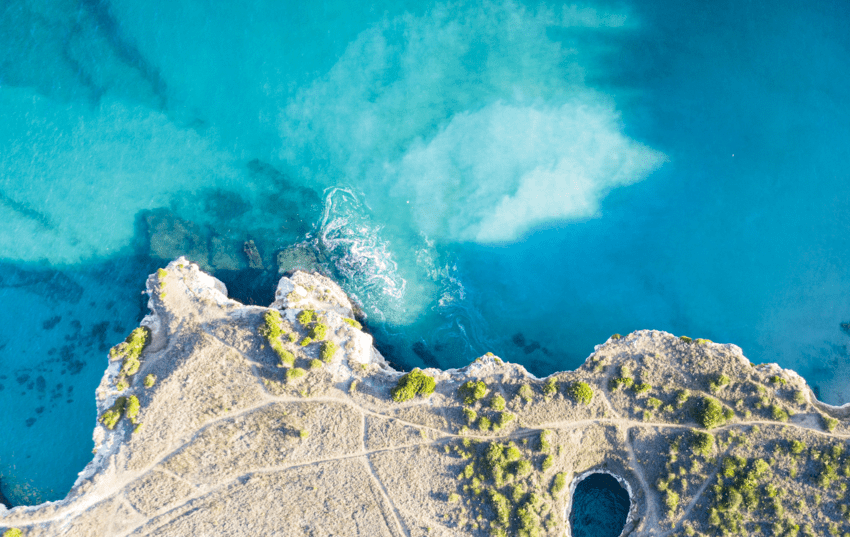 Traditionally, subsurface missions are performed by primarily hydraulically operated subsea remote operated vehicles (ROVs). These small vehicles are connected to a large, diesel-fueled operations vessel, with a sizeable crew on the operations vessel operating the subsea ROVs. The missions are costly because they are labor-intensive and have a significant ecological footprint, estimated at about 70 metric tons of CO2 per day (comparable to 5,500 cars) because of the fuel emissions of the operations vessel, and they carry further environmental risks as the hydraulic systems leak fluids. Nauticus Robotics has developed an all-electric, unmanned, autonomous robot, the Aquanaut, and a gas-powered autonomous surface vessel (ASV), the Hydronaut, to reduce emissions, costs and HSE (health, safety, environmental) risk, to enter a new era of underwater surveillance and maintenance.
The Take
Although we see an acceleration of the energy transition, we have to be realistic and accept that we will need fossil fuels for years to come. It will be paramount for the oil & gas industry to decarbonize its existing operations, and this provides a short-term opportunity for Nauticus. It will see some of the existing oil & gas companies as launching partners for its robotic fleet, but Nauticus has a vast opportunity in offshore wind turbine inspection as countries across the globe plan to add hundreds of gigawatts of offshore capacity over the next decade. Nauticus has a good opportunity in this market as it offers a fully operational and versatile approach that can do both inspection and intervention at competitive pricing compared with traditional subsea missions.
Context
Webster, Texas-based Nauticus Robotics was founded in 2014 by Nicolaus Radford. The company has raised a total of $96 million over five funding rounds. Early investors include SLB (fka Schlumberger Ltd.). The company went public in September 2022, upon which Nauticus received PIPE (private investment in public equity) investment from SLB, AeroVironment Inc. and Transocean Ltd. The company reports revenue of $2.8 million for its first quarter ending March 31, 2023, and 26% year-over-year growth. For the year 2022, Nauticus Robotics reported annual revenue of $11.43 million with 33% growth.
Strategy
The overall oceanic economy, counting both the seas and the shores, amounts to $2.5 trillion per year, according to Nauticus. Of this economy, Nauticus targets oil & gas, offshore wind, government, aquafarming, subsea mining, port security and management, offshore datacenters and telecom, and oceanographic and science missions contracts.
With headquarters in Texas, the company's primary geography is the Gulf of Mexico, but Nauticus has started international expansion with operating bases in Stavanger, Norway, and Aberdeen, Scotland, to service the North Sea offshore market. Nauticus is eyeing further expansion in the Brazilian offshore market, and recently inked a contract with Petrobras SA to develop and test the autonomous underwater vehicle in Brazil. The company's primary offering, subsea surveillance and maintenance missions with a combination of a subsea robot and ASV, are contracted on day-rate pricing, a business model most of its clients are used to. As Nauticus acquires more subsea information, it may look at different data service-based business models to create recurring revenue streams.
Technology
Nauticus set out a mission to make the "blue economy" greener with a focus on sustainability and providing eco-friendly alternatives to traditional methods, delivering cost and emission reductions. It aims to streamline subsea operations while protecting all forms of life and reducing the carbon cost of developing the ocean's resources. Its flagship asset is the Aquanaut, which is currently undergoing sea trials to obtain the necessary certification.
The company has announced the commencement of commissioning exercises of the first of three second-generation Aquanauts, dubbed the Mark 2 (MK2), last month, and plans to have them operational in the next quarter of this year. The MK2 measures 4.8 meters in length by 2 meters in width. It has a height of 1.7 meters, weighs about 4,200 kilograms and is a fully electric subsea robot that can operate autonomously to a depth of 3,000 meters instead of being tethered to an operating vessel. The robot can be controlled through an acoustic communications network, but subsea communication is limited.
While building the Aquanaut is largely a hardware engineering task, Nauticus sees itself primarily as a software company, as the autonomy of the subsea robot is primarily achieved through the AI-based software suite that Nauticus developed. The software suite enables the Aquanaut to autonomously operate in subsea environments and encompasses the user interfaces, sensor integration, simulation, data analysis and communications frameworks purpose-built to enable subsea work. The Aquanaut has an Excursion mode to perform subsea monitoring tasks involving the usage of data collection and perception sensors, as well as an Intervention mode, which enables the robot to interact with subsea infrastructure.
The Intervention mode comes with two of Nauticus' Olympic Arms, electric robot arms or manipulators, which allow the Aquanaut to perform tasks such as opening and closing valves or tightening bolts underwater. The challenge to enable autonomous subsea operations is to train the AI model for the Aquanaut. The model has to learn when to move the autonomous robot forward, and when to pause by recognizing movement of fish and other subsea obstructions. It also needs to be trained on each task it is commissioned for and to learn to know when the task is fully completed before returning to the operational vessel.
According to Nauticus, training the AI model for submerged environments is the most difficult part because there is hardly any training library available for underwater operations, unlike, for instance, when it comes to training AI to recognize faces. To perform its subsea tasks, the Aquanaut is equipped with several navigation and position sensors from iXblue, Nortek, AML Oceanographic, Sonardyne and ISE. For communication, the Aquanaut uses acoustic modems from Subnero and Dolphin Comms and an optical modem from Hydromea. For general visual inspection and survey, it uses optical camera systems from Voyis and sonar sensors from Blueprint Subsea, CODA and Marine Sonics Technology.
The second element of Nauticus' offering is the Hydronaut, a small gas-powered ASV to replace the traditional large diesel-fueled command ships. The Hydronaut was developed in collaboration with Diverse Marine. It has an aluminum hull, deck and wheelhouse designed by Global Marine Design. The ASV is equipped with a Volvo Penta IPS 1050 propulsion system in twin configuration, with a cruise speed of 18 knots and the slow running speeds required while working with the Aquanaut. Its systems consist of Guardian Autonomy hardware and software provided by Marine AI, a navigation and communications suite provided by Boat Electrics & Electronics and a SMART-Gyro roll dampening device supplied by Golden Arrow. For communication with the Aquanaut, the Hydronaut is equipped with an autonomous through-hull deployment of transducers and acoustic communication systems. The Hydronaut has a Kongsberg-developed launch and recovery system custom built for the Aquanaut. The ASV will be classed with Bureau Veritas.
Nauticus currently sees most traction in the traditional oil & gas industry, primarily in underwater pipeline monitoring. Second, it has attracted the interest of government and defense, as border security has become top of mind following current geopolitical tensions, a market in which Nauticus could expand with the possibility of deploying unmanned autonomous vessels to clear mines. A third short-term opportunity the company is considering is inspection of the monopiles for offshore wind turbines, an inspection opportunity that Nauticus estimates at roughly $20 million for every planned gigawatt of offshore capacity. With the increased demand and limited availability of key minerals for energy transition, such as lithium and cobalt, the company further expects a new industry of subsea mining will surface during the next decade.
Competition
Nauticus competes primarily with traditional subsea contractors such as Oceaneering, Subsea7, Allseas Group and Stapem Offshore, but also sees emerging competitors in the autonomous subsea operations segment in companies like Armada Marine Solutions, EyeROV, Ocean Modules and Rovco. The company also competes with smaller companies that offer services with traditional tethered ROVs manufactured by vendors like Blue Robotics, Bluestream, Boxfish, DeepOcean, Ocean Robotics, Outland, Saab and Teledyne.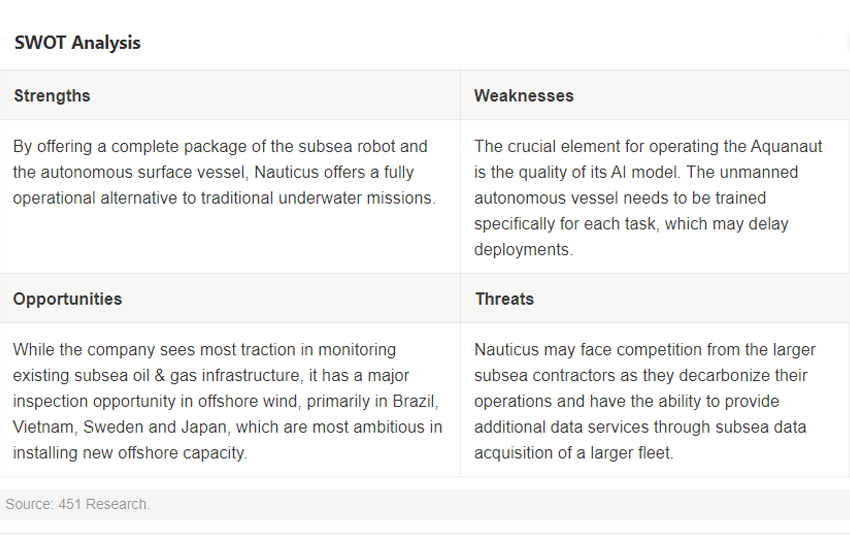 Want insights on IoT trends delivered to your inbox? Join the 451 Alliance.