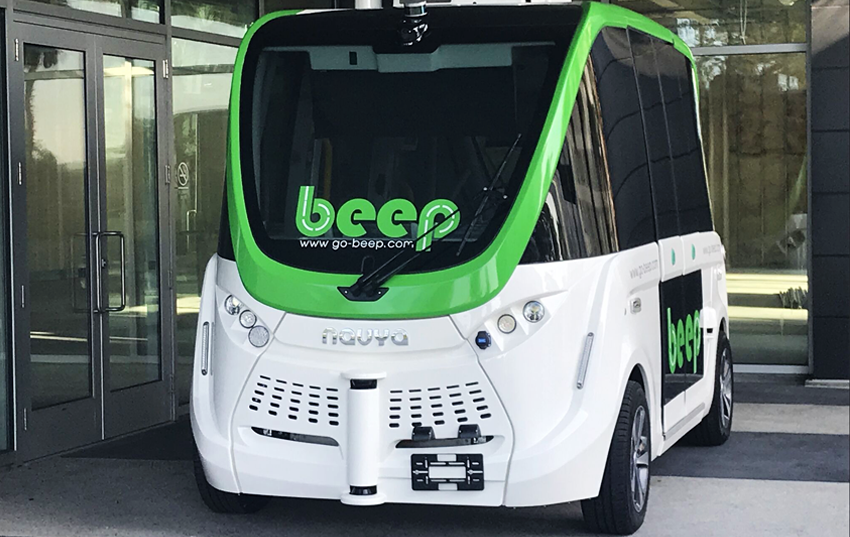 As the autonomous vehicle (AV) industry continues to shake out, companies like Beep are looking to provide autonomous shuttle services to cities and private sector clients in planned communities, hospitals and airports. Beep's model is unique in that it is a vehicle-agnostic service provider that implements autonomous shuttles from global original equipment manufacturers and leverages data collected from its own projects across the US, as well as a command center model and software for real-time safety and service monitoring. Beep sits between the AV manufacturer and the autonomous driving software (ADS) provider and works directly with transit operators. Beep is a managed mobility-as-a-service (MaaS) provider, meaning it will plan, manage and deploy shared autonomous shuttles for its public and private sector partners, with many of its public sector projects taking place alongside transit operators, transit authorities and departments of transportation (DOTs).
The Take
While the timeline for autonomous vehicles has been ever-delayed, companies like Beep are already implementing autonomous shuttles in real-world environments. With over 100,000 passengers transported, in Beep's eyes, AVs are already here. In the era of software-defined vehicles, Beep's core DNA as a software company serves it well in the evolving AV services space. Companies in the space have to navigate an ever-evolving regulatory landscape, complex IT infrastructure requirements and multi-tiered partnership ecosystems. Tapping into the growing demand for MaaS, Beep removes competitors focused on consumer vehicles and has established itself as an early mover in the AV shuttle services space for fixed-route operations in cities, and for corporate and healthcare autonomous shuttle projects.
Context
Beep was founded in 2018 by CEO Joe Moye, chairman Kevin Reid, and Rodney Rodgers. Moye previously served as president of public sector business of Virtustream, and CEO for Capgemini SE's public sector company, working with DOTs across the US. The company is headquartered in Lake Nona, Fla., with about 100 employees and projects spanning cities across the US.
Beep has raised over $63 million across three rounds of funding. The most recent series A round raised $25 million in March 2022, led by ABS Capital Partners, with returning investors Intel Capital Corporation and Blue Lagoon Capital. Beep also counts Thayer Capital Partners, Hidden Creek Management and TDF Ventures among investors.
A recent project with the North Carolina DOT should further elevate Beep's profile as an AV services provider, as the company looks toward the future of autonomous operations and supervisory monitoring of vehicles.
Partners
The market Beep serves requires deep partnerships in all directions, most notably with OEMs and with ADS providers. On the OEM side, the company has worked with France-based Navya SA and US-based manufacturers to provide shuttles that comply with Buy in America requirements. Beep is currently operating Navya and Olli shuttles in several of its current deployments. The company recently announced a collaboration with Holon, Benteler's autonomous shuttle spinoff, as well as European manufacturer ZF; both are set to manufacture their own industrial-grade, autonomous Level 4 shuttles. A 10-20-person autonomous shuttle is Beep's preferred form factor, and the company can tweak its software as needed to reflect the capabilities of each shuttle.
On the autonomous vehicle software side, Beep layers its own software on top of ADS technology. Beyond the pure-AV stack, Beep works with smart infrastructure providers, cybersecurity firms and mobility data analytics, all on a case-by-case basis. Navigating ever-evolving regulations is a key pain point for city and transit leaders, and for that reason Beep maintains deep partnerships with state DOTs where it operates, as well as the Federal Transit Administration and the National Highway Traffic Safety Administration. Through its partnerships with the public sector, Beep has successfully tested autonomous shuttles in real-world use cases using federal and state funding.
Technology
Beep provides turnkey autonomous mobility services through on-vehicle software. The company's turnkey strategy plans routes, operates shuttles and secures regulatory approval for projects. The company's services platform offers remote monitoring and oversight of shuttles while in operation. Similar to how a company like Optibus provides operations software for public buses, Beep targets short-haul, fixed-route shuttle services for first- and last-mile applications. Beep enters requests for information and proposals posted by cities with an OEM. Beep's software is OEM- and platform-agnostic, meaning it can work with a variety of partners as needed. Beep's approach to deployments is predicated on three essential conditions: operating 10-20-person shuttles as the ideal form factor, testing shuttles in geofenced or fixed route environments, and focusing on first- and last-mile transit.
As 5G networks come to market slowly but surely, Beep has benefited from the low latency afforded by emerging networks. While Beep cities like Peachtree Corners, Georgia, have already adopted 5G, it is by no means a requirement for the current generation of shuttles. Cellular vehicle-to-everything (C-V2X) capabilities have been tested and demonstrated with customers including Peachtree Corners, which is the first city in the US to have deployed a complete C-V2X system in publicly owned infrastructure. The world's first preemption of smart traffic signals by an autonomous shuttle also took place on public streets in that city, powered by 5G-connectivity and 5G units onboard Beep shuttles.
Deployments
Beep has tested autonomous shuttles for shuttle projects across Florida, California, Wyoming, Arizona, North Carolina and Georgia. While shuttles are L3 for now, the company claims they operate in full autonomy mode 90%-94% of the time, even with a safety driver on board. A few notable deployments include projects with the Jacksonville Transportation Authority (JTA) and Yellowstone National Park.
Beep is currently planning shuttle deployments in partnership with the JTA, which will be the largest publicly funded autonomous shuttle deployment in US to date. As Jacksonville looks to overhaul its existing skyway system to focus on efficiency and service optimization, Beep was selected as one of eight partners. Leveraging USDOT funding, Beep will operate 15 shuttles in Jacksonville's Bay Street corridor on fixed routes as part of the first phase of the program. In the future, autonomous shuttles will eventually operate on the city's converted legacy skyway system, which will be repurposed to support a growing network of autonomous shuttles.
The company's largest private sector deployment is in its own backyard, Lake Nona, Fla. Lake Nona benefits from pervasive 5G, with Verizon Communications Inc. opening up a living innovation lab in the city in 2020. Looking to design and connect a transit system from scratch, local property developer Tavistock tapped Beep's AV shuttle expertise when building a live/work community. The company has eight shuttles in operation within the 17-square-mile community, and claims to have eliminated 22,000 trips taken by personal vehicles. These unique conditions, a 5G living lab plus the ability to design a transit network rather than retrofit existing roads, provide a look at what the future of AV shuttle services may entail, namely for private sector deployments.
Competition
While the autonomous shuttle service market remains relatively nascent and ever-developing, Beep competes with other AV shuttle service providers. Depending on the market, this may include May Mobility, Optimus Ride and Coast Autonomous. May Mobility has a similar go-to-market approach, although the companies differ in form factor and deployment focus. Beep is a better fit for larger shuttle service requirements, while May's micro transit vehicles can transport only up to four passengers. MIT spinoff Optimus was acquired by tier 1 supplier Magna Electronics in 2022, combining the two's expertise in advanced driver assistance systems. While the company does not offer shuttle services, it may emerge as a competitor in first- and last-mile transit in the coming years. Coast operated as an OEM and services provider, and targets geofenced routes in cities, campuses, airports and other private sites.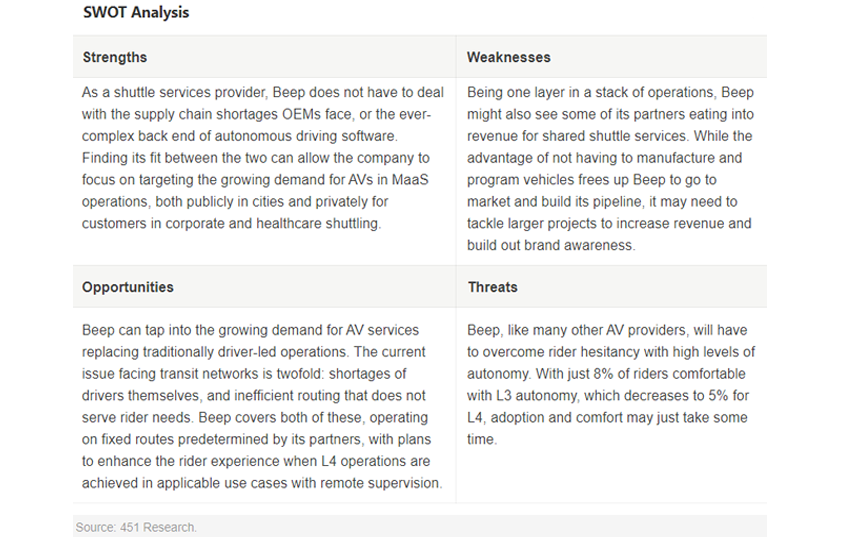 ---
Want insights on IoT trends delivered to your inbox? Join the 451 Alliance.