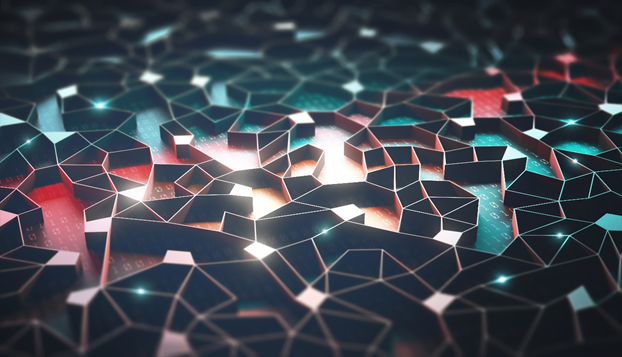 Artificial intelligence (AI) and machine learning (ML) are poised to transform our personal and professional lives. Even if you're not using or planning to use them, you will likely see their impact over the next couple of years.
We recently conducted a survey of our IT think tank to better understand how artificial intelligence and machine learning are being used today and what future usage might look like.
AI/ML Usage
Only 19% of the respondents said they currently deploy or are developing a machine learning initiative. However, another 19% of respondents said they plan to start using machine learning within the next one to three years, which would effectively double the current participation rate.
Among the 62% of respondents who said they neither use nor plan to use AI/ML, most expect advancements in the technologies to impact them personally over the next two years.
Anticipated Impact
Nearly all of these respondents (97%) said they think AI and machine learning will have at least some impact on society as a whole, and three-quarters (76%) expect that they will impact them personally.
Additionally, although these respondents are not using AI or machine learning, 62% said they think they will have some impact on their organization, and 81% expect that their industry will be impacted.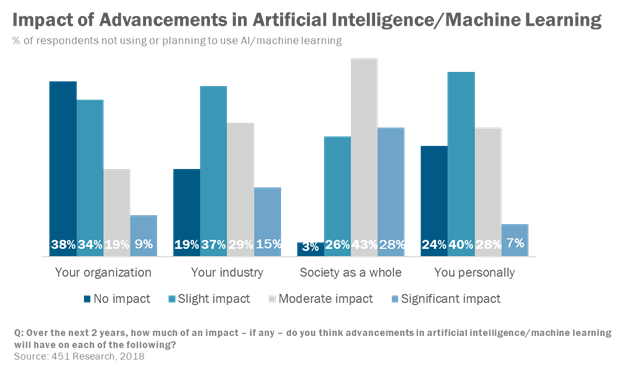 Positive or Negative Effects of AI/ML
As the impact of AI and ML expands, will it be viewed as a positive or negative development?
The respondents who do not use AI or ML were asked what they think the effect will be over the next two years. They were much more likely to view the advancements of AI and ML as having a positive effect rather than negative, particularly for society as a whole.
However, they were less convinced that AI and machine learning would have any effect, positive or negative, on them personally, or on their organization or industry.
---
Want insights on AI trends delivered to your inbox? Join the 451 Alliance.