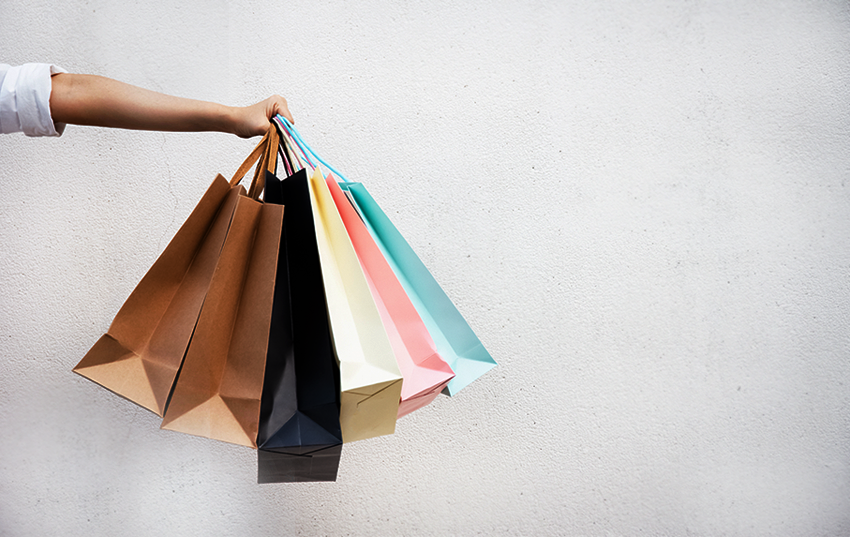 Buy now, pay later (BNPL) is just as its name suggests – it is a credit service offered typically by fintech companies to allow consumers to pay for items in installments, often with no interest charges. Adoption among Gen Z and Millennial consumers has been encouraging, although strategic planning is required to appeal to a wider demographic, according to Jordan McKee, Principal Research Analyst, and McKayla Woolridge, Associate Analyst, at 451 Research, part S&P Global Market Intelligence.
Perks of BNPL
BNPL allows consumers to purchase items that they may not otherwise be able to afford up front, not unlike credit cards. However, preference for BNPL over a credit card was a top-three factor for those who chose this payment method. These consumers may not own a credit card, or could be more wary about accumulating debt from potential interest charges.
A survey conducted by the 451 Alliance found that over half (51%) of Gen Z and 42% of Millennial consumers have used BNPL at least once in the past six months, compared with only 21% of Gen X and 7% of Baby Boomers. Frequent users tend to belong to the lower age group, and the $126-200 range is the sweet spot for BNPL purchases.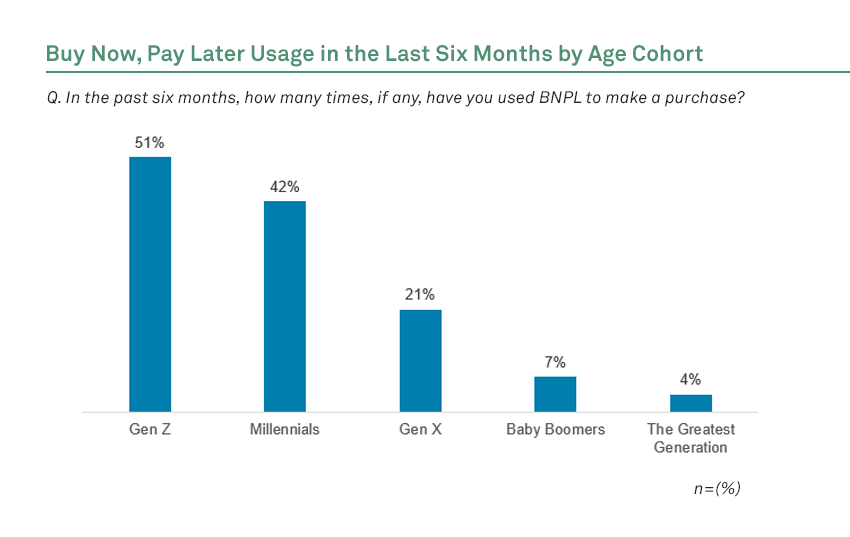 Consumers may end up buying more than they intend, as the cost can be split over the course of payment installments. One in five consumers surveyed had made a purchase that they had not intended to after seeing the BNPL option. Doing so gave them the headroom to try out new items without making a full commitment.
Customer acquisition
Nevertheless, nearly half (45.5%) of respondents said they would pay up front for something they could immediately afford. Loyalty points and rewards could nudge these consumers towards using BNPL, again, not unlike traditional credit cards. However, merchants could emphasize the potential benefits of BNPL over credit cards, particularly to consumers from the older demographic. Klarna was the first to launch its own loyalty program, and it rolled out a pay-now option in October 2021.
Lack of awareness and trust are hurdles to BNPL adoption, even among Gen Z and Millennials, although education is driving usage. Merchants and BNPL providers should lay out clear terms and conditions to help consumers better understand how the payment method works.
At the same time, an integrated white-label BNPL solution that allows merchants to use their own branding throughout the checkout process can help gain consumer trust. This is because consumers who are already familiar with the merchant/brand may be more receptive to a branded BNPL offering.
The story behind the numbers
Age, income, product price and credit card sentiment are factors that influence the consumer in shopping with BNPL. Insight into these factors can help a merchant/brand to better tailor the BNPL experiences to customers.
For example, 76.5% of households that made less than $25,000 annually had used BNPL in the last six months, with an average transaction amounting to less than $126. In contrast, the older generations and higher-income households are using BNPL for big-ticket items, compared with the younger consumers.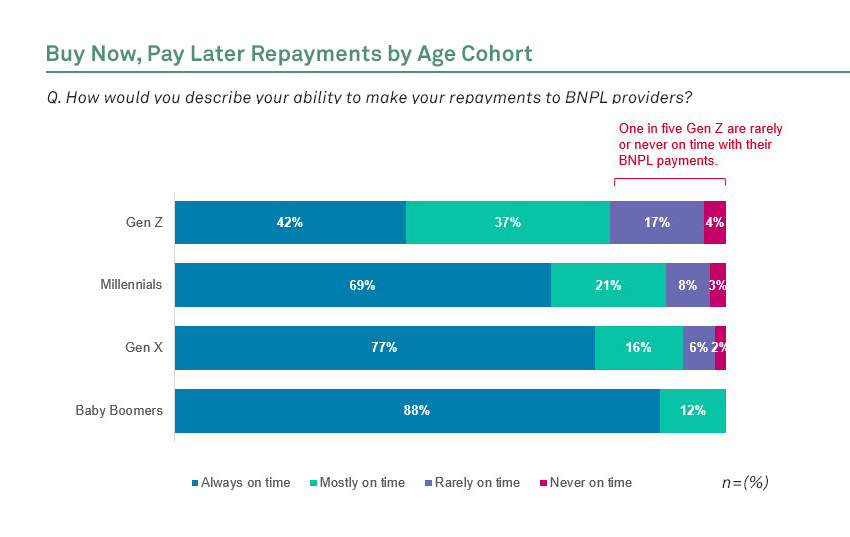 Repayment obstacles
The popularity of BNPL usage among younger consumers is not without its risk. More than one in five (21%) Gen Z BNPL users said they were rarely or never on time with repayments, in comparison with 10% of Millennial users and 7% of Gen X users. The operating losses of Klarna ballooned to $111m in Q2 2021, from just $10m a year prior. BNPL could leave both the shoppers and the providers in a lurch.
---