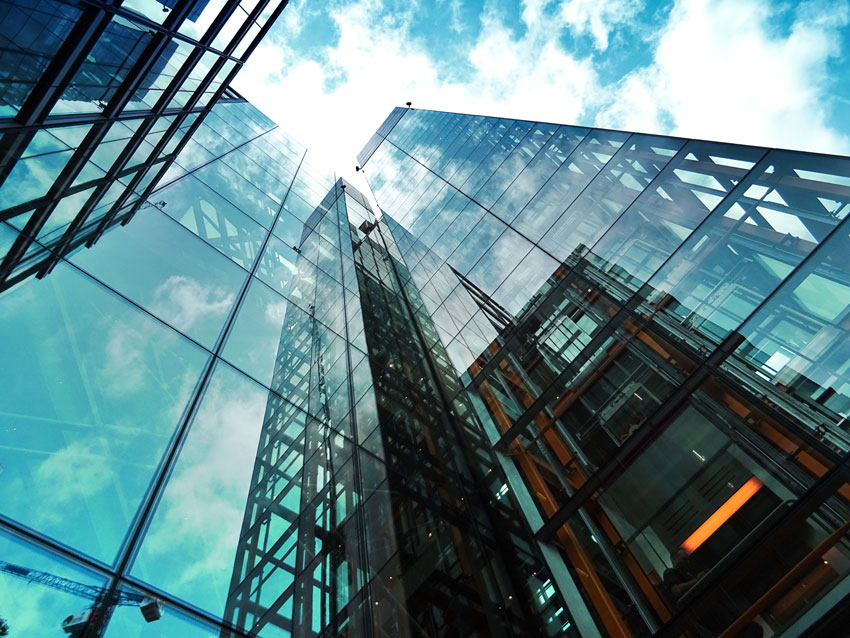 Due to ease of deployment and management, converged infrastructure – particularly hyperconverged infrastructure (HCI) – is rapidly gaining momentum in the IT arena.
IT managers view HCI as a means of achieving cloud-like provisioning, management, automation and optimization.
451 Research recently surveyed the 451 Alliance about their infrastructure deployments, plans and vendors. About 63% of the enterprises were characterized as 'technology seekers' (i.e., early adopters). Of those organizations, almost half (49%) have adopted HCI.
Key Players in HCI
In terms of 'in use' deployments, the top four HCI vendors/products were:
VMware (vSAN), cited by 65% of the survey participants
Dell EMC (VxRail, VxRack, XC Series) – 34%
Nutanix (Enterprise Cloud) – 26%
Cisco (HyperFlex) – 23%
Following those four were Microsoft (Hyper-Converged Infrastructure) and NetApp (HCI) at 17% and HP Enterprise (SimpliVity) at 13%. In terms of IT staff's evaluations of vendors, the survey focused on the top four players.
Vendor Selection Criteria
What do your colleagues want from their HCI vendors? By far, the #1 selection factor is 'value for the money, or TCO/ROI' (see figure below).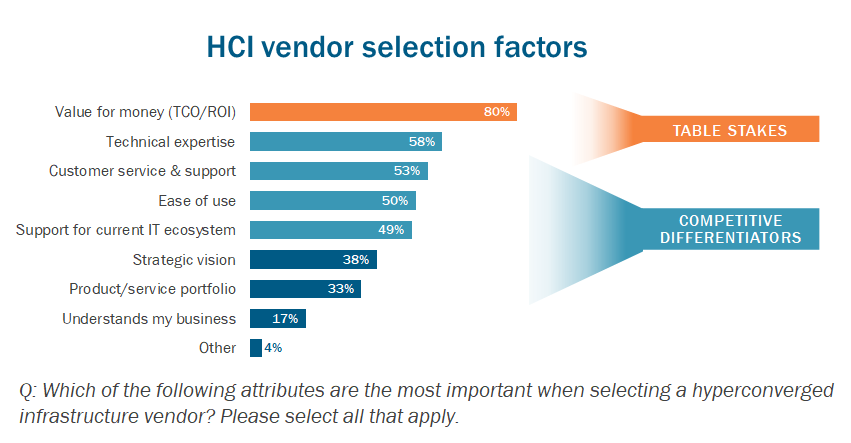 The top four vendors all ranked high in the TCO/ROI category, with VMware holding a very slight edge.
Holding Steady through Vendor Mergers
Many IT managers were adamant about parent Dell EMC keeping its hands off VMware. As one survey participant said:
"It really bothers me that Dell EMC owns VMware, but so far they've left VMware totally alone. They haven't put their stamp on them. Just let VMware run as a separate company."
Dell is gaining strength in large enterprises (10,000+ employees), thanks in large part to its merger with EMC. Most IT decision-makers have not been bothered by the merger or other transitions at the company. As one IT manager commented:
"Even though Dell EMC went through some major turmoil going from public back to private, as an end user we did not see disruption of services, any break in continuity, or big upheavals in employee switchovers. We've got the same reps and tech contacts that we've always had. It's a major win for them to have pulled this off."
Multiple Vendors is the Norm
Most organizations that have deployed HCI have two to three vendors (presumably to gain price leverage).
For example:
36% of VMware users also use Dell HCI products
35% of Dell users have also deployed Cisco's HyperFlex
32% of Nutanix users have also installed Dell HCI products
The 451 Alliance ranked HCI vendors on eight attributes:
Value for money (TCO/ROI)
Product/service portfolio
Technical expertise
Strategic vision
Customer service and support
Ease of use
'Understands my business'
Support for existing ecosystem
A surprising takeaway from the rankings is the parity among vendors: statistically, users' vendor rankings were astonishingly close – so close that it's impossible to determine winners or losers in the attribute categories.
That said, Nutanix (an HCI pioneer) ranked relatively high in technical expertise, strategic vision, and customer service and support. IT managers also like Nutanix's one-stop-shop approach.
As one IT pro put it:
"Nutanix represents all the technologies and the hardware vendors they sell. Nutanix is the face. So nothing can go wrong with any of the sub-vendors that would affect you directly. Plus, your initial investment is smaller [compared to some other vendors], and you can scale it much faster [than traditional infrastructure architectures]."
Another IT manager commented:
"We're testing the Nutanix unit, and I would cautiously say it looks promising. We hope we will not be dependent on an external vendor to connect the computing resources with the storage resources – everything will be in a single box."
Competition Heats Up
In addition to the vendors already mentioned, Hitachi Vantara (with its UCP HC product) is another large vendor trying to muscle into the HCI space. Smaller players are also throwing their hat into the ring, like Maxta, Pivot3 and Scale Computing.
Several secondary storage (i.e., backup/recovery/archiving) vendors with HCI-like architectures are looking to move up the stack into primary storage. Examples include startups such as Cohesity and Rubrik.
The good news for IT shops is that competition is heating up and prices should drop as a result. Although HCI faces stiff competition from public cloud providers, converged infrastructure is steadily replacing traditional siloed IT infrastructures.
---
Want insights on HCI trends delivered to your inbox? Join the 451 Alliance.