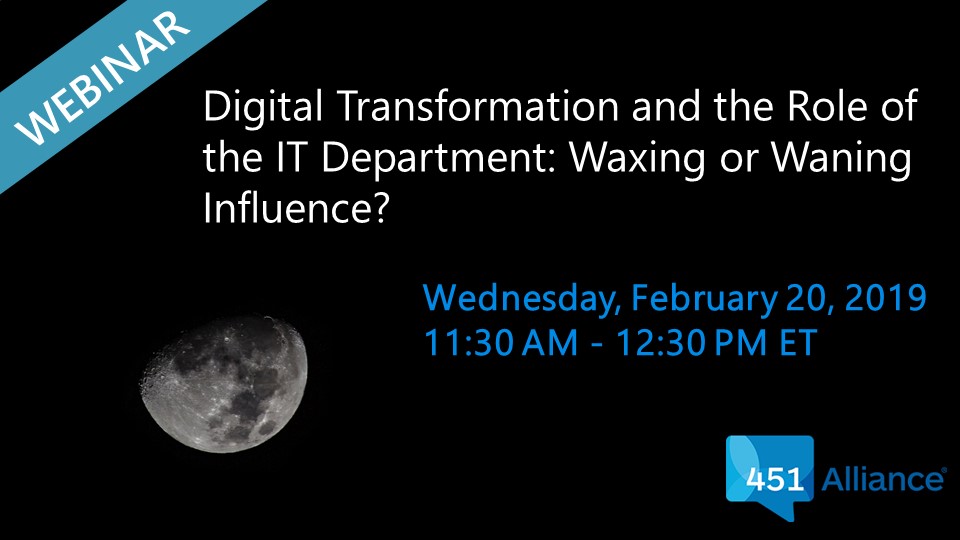 Join us at the upcoming 451 Alliance webinar, Digital Transformation and the Role of the IT Department: Waxing or Waning Influence? on Wednesday, February 20, from 11:30am-12:30pm ET.
451 Alliance members will receive the slide deck and a recording following the presentation.
Not a member of the 451 Alliance? Submit an application to join the IT think tank and enjoy invitations to this and future webinars, the slide deck and recording,  and unlimited access to our archives.
Apply here to see if you qualify for membership:

Webinar Details
Digital transformation continues to drive changes in IT organizational structures. The expansion of digital business requires new IT skills, responsibilities, and mindsets. How are organizations adapting to the new business/IT landscape? Organizations positioned to thrive in the digital era must find the optimal balance between top-down, command-and-control IT (unified platforms and information security) and bottom-up flexibility and autonomy (agility and innovation).
Join us to delve into these and other insights from 451 Research's survey focused on organizational dynamics in IT. In this webinar, you will learn about :
The role of IT: Keeping the Lights On or Driving Business Outcomes?
IT decision markets and influencers: who's running the show?
Application Developers: New Kids on the IT Block?