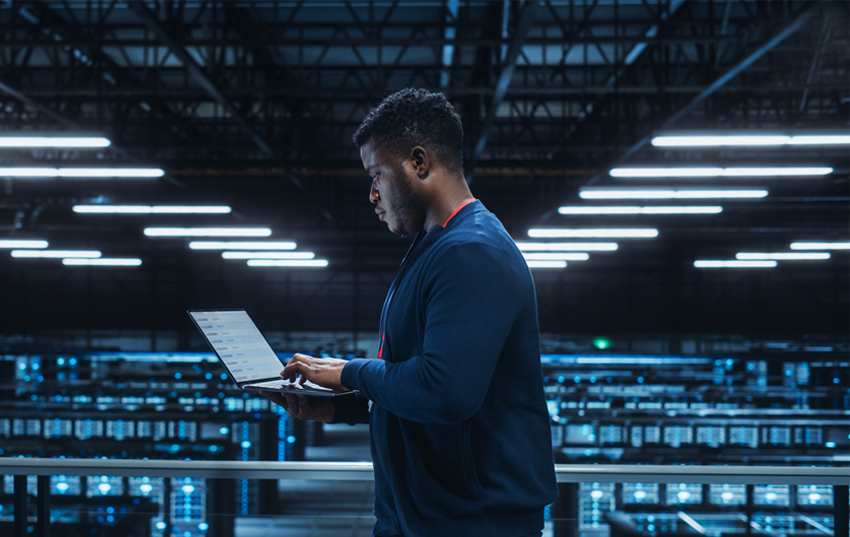 Re-platforming to cloud native is going mainstream as cloud becomes the IT, rather than a distinct category of IT infrastructure. The cloud-native approach allows companies to break free from infrastructure, opening up a whole new level of innovative possibilities, according to William Fellows, founder and research director, cloud native; Jay Lyman, senior research analyst; and Jean Atelsek, research analyst, 451 Research.
A swift move to cloud
It's taken less than a decade for the cloud-native mindset and methodology to set in, thanks to accelerated digitalization in the wake of the pandemic.
Cloud native is not necessarily on public cloud, but it has grown out of its scalability and provisioning. These overlapping technologies have moved the addressable layer of infrastructure from the server and the VM up and into the application.
Containerized applications
In short, cloud native allows applications to be broken into microservices and packaged into containers. It's a solution that offers agility, as containers render the workloads portable and mobile. The applications can be upgraded and maintained independently, taking a lot of work off the IT team and improving resiliency, security, connectivity and more. A study conducted by the 451 Alliance found that 29% of the respondents said they fully adopted the containers in cloud computing.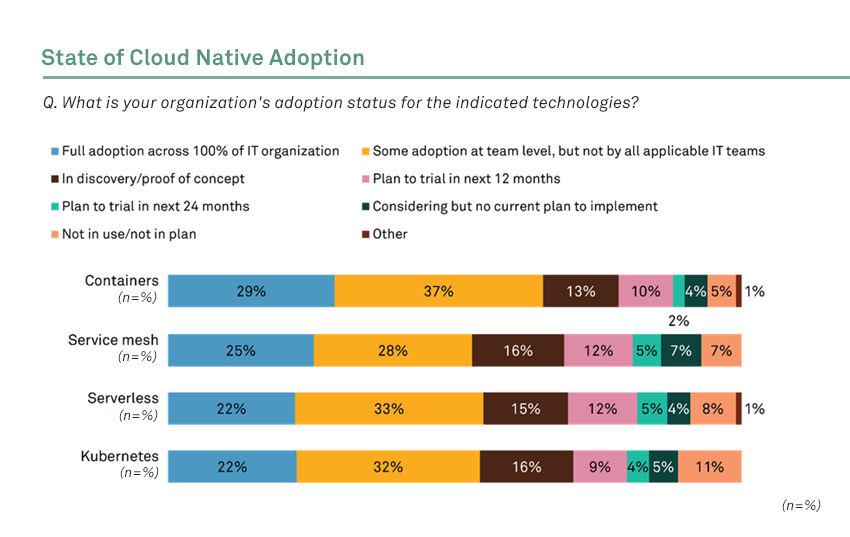 Nearly all components in cloud-native applications are built on open source software and open source platform such as Kubernetes, which enables container orchestration capabilities for companies struggling with management of hybrid and multicloud infrastructure.
Furthermore, the maturity of open source applications has given way to an explosion of vendors, services and products in the market.
Automation to the fore
However, being serverless does not reduce the complexity of managing the infrastructure. In fact, the granularity of the components in cloud-native applications and connectivity adds to the complexity.
Yet the telemetry data produced from the processing of these applications and the system creates an opportunity for automation. With enhanced data and end-to-end observability, it is possible to automate a lot of operational functions. As we look forward to the trends ahead, we should expect the complexity of cloud native to be addressed with additional abstractions and improved integration of its parts to drive increased developer productivity.
Vendors taking charge
Cloud platform expertise and cloud-native engineering are the top two cloud skills shortages, according to the 451 Alliance.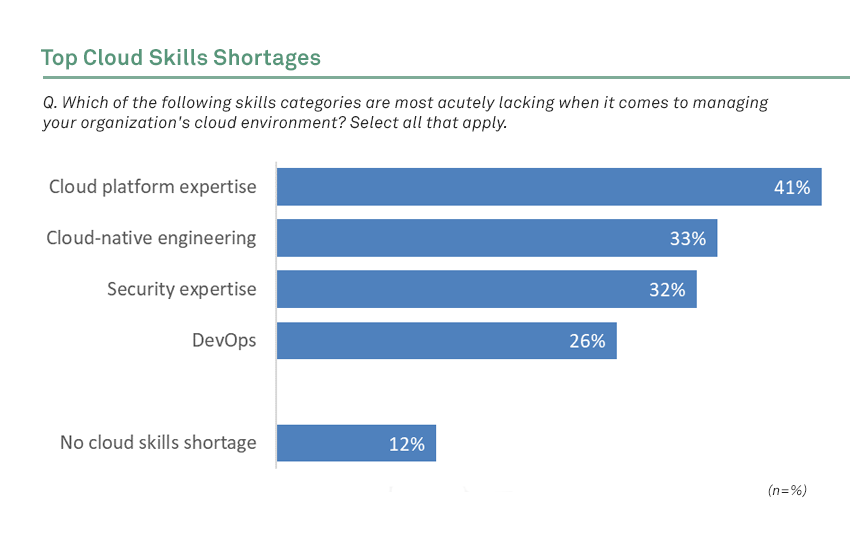 Vendors are trying to address the skill gaps by packaging some of the cloud native technologies into turnkey platforms. Companies will be left without access to the knobs and figures to configure the applications, but ultimately there will not be quite as many required to deploy a cloud-native cluster.
---
Want insights on cloud computing trends delivered to your inbox? Join the 451 Alliance.