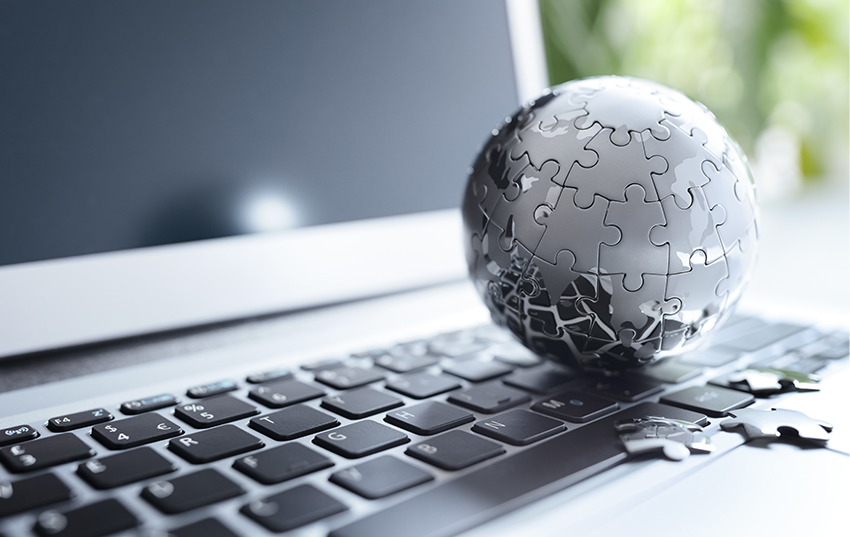 At its core, hyperconverged infrastructure (HCI) is a technology that represents unification and simplification. In executing HCI, an organization exchanges its infrastructure stack – that is, its stand-alone server, storage and networking hardware – for an integrated, software-defined system of infrastructure.
A study conducted by the 451 Alliance shows an increasing number of enterprises replacing the elements of the traditional datacenters with HCI approaches that are unified, streamlined and easily scalable. 451 Research's Christian Perry, Senior Research Analyst covering applied infrastructure, presented the study's findings in a recent webinar, observing, "HCI's becoming a stable force in your infrastructure environments amid plenty of short- and long-term disruption."
The expanding footprint of HCI
As HCI becomes more of a mainstream approach to infrastructure operations, the location of HCI execution appears to be shifting from the central/primary datacenter (accounting for 73% of HCI deployments today but dropping to 63% by 2023) toward the very edge of the IT environment.
Respondents indicated that three years from now, their HCI footprints will have grown in their regional (secondary) datacenters, remote/branch office locations and all the way out at the edge, where the data is generated and collected.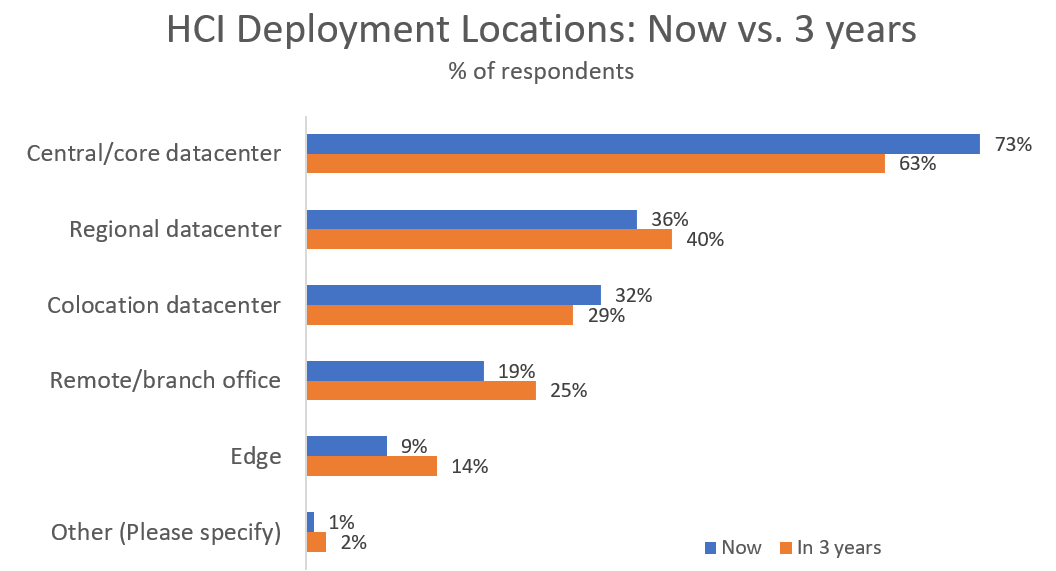 Perry said the outward migration of HCI is driven by efforts to ensure that organizations meet the demands of the business and its customers. Where data has become indispensable in building products and bringing them more efficiently to market, Perry noted, "this often means getting infrastructure in place where the data is generated… HCI makes for an effective choice here at the edge, thanks to its fast deployment and ease of management… But also [for] its scalability: if you need to expand, just add another node."
Further making its case as an emerging choice for remote location infrastructure is the fact that HCI doesn't require the presence of IT resources and "has a smaller footprint than stand-alone three-tiered servers, storage and networking."
HCI-friendly workloads: it's not just for databases anymore
"We've seen SQL server and other database programs deployed on HCI for years, [but] the use of analytics applications on these platforms is relatively new," Perry said. "Perhaps the most compelling of the top-deployed workloads is application development," he added, pointing to the data gathered in the Alliance survey. "Customers continue to situate HCI closer to the heart of digital transformation."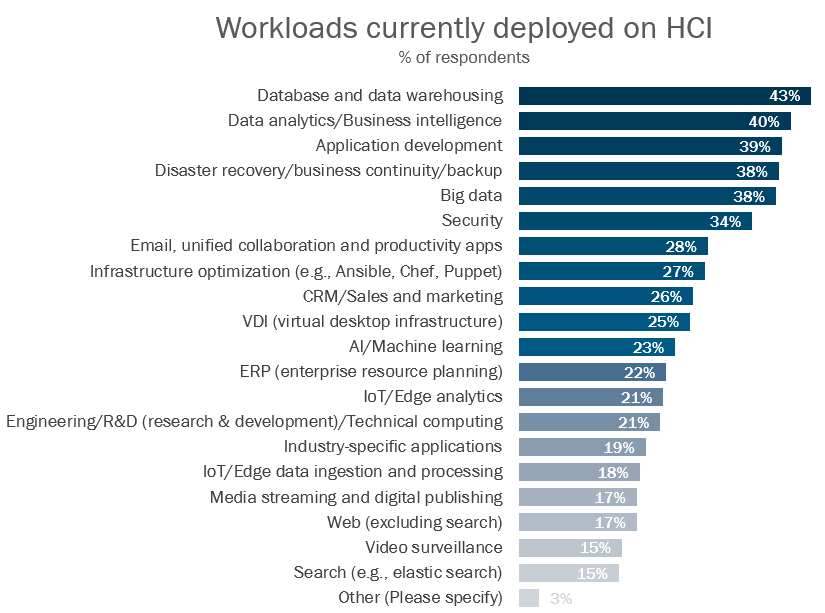 Perry noted that while HCI has long been seen as an excellent fit for virtual desktop infrastructure (VDI), the numbers actually reveal a relatively low adoption, with just 25% of study respondents using hyperconverged infrastructure to support VDI.
"There's still plenty of growth [opportunity] remaining for this particular workload on HCI," he said. "This is especially relevant now, as COVID-19 has forced many or even most of you to accelerate home working and other mobile-access strategies to accommodate the temporary or increasingly permanent closure of offices."
Manufacturing leads verticals in HCI adoption
While HCI has been broadly accepted and applied across industries, "manufacturing is one of those verticals that has far more adoption for common workloads on HCI," Perry said. "All kinds of companies generate data, of course, but manufacturing is especially data-heavy, from supply chain management to range of configurations for build-to-order [to] improvements in product quality, tracking daily production."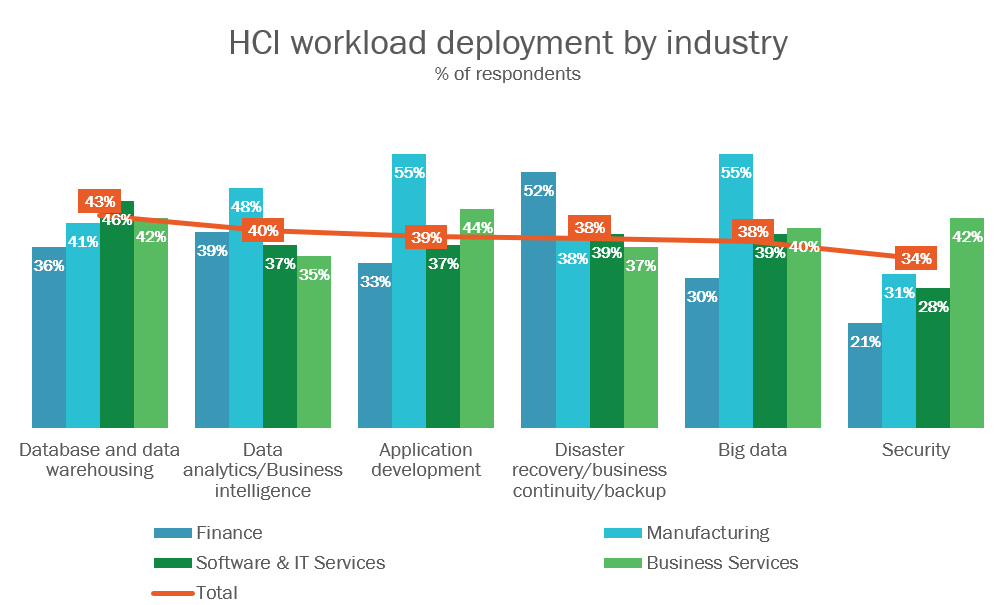 Big data, analytics, application development and business intelligence have become paramount workloads in such sectors as manufacturing, financial services and big pharma.
Some IT teams tend to over-provision storage to ensure that there will be enough capacity for the data generated by these types of operations. "HCI makes it easier to ensure storage is optimized, [so] that you don't have wasted resources," Perry explained. "[While] traditional storage architectures can certainly handle big-data requirements… you can pinpoint your data requirements much more accurately with HCI."
As a member of the 451 Alliance, you can watch Perry's presentation, titled Hyperconverged Infrastructure: Bringing IT Stability to a Disrupted World, at your convenience. In fact, all reports, digests and webinars are available – on demand and at no cost – on the 451 Alliance member portal as our way of thanking you for sharing knowledge with your peers through participation in these studies.
Not a member? See if you qualify.