Cloud transformation is underway at businesses of every size, geography and vertical. 'Cloud first' is the new normal, as companies place new projects in as-a-service environments rather than invest in internal datacenter or infrastructure resources.
The benefits promised by cloud (including cost reduction, modernization, increased flexibility, improved performance or reliability, and even added security) are real; however, they are not inherent – deploying a workload into the cloud does not automatically provide these benefits.
Companies deploying complex projects into cloud environments more frequently report skills gaps as they progress through the stages of adoption, peaking as they reach the initial production stage.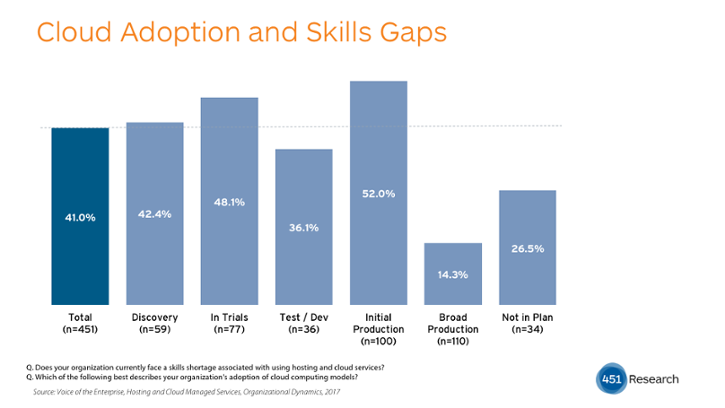 Extracting the promised benefits of cloud requires expertise in design, execution and operation. Companies in the earlier stages of cloud transformation may not yet have discovered where they fall short in terms of that expertise. Gaps in those skill sets are a limiting factor for the benefit your business can draw from cloud and can ultimately inhibit your use of advancing technology.
Businesses should look to existing hosting and cloud service providers to help them address both cloud requirements and gaps in their own related skills. Many businesses with existing business in the traditional hosting space are adjusting to the world of hyperscale cloud competition by doubling down on their ability to design, implement and manage effective cloud offerings, designing services based around expertise in the following areas, each of which is a key promise of the cloud:
1. Cost
Businesses regularly rate cost – more specifically, value for money – as both a prime driver and a prime inhibitor of cloud adoption, as well as a key metric for evaluating vendors. Cloud can provide an avenue for cost reduction, but extracting cost benefits from cloud is a complex art, requiring several categories of skills and knowledge.
Workloads that do not specifically benefit from elasticity may find cost benefits in more static environments. Committing to reserved instances can produce savings in the range of 30%, according to 451 Research's Cloud Price Index. However, cloud cost is not static. Large and small 'baskets' of cloud services are expected to change by between 4% and 8% during the next 12 months. Additionally, some businesses identify a level of cloud spend at which running a project on dedicated infrastructure is likely to be less expensive than utility infrastructure.
Optimizing a cloud deployment for cost requires weighing all these considerations. It is a complex art, and a moving target, requiring a skill set most businesses lack. Cost optimization is a core skill set for vendors promising cloud management – very often more than offsetting the cost of the managed service.
2. Performance
Skill-dependent ingredients of cloud performance include up-front planning, design, migration and implementation, as well as monitoring and ongoing optimization. Each of these steps represents potential pitfalls and skills gaps for businesses, and areas in which service providers are seeking to add value.
Critical to performance success is the notion of 'best execution venue' and the effective placement of workloads in the environments in which they are best suited to operate. Service providers have typically developed this expertise over hundreds of engagements and are a valuable resource for customers making this decision.
Migration and integration issues are extremely common for businesses working in unfamiliar cloud environments. Along with identifying the correct venues, service providers are frequently able to help their customers identify and avoid potential pitfalls during the implementation phase.
Service providers can contribute to successful cloud execution at every stage of design, implementation, migration and ongoing operation. Relying on a partner to operate a cloud deployment can help ensure your project meets its performance and uptime objectives.
3. Security and Compliance
Security, compliance and data sovereignty are all potential inhibitors to cloud adoption. Although security has frequently been mentioned as an inhibitor over the years, there is now a fairly widespread agreement that a well-executed cloud deployment can improve the security posture of a business that was previously running that workload internally.
Many of the security sticking points in the cloud are related to compliance requirements, which impose design challenges on both private and public cloud deployment. Public cloud platforms have been working to create toolsets for achieving compliance, but these tools require a level of expertise to employ. Designing applications to be redundant or geo-diverse, or building in backup capabilities, create questions about data sovereignty regulations. Companies deploying into the cloud are likely facing these challenges for the first time.
Because of specific security requirements demanding single-tenancy, along with a combination of other factors (including cost and performance), many businesses regard hosted private cloud and hybrid cloud deployments as their road to adoption. Providing configuration, integration and management of hybrid cloud is a capability that is critical to those service providers who appreciate the role of their own infrastructure is likely to be as a complement to customers' use of public cloud in the future. These businesses are rapidly developing expertise and services around helping customers execute.
More broadly, providing a layer of effective security and compliance around cloud is becoming a central focus for a growing number of service providers and an area of expertise from which their customers can benefit, even in the form of security guarantees.
---
Want insights on cloud computing trends delivered to your inbox? Join the 451 Alliance.