Many of us are on month three of lockdown as a result of the situation surrounding the coronavirus (COVID-19) outbreak, and are dealing with all that comes with it: virtual meetings done from home, lots of family togetherness whether you want it or not, and unfortunately, a continued worldwide economic slowdown.
And while some days it may feel like our 'new normal' will never come to an end, there will one day come a time when stay-at-home orders ease and spending picks up.
Which Tech Markets Will Be Leaders?
In Melanie Posey's webinar Preparing Your Business for the Digital Future, the Research VP and General Manager of Cloud Transformation at 451 Research shared her knowledge of spending trends among IT decision makers. Based on both quantitative and qualitative data, our experts have pointed to artificial intelligence & machine learning (AI/ML) and information security (infosec) as the two sectors that will lead the surge forward.
Feedback from the 451 Alliance indicates that these two sectors are where IT organizations are both spending their budgets and continuing to adopt new technologies.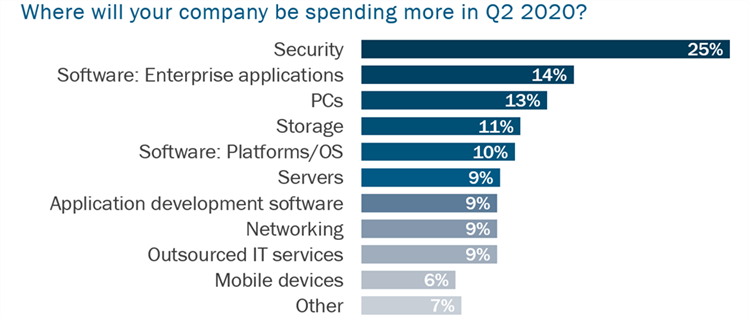 Are These Industries Equipped to Meet Demand?
With an increase in the number of employees working from home as a result of the coronavirus outbreak, organizations are facing security problems on a much larger scale, head-on. Enforcing security policies has been identified as a pain point for many organizations as their employees turn their guest rooms and basements into makeshift corporate offices. These challenges, primarily around secure access, are forcing companies to reevaluate their defenses strategies.
Artificial intelligence/machine learning seems to be immune to COVID-19: while similar sectors have faltered in past weeks, AI/ML adoption hasn't slowed. It's likely that the disruption in our work and personal lives has resulted in an increase in the adoption of this technology. The significant decrease in the confidence with supply-chain networks, or even the increase in customer demand, requires a more intelligent software to improve forecasting accuracy.
That said, these are but two of many sectors across the IT industry. While a crystal ball would be nice in order to know exactly when the economy will begin to stabilize across all sectors, it's possible to look toward information security and AI/ML as bellwethers for broader improvement.
A recording of this webinar is available exclusively to 451 Alliance members, who have full access to all webinars, reports and other content on the Alliance website.
---
Not a member? See if you qualify to join.