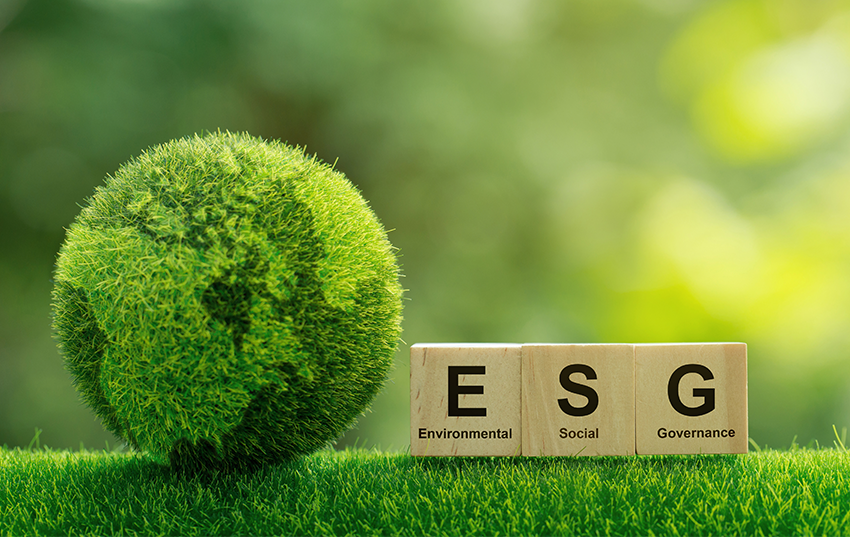 Of the companies looking to rehire employees laid off during the COVID-19 pandemic, those that have adopted a formal environmental, social and governance (ESG) commitment or program are experiencing the least difficulties, according to respondents in the 451 Alliance Business Trends ESG survey.
We consider companies that have a formal ESG strategy or program to be 'ESG leaders.' These companies typically have a top-down executive mandate for ESG adoption, or have initiatives that span multiple departments.
While nearly 77% of all US organizations surveyed reported spending on at least one ESG key performance indicator, only 15% of all US businesses can be dubbed ESG leaders. ESG investments still are primarily driven by reputational and regulatory pressures, but talent recruitment is shaping up to be another strong driver (especially for investment in the 'S' of the ESG) in the aftermath of the pandemic. Millions of employees who were laid off during the pandemic haven't returned to work.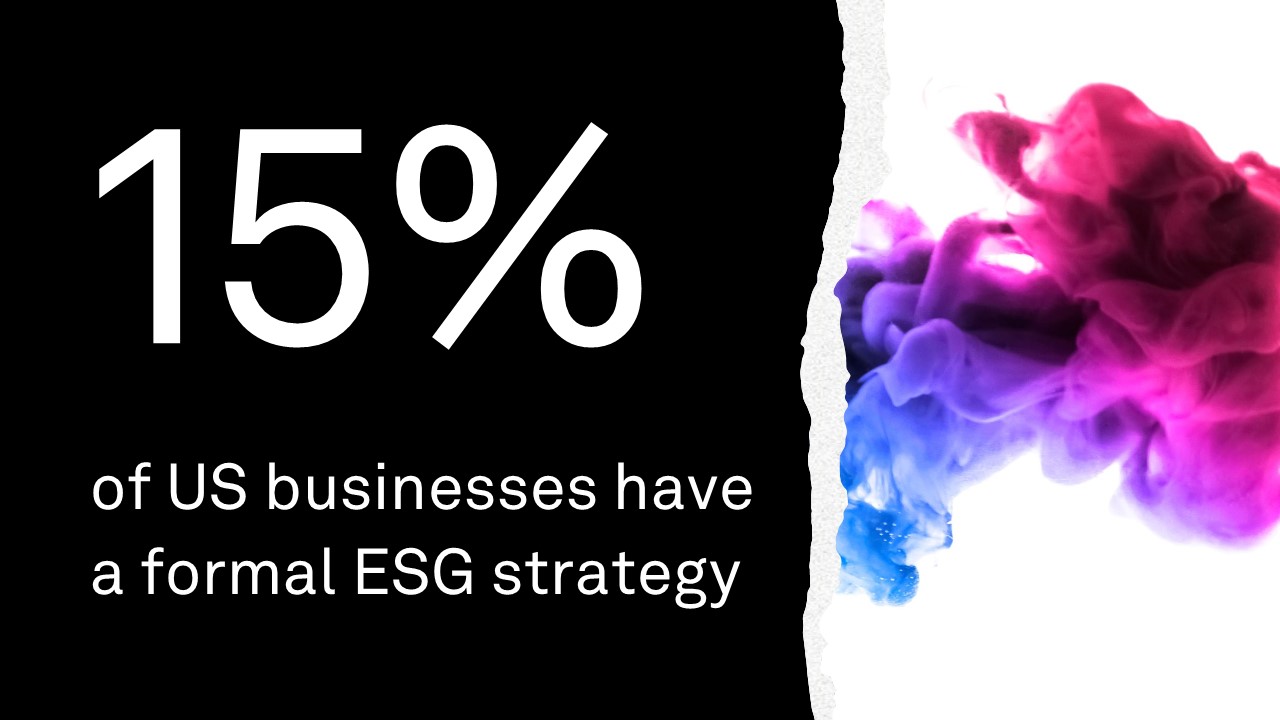 In the US, employment of working-age Americans, also known as the labor market's 'participation rate,' fell to a nearly 50-year low of 60.2% in April 2020 from 63.3% in February 2019, according to US Bureau of Labor Statistics. While it recovered slightly to 61.6% in June 2021, the participation rate is still glaringly below pre-pandemic levels. Businesses polled by the 451 Alliance voted labor and skill shortage the greatest threat to their sales in our Q2 2021 survey.
The labor-shortage crisis
Millions of workers were laid off or furloughed in 2020 as the pandemic and related restrictions wreaked havoc on businesses and muzzled demand. Now with a resurgence in customer demand, businesses are actively looking to fill vacancies and retain existing employees.
In the June 2021 survey, 26% of all US businesses said they hired more quarter over quarter, increasing to nearly five times the response during the pandemic peak a year ago, but also twice the pre-pandemic hiring rise response in Q1 2020.
On the other hand, organizations reporting a quarter-over-quarter increase in layoffs dropped to a near-zero value (2%) from 24% nearly a year ago, and 6% in Q1 2020.
In short, hiring activities have recovered from the pandemic drop and are now significantly higher than the pre-pandemic levels, and almost no one is laying off employees.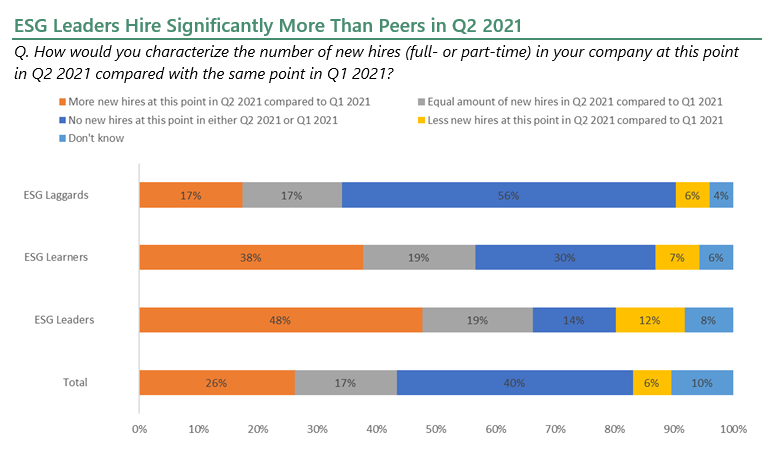 While this is not a surprise, it's interesting to note that ESG leaders are significantly outpacing the resurgent overall hiring trend. Nearly twice as many businesses with a formal ESG commitment (48%) reported that they hired more workers quarter over quarter in Q2 2021 compared to the overall average.
This not only points to the extent of aggressive hiring at such companies, but is also a potential indicator of their ability to successfully close the job openings amid a widespread labor/skills shortage as millions of employees who were laid off during the pandemic choose to not return to work.
ESG leaders are also finding it significantly easier to rehire employees they laid off during the pandemic, which isn't surprising because former employees are likely well-informed on the companies' policies, especially their labor-related initiatives. Of 605 US businesses polled in our survey, nearly 40% said they laid off or furloughed employees during the pandemic. Among such organizations, 56% are finding rehiring former employees difficult. This drops sharply to 38% for the small group of ESG leaders looking to rehire former employees.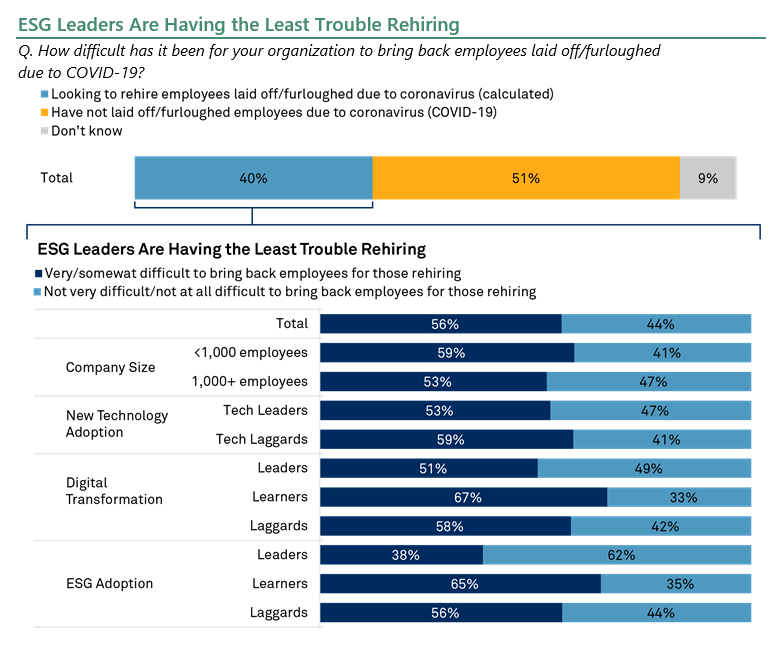 What are the ESG leaders doing differently
In terms of level of investment – apart from the health, safety and labor standards that became the top priority of most organizations during the pandemic – businesses have put relatively less focus on other social key performance indicators (KPIs) like human rights/racial justice and workplace diversity.
Human rights and racial justice have become major talking points in the US due to a rise in racially motivated attacks on Black Americans and Asian Americans, as well as intensified scrutiny of supply chains amid reports of human rights violations in various parts of the world. Additionally, businesses are facing strong cultural and investor pressure over various forms of workplace and recruitment bias based on gender, age, race and ethnicity.
ESG leaders led all other key groups that we track (e.g., large enterprises and SMBs, as well as digital transformation leaders, learners and laggards) in level of spending on social indicators, but they were significantly ahead of the rest on level of spending in workplace diversity and human rights/racial justice at 2x and 2.5x the overall average, respectively.
These businesses were 45% more likely to report better-than-expected sales, and they were significantly more likely to report strong demand (green light) among customers for their products than their peers. These businesses also hired more aggressively (2x) and found rehiring employees they laid off during the pandemic significantly less difficult (by one-third) compared with average businesses.
When asked about the KPIs currently in use in their organization, the top three responses from ESG leaders were workforce diversity (70%), social program engagements (52%), and utilization of health and safety/wellness programs (51%) – all social indicators. Nearly half the ESG leaders cited recruitment and retention of talent as the key driver for creating an ESG commitment or program, underlining the role it plays in tackling the labor and skills shortage.
On the other hand, ESG learners, which are businesses that are considering a formal commitment but have yet to implement it, are finding it significantly harder to manage worker shortages despite matching the leaders in increasing level of spending metrics on some of the key ESG indicators, including social indicators like equitable wages and benefits, and health, safety and labor standards. Nearly half of ESG learners picked labor shortage as the greatest threat to their sales, compared to only one-third of ESG leaders.
---
Want insights on business technology trends delivered to your inbox? Join the 451 Alliance.