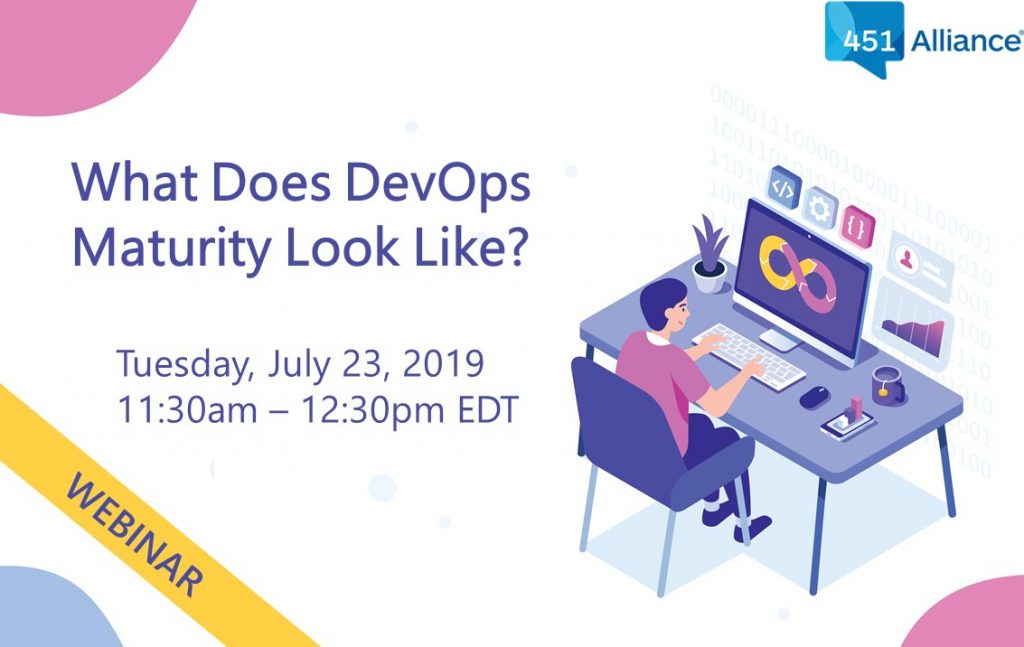 Join us at the upcoming 451 Alliance webinar, What Does DevOps Maturity Look Like? on Tuesday, July 23, 2019, from 11:30am-12:30pm EDT.
451 Alliance members will receive the slide deck and a recording following the presentation.
Not a member of the 451 Alliance? Submit an application to join the IT think tank and enjoy invitations to this and future webinars, the slide deck and recording, and unlimited access to our archives.
Apply here to see if you qualify for membership:

Webinar Details
DevOps – a software development and deployment process centered on faster releases, efficiency and readiness – continues to spread among enterprise IT organizations. But how is it broadening within companies, and who are the key stakeholders involved?

In this webinar, we'll explore the continued evolution and maturation of DevOps. It is increasingly driven from the top-down by leadership and management, pulling in additional stakeholders from IT security, data analytics, IT, and other teams.
We will also consider the pace of software releases by today's enterprise DevOps teams, the top applications deployed with DevOps processes and the key technologies, infrastructures and vendors in play.

Join 451 Research Principal Analyst Jay Lyman to learn more about these and other insights from 451 Alliance research focused on enterprise adoption, key drivers and challenges of DevOps.

In this webinar, you will learn about:
How enterprise organizations are managing DevOps with both centralized and distributed management approaches while prioritizing flexibility for developers.
The role of cloud-native technologies such as containers and Kubernetes in today's enterprise DevOps implementations.
The continued evolution of DevSecOps, which incorporates security into faster, more efficient DevOps releases that rely on feedback loops.