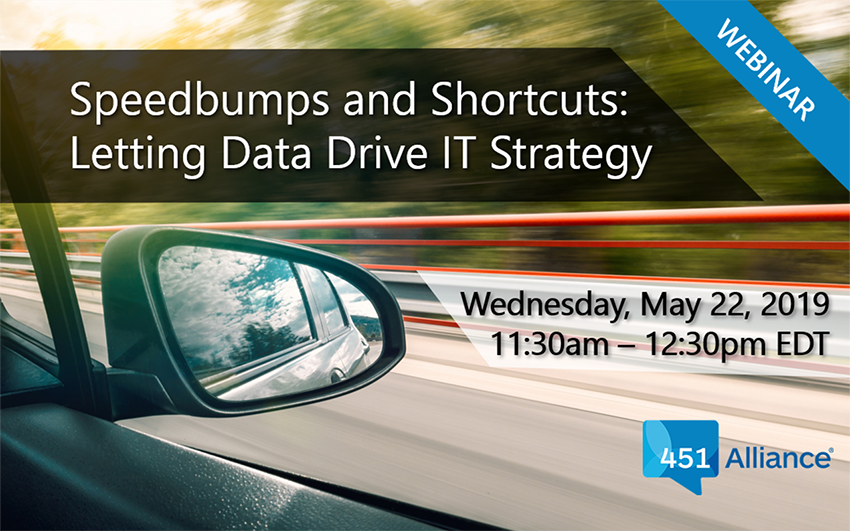 Join us at the upcoming 451 Alliance webinar, Speedbumps and Shortcuts: Letting Data Drive IT Strategy on Wednesday, May 22, 2019, from 11:30am-12:30pm EDT.
451 Alliance members will receive the slide deck and a recording following the presentation.
Not a member of the 451 Alliance? Submit an application to join the IT think tank and enjoy invitations to this and future webinars, the slide deck and recording, and unlimited access to our archives.
Apply here to see if you qualify for membership:

Webinar Details
Most companies are increasing their investment in data processing, analytics and machine-learning software with a desire to become more data-driven. Data – and the rapid processing of data – is a key driver in enabling companies to grasp the opportunities presented by digital transformation to deliver operational efficiency and competitive advantage.
But what does it mean to be data-driven? What are the differences between the most data-driven and least data-driven companies when it comes to technology adoption, organization and culture?

Join Research VP Matt Aslett to delve into these and other insights from 451 Research's survey focused on data and analytics adoption in enterprise IT.

In this webinar, you will learn about:
The role of IT: Keeping Pace with Data-Driven Experimentation?
How are Data-Driven Companies Overcoming Roadblocks to Adoption?
IT Decision Makers and Influencers: Who's Driving?