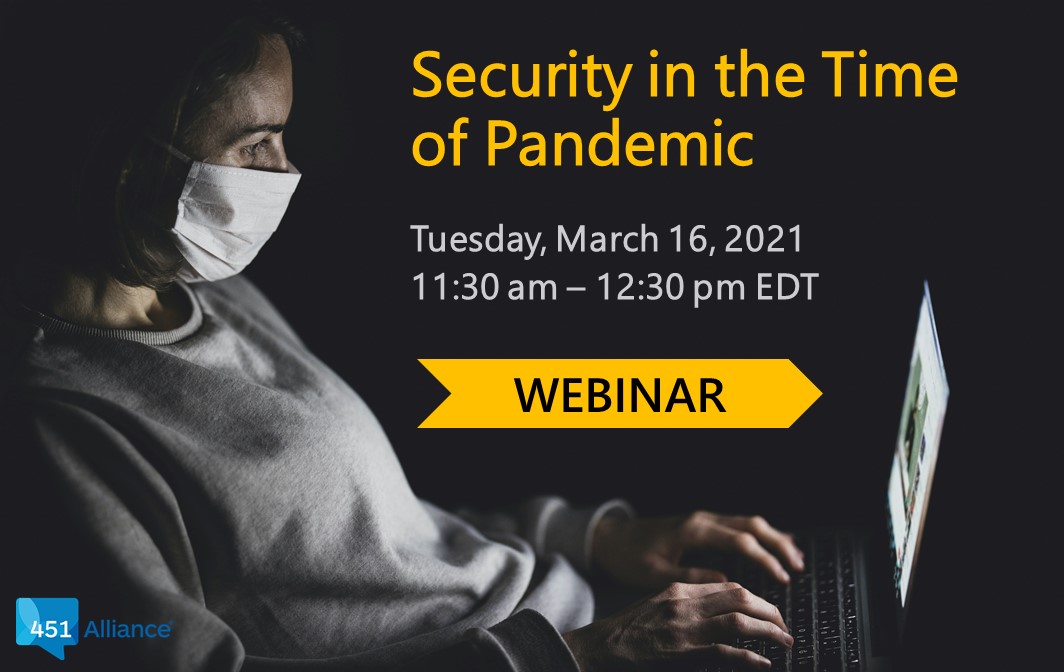 Join us at the upcoming 451 Alliance webinar, Security in the Time of Pandemic, on Tuesday, March 16, 2021 from 11:30 am – 12:30 pm EDT.
451 Alliance members will receive the slide deck and a recording following the presentation.
Not a member of the 451 Alliance? Submit an application to join the IT think tank and enjoy invitations to this and future webinars, the slide deck and recording, and unlimited access to our archives.
Apply here to see if you qualify for membership:
Webinar Details
The COVID-19 pandemic and its downstream effects on many enterprises, including a vastly increased scale of remote work, resulted in a near-term storm for many information security teams as a rush to enable and secure remote work ensued. It also caused the rapid scheduling of many digital transformation initiatives, as manual, print and poorly automated processes were quickly identified as untenable in this situation.
Now that vaccines have been developed and are being administered, it is likely still not the beginning of the end, but it is, as Churchill said, 'the end of the beginning.' Despite this, it's apparent that the scale of remote work has been altered, and thus, security teams will need to start navigating long-term changes in both threat modeling and security architecture, rather than just holding the line and hoping for a return to January 2020 conditions.
Join Daniel Kennedy, analyst on the information security team with 451 Research, as he reviews the impacts of the above to security teams, using data gathered from enterprise security leaders, and discusses the forward considerations security teams face.