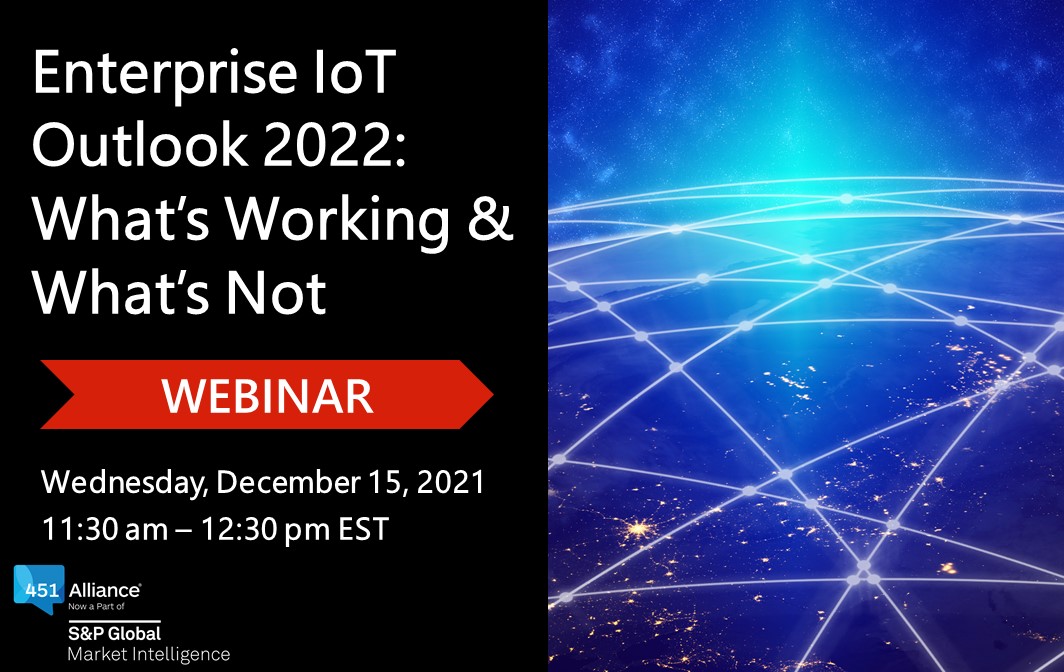 Join us at the upcoming 451 Alliance webinar, Enterprise IoT Outlook 2022: What's Working and What's Not on Wednesday, December 15, 2021 from 11:30 am – 12:30 pm EST.
451 Alliance members will receive the slide deck and a recording following the presentation.
Not a member of the 451 Alliance? Submit an application to join the IT think tank and enjoy direct access to research insights.
Apply here to see if you qualify for membership:
Webinar Details
As a still-emerging technology in many sectors, enterprise Internet of Things projects faced increased scrutiny over the challenging past year.

That said, our most recent 451 Alliance surveys indicate that most companies kept their IoT projects moving forward despite the pandemic and other hurdles. And many turned to IoT for solutions to altogether new challenges – including return-to-work safety, increased operational optimization and new modes of interacting with suppliers, partners and customers.

Join 451 Research Senior Analyst Rich Karpinski for a look at what held steady – and what changed – in the enterprise IoT market as we head into 2022.

In this webinar we'll discuss:
State of enterprise IoT adoption
The IoT use cases that matter – broadly and by industry sector
The evolution of IoT platforms and infrastructure
IoT edge: Hype or must-have?
IoT spending trends