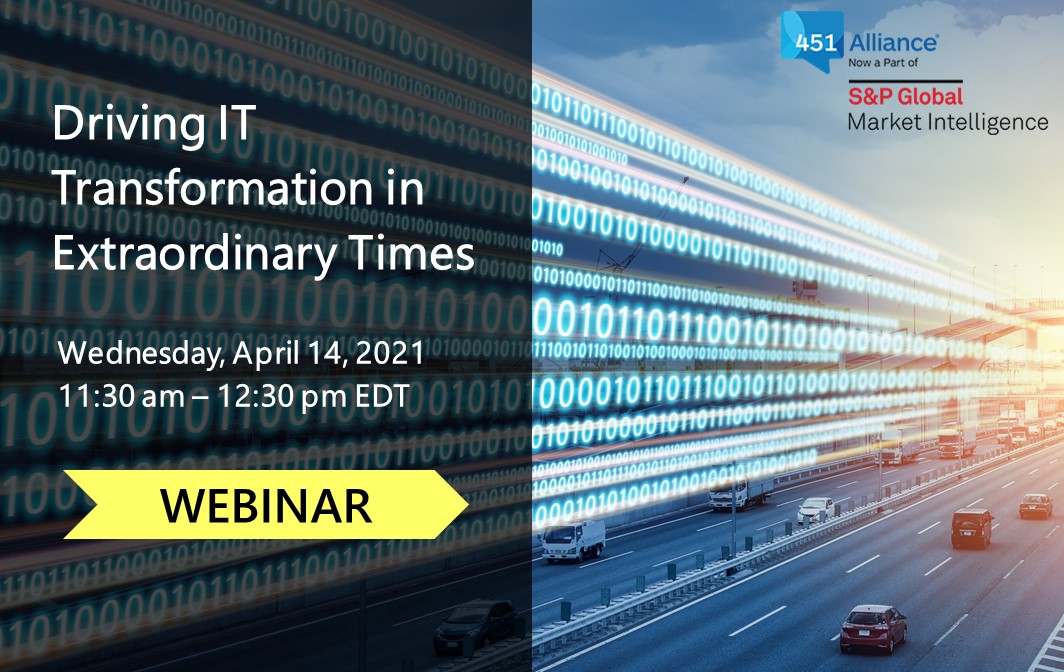 Join us at the upcoming 451 Alliance webinar, Driving IT Transformation in Extraordinary Times, on Wednesday, April 14, 2021 from 11:30 am – 12:30 pm EDT.
451 Alliance members will receive the slide deck and a recording following the presentation.
Not a member of the 451 Alliance? Submit an application to join the IT think tank and enjoy direct access to research insights.
Apply here to see if you qualify for membership:
Webinar Details
One trope of the COVID-19 pandemic is that many IT organizations have undergone as much digital transformation in the last few months as they have in the last several years. Faced with a unique set of challenges – booming demand for digital services for some, an evaporating customer base for others, and many somewhere in between the two extremes – for many organizations the burden of delivery through the pandemic has fallen on the IT department. But as the global vaccine rollout ramps up and the world moves to prepare for a post-pandemic future, attention will inevitably turn to identifying the next challenge for the IT organization.
In this session, Head of Research, 451 Research, Simon Robinson will provide an overview of the changing transformation imperatives for the IT organization. Drawing heavily on 451 Alliance data, this session will look at how different organizations are reacting to the changing business climate, and how this is driving short term tactical shifts, as well as longer term changes in the overall IT strategy.