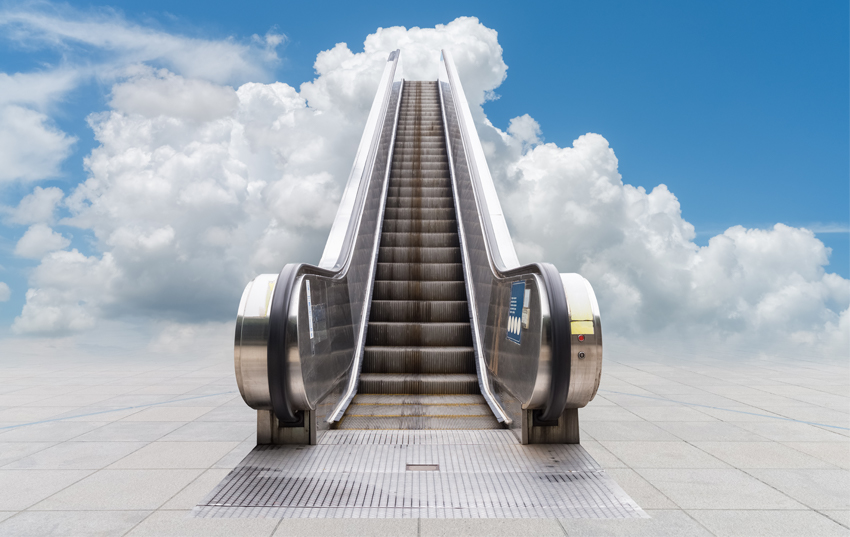 In COVID-19-mired 2020, many organizations saw an accelerated rate of cloud adoption.
In her recent webinar, An Aerial View of Cloud Computing in 2020, Melanie Posey, Research VP for Cloud and Managed Services Transformation at 451 Research, detailed the results of a survey of 451 Alliance members on a range of cloud topics. Posey explored why cloud services continue to grow more ubiquitous across organizations of varying size and sector – even amid a brutal pandemic.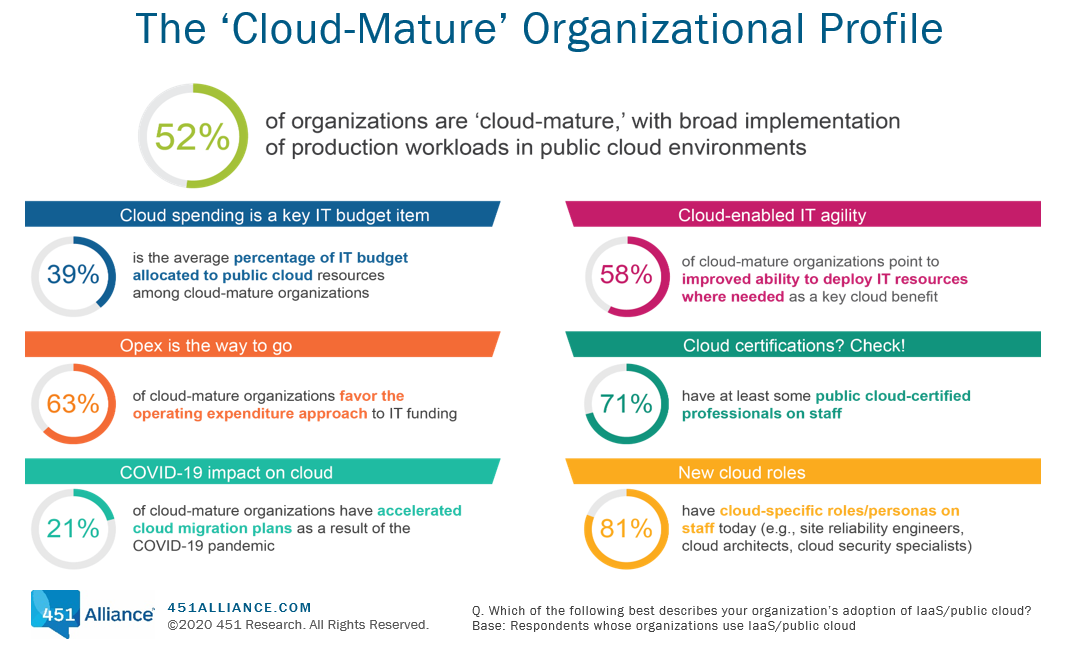 Here we grow again
With more than half of cloud-using organizations now qualifying as "cloud-mature" (up from 44% a year ago), the relative numbers of novices (those in cloud trials or proofs of concept) and intermediates (with perhaps a small number of production workloads in the cloud) are shrinking. Cloud has fully arrived as a mainstream "best execution" venue.
"By 2022, what we're expecting to see is 52% of you all primarily executing workloads in public cloud environments," Posey said, explaining the unabated migration of workloads from traditional on-premises environments to the public cloud.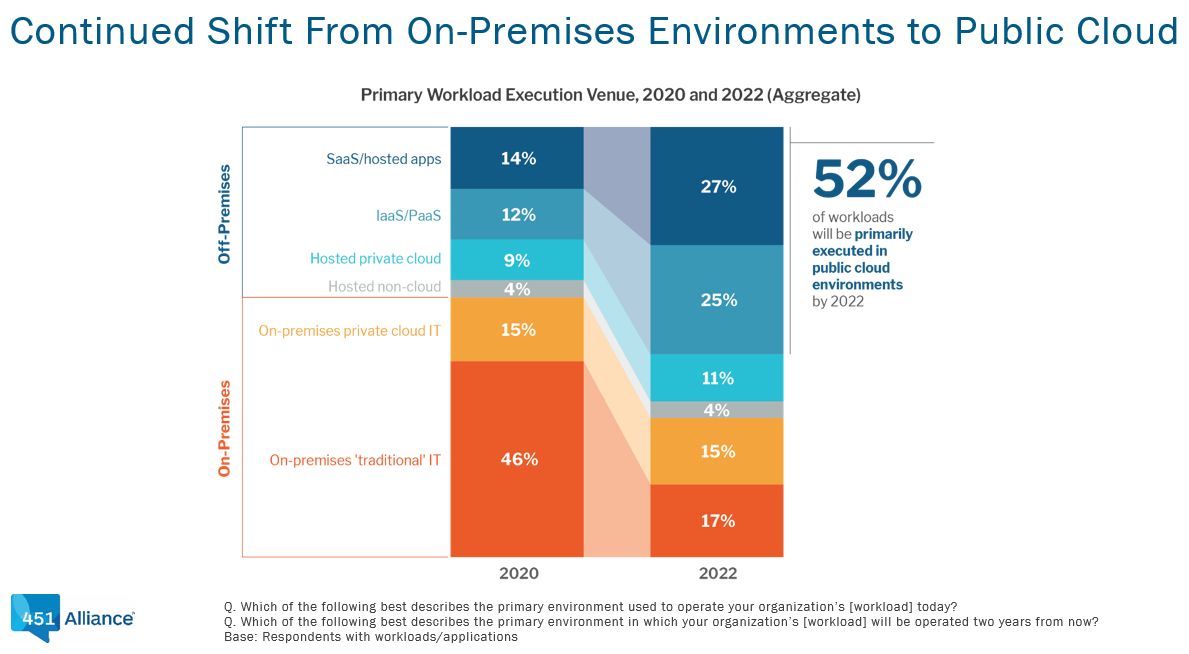 As if to validate those findings, Posey conducted a snap poll on the effects of the novel coronavirus on cloud spending. The poll revealed 60% of respondents to have "significantly" or "somewhat" increased cloud spending during the pandemic, while just 5% reported their spending had dropped.
Increasing complexity ups the ante for GRC
Posey noted that, as cloud configurations become more intricate, entailing hybrid and multicloud deployments, the need emerges for management tools, enhanced security and heightened governance.
"Issues that are not really big factors when operating workloads in a singular, self-contained environment become a big problem when you have a heterogeneous IT estate," she observed.
"Going forward, you'll all probably hear a lot from vendors on cloud management platforms, integration, interoperability and, especially, how to ensure governance, risk and compliance."
Cloud skills: you don't know what you don't know
In evaluating skills gaps associated with the deployment and management of cloud services, the Alliance study revealed that many organizations only learn what they don't know by diving head-first into the cloud pool. "The skills gaps become more apparent as you dig deeper into the endeavor of running applications in the cloud," noted Posey.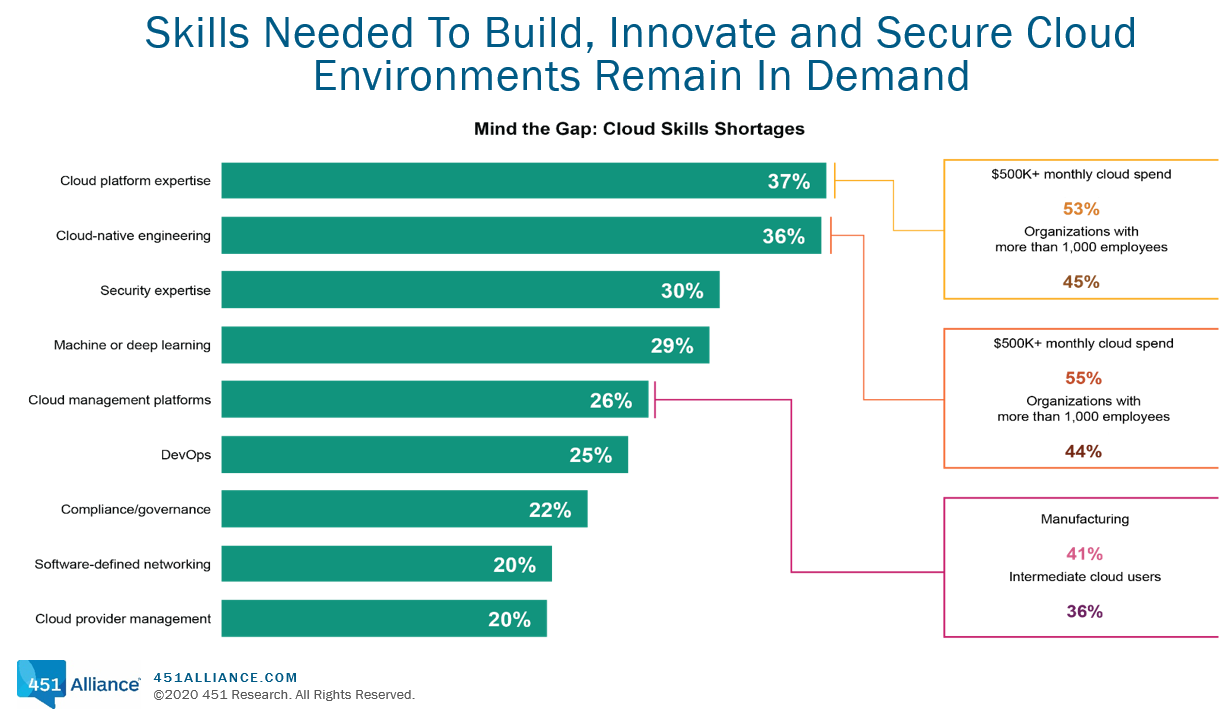 The 451 Alliance study revealed that cloud platform expertise (37%) and cloud-native engineering (36%) topped the list of skills that were lacking. However, "with regard to security, one thing we've noticed in the last couple of years is that you all have definitely stepped up your game in terms of having that security expertise…to run your cloud environments," Posey reported.
Universal…but not yet for everyone
A couple of follow-up questions helped frame a discussion around whether the cloud is a panacea for businesses aiming to achieve business agility and financial flexibility. Posey was quick to disabuse attendees of that notion, reminding them to keep their eyes on the prize by asking, "how will the cloud make this application run better [and be] accessible to more people, improve transaction times….There's no point in moving to the cloud just for the sake of moving to the cloud."
Asked whether and why workloads are sometimes moved to the cloud, then returned to an on-premises environment, she revealed that mistakes are sometimes made, but that remediation is more often an adjustment in strategy than the waving of a white flag.
"Repatriation happens. It doesn't speak to a retreat from cloud as much as [it does] people balancing their IT estates to make sure everything is in the best possible IT environment," Posey concluded.
---
As a member of the 451 Alliance, you can view this webinar and accompanying slide deck at your convenience on the 451 Alliance member portal. This presentation and all our on-demand content are available exclusively (and at no cost) to the IT professionals who have taken part in our invitation-only surveys and interviews.