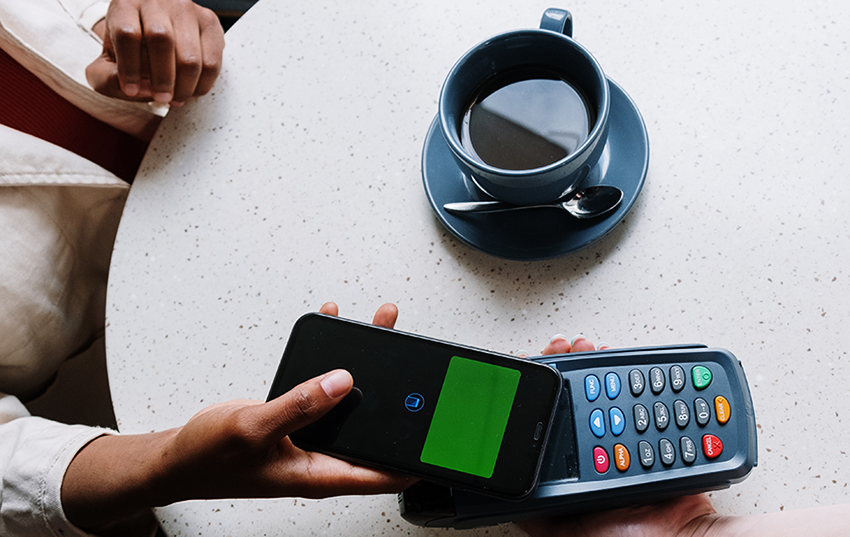 As both brick-and-mortar and online shops enhance their offerings and systems, customer experience has become an even more important focus for retailers. Layer on top of that a global pandemic, and you will find that any previous assumptions about what makes an excellent customer experience are being completely overturned, by alternative checkout methods and ways of interacting with retailers.
Perhaps the biggest commerce headline stemming from COVID-19 is the increased reliance on digital platforms. According to a recent study with the 451 Alliance, 89% of respondents surveyed said they have shopped online in the last 90 days, with many using digital channels to purchase commodities that they typically would have purchased in-store.
In fact, 72% of respondents indicated that they had shifted at least some of their in-store spending online as a result of COVID-19. Omnichannel shopping experiences – which integrate the consumer experience across digital and in-person platforms – have been a key driver of this conversion.
Revamping the omnichannel shopping experience
Some of the new developments to integrated omnichannel shopping strategies include:
Curbside pickup
Buying online and picking up at the store has been one of the most popular purchase experiences this year, and for good reason. Target, for instance, saw utilization of its curbside pickup service increase by 734% through the first half of 2020.
According to 451 Research, 30% of respondents tried curbside pickup for the first time over the past 90 days, with high rates of new user adoption occurring across all age brackets. This includes 24% of consumers aged 73 and older who identified as new users. Satisfaction rates for first-time users sit at 96%, indicating a strong likelihood for repeat use.
Mobile order ahead
Nearly one in five (19%) of respondents tried mobile order ahead for the first time over the past 90 days. This experience has been particularly popular in quick-service restaurants, as fast-food restaurants have turned to their customer-facing apps to keep their stores functioning in light of social distancing requirements.
Wendy's, for example, saw its digital sales double between the end of 2019 and Q2 2020. Like curbside, new user satisfaction for mobile order ahead is extremely high (95%), pointing to its long-term potential.
Delivery services
Delivery services such as Postmates, Shipt and Instacart saw first-time adoption by 14% of consumers over the past 90 days. New user adoption was highest among consumers in urban areas (17% urban vs. 7% rural), where delivery services tend to have a wider merchant partner network, increasing their value to users.
Each of the retail channels displayed in the chart below have found great popularity with consumers, quickly achieving high levels of satisfaction with users.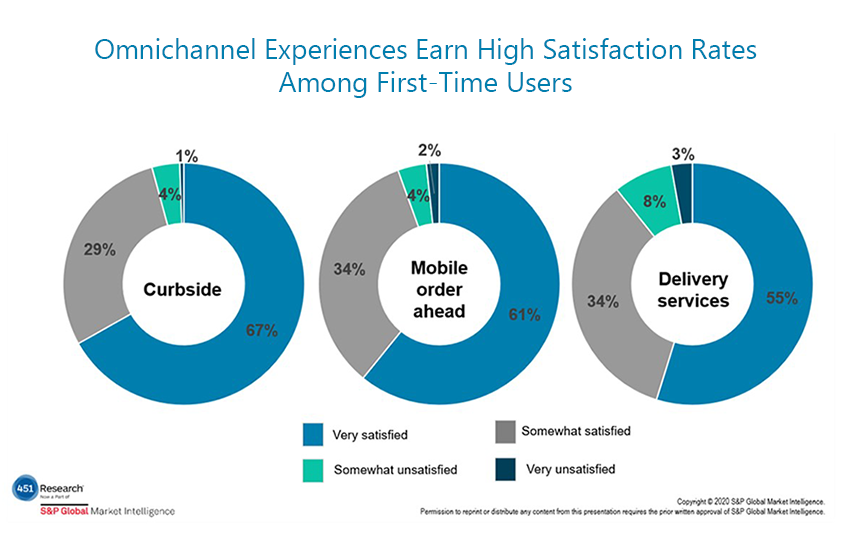 Alternative payment methods are here to stay
Alternative payment methods have also found great success among consumers during this unusual year:
Installments
Installment payment options like Afterpay and Klarna have provided consumers with increased repayment flexibility during a challenging financial period. According to 451 Research, nearly one in 10 consumers tried an installment payment option for the first time during the COVID-19 pandemic. This was comprised of approximately 15% of Millennials. The satisfaction rate for first-time users is high, with 87% satisfied with the experience.
Digital wallets
Seeking options to streamline the checkout process, more than one in 10 respondents began using a digital wallet online, while 29% increased their usage. Across the board, PayPal is firmly in the top spot, with 69% of respondents who used digital wallets online at least once over the past 90 days making a purchase with PayPal. Apple Pay trails at 28%, but is not far off from surpassing PayPal in the Gen Z segment (39% Apple Pay vs. 47% PayPal).
Contactless payments
Many consumers are trying contactless payments for the first time, presumably given the hygienic and social-distancing benefits of tap-to-pay. Of first-time contactless users, 86% report planning to continue making contactless payments, indicating high satisfaction levels. Apple Pay registered as the most widely used digital wallet for in-store purchases in our survey, used by 39% of respondents who had used digital wallets in-store at least once over the past 90 days.
Many of these new developments were ushered in due to changes brought on by COVID-19. However, given the high levels of satisfaction and repeated use, we expect that many changes are here to stay, and will be with us well after quarantine is a thing of the past.
---