While there is still considerable mystique surrounding hyperconverged infrastructure (HCI), studies within the 451 Alliance show an increasing acceptance and adoption of this evolutionary platform.
HCI represents an integrated approach to delivering the traditional compute, storage and networking functions of the datacenter, and it continues to gain traction in a growing number of use cases.
This and other HCI findings were presented in the 451 Alliance webinar Inside the Warp-Speed Evolution of Hyperconverged Infrastructure by Christian Perry, a senior analyst for IT infrastructure at 451 Research. Perry spoke to an audience of Alliance members about observations gathered from the surveys and phone interviews they themselves had participated in.
The appeal of HCI at the edge
That HCI has been shown across many circumstances to greatly simplify system deployment and management – often while reducing cost – may still be lost on some IT decision-makers. "Business leaders don't always understand when they hear 'hyperconverged,'" said Perry. "They have a general sense of what it is [and] what it can provide. But the actual benefits that can be delivered in terms of efficiency aren't always easily explained to business."
But, Perry noted, HCI continues to make inroads in organizations recognizing the need to embrace adaptive technology to solve fundamental business problems. In particular, HCI has begun to enjoy more prominent success in enterprises with edge-based Remote Office/Branch Office (ROBO) IT needs.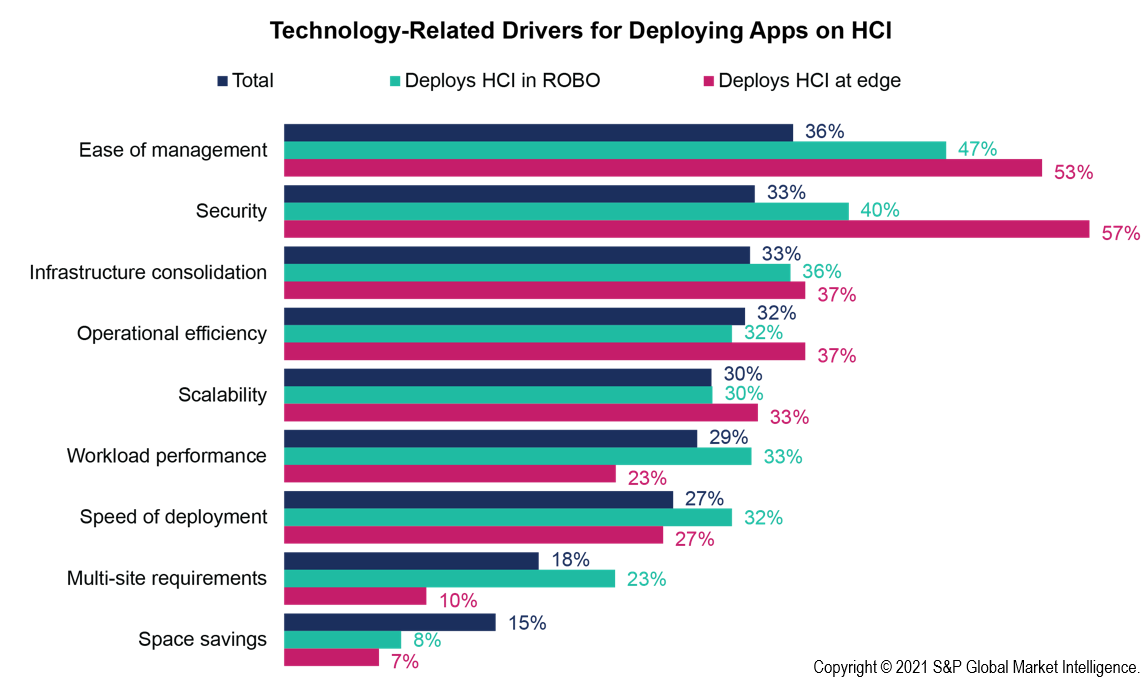 "Where [the data shows] a really big difference between now and three years from now is at the edge, where about one-fifth of larger organizations are deploying HCI. This is an area where we expect to see continued growth for HCI," Perry noted.
He explained that ROBO and edge facilities – bank branches, retail locations and field-based oil & gas work sites, for example – tend to lack personnel with the skills to manage IT systems simply and efficiently. While 36% of all HCI users cite "ease of management" as the top rationale for deploying HCI, that percentage swells to 50% for users servicing ROBO locations.
"The last place where you want storage complexity is at the edge, where you generally don't have a lot of depth in terms of IT resources," Perry remarked.
HCI and hybrid cloud: like hand in glove
The survey also showed strong correlation between HCI and hybrid cloud deployments. Hybrid cloud, or hybrid IT, refers to the amalgamation of on- and off-premises infrastructure, and Perry observed that HCI is being readily adopted to support such integrated IT environments.
"According to our study, 52% of organizations using HCI have hybrid IT architecture currently in place," he observed. "And another 30% are in the process of implementing it."

Ease of deployment and management are, again, at the root of the connection between HCI and hybrid cloud.
"One of the most common complaints [in the use of public cloud] is managing all of the various panes of glass," Perry noted. "And this gets way worse when AWS, Azure, Google Cloud and other clouds are in the mix. In terms of managing infrastructure, HCI is doing an admirable job of cleaning all of this up and, I think, making the experience more holistic."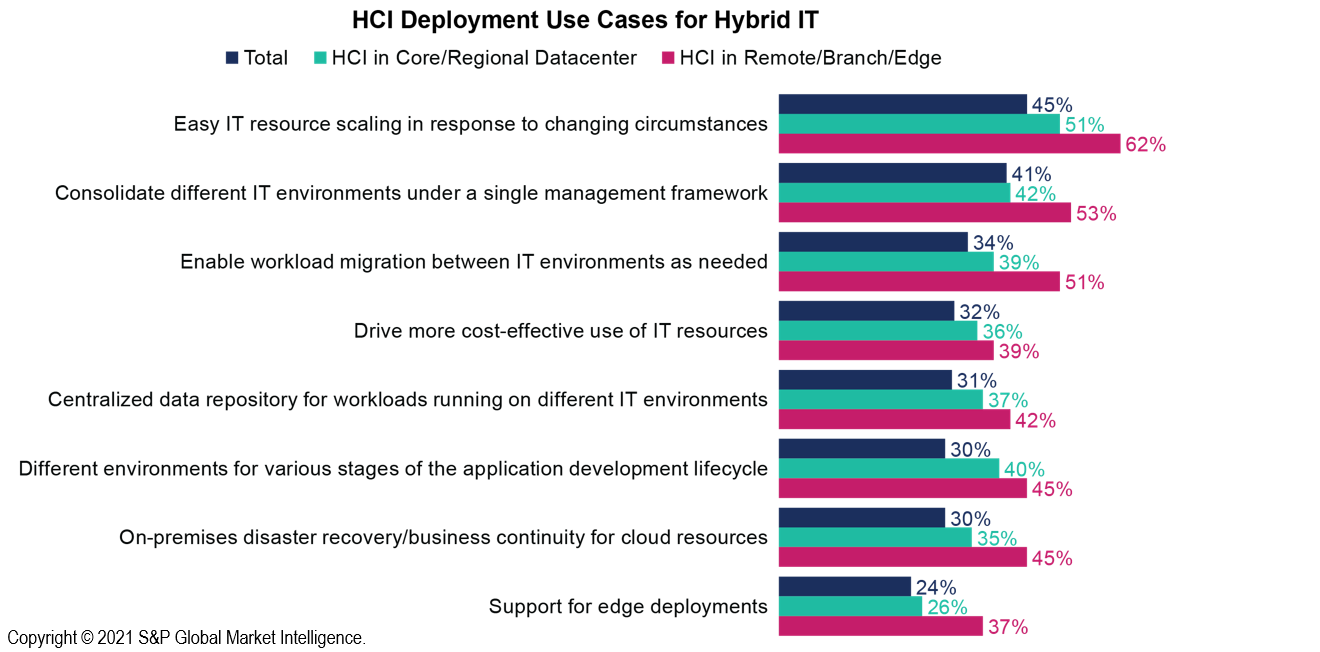 Delivering value in a hybrid environment
Alliance members using HCI in support of hybrid IT "appear to be overwhelmingly satisfied," said Perry, reporting 97% of respondents indicated that HCI exceeded or met expectations for hybrid IT.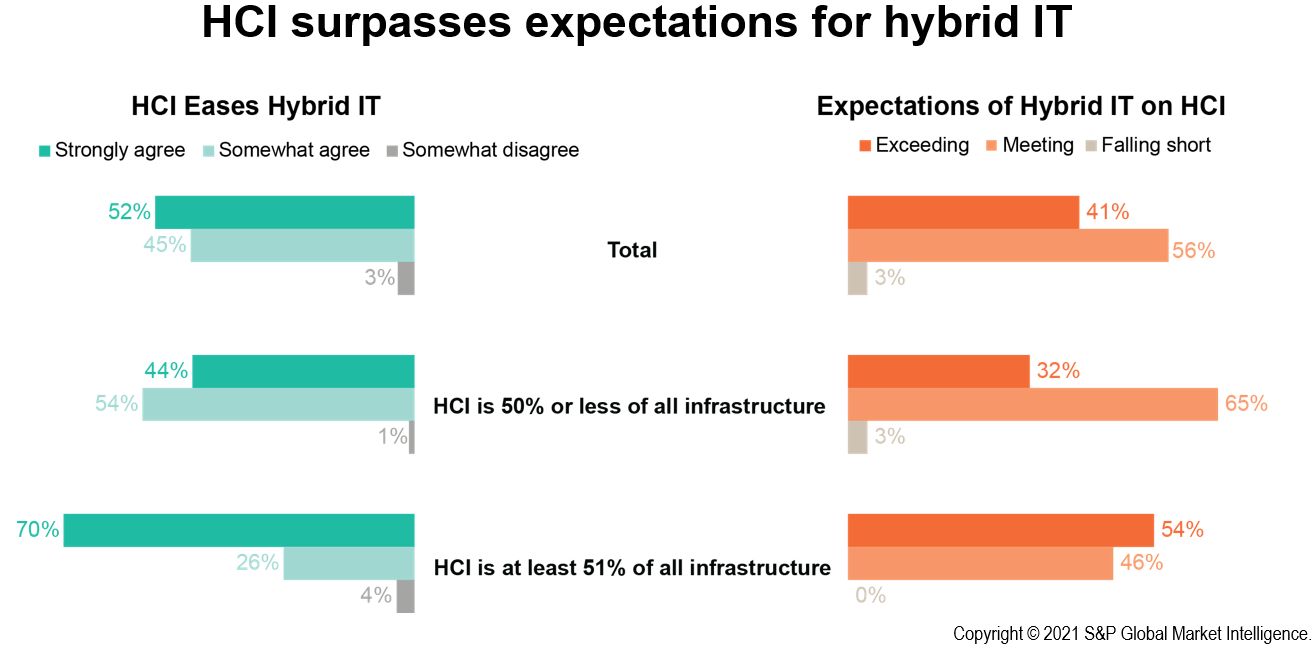 And that level of satisfaction seems to grow in lockstep with HCI saturation levels. While two-thirds of all survey participants called their HCI return on investment "very positive," the percentage jumps dramatically – to 84% – among users for whom HCI comprises at least 51% of their overall IT infrastructure. "The more you're using HCI as a percentage of your infrastructure environment (or environments, in the case of hybrid IT), the more likely you're going to get your money's worth," said Perry.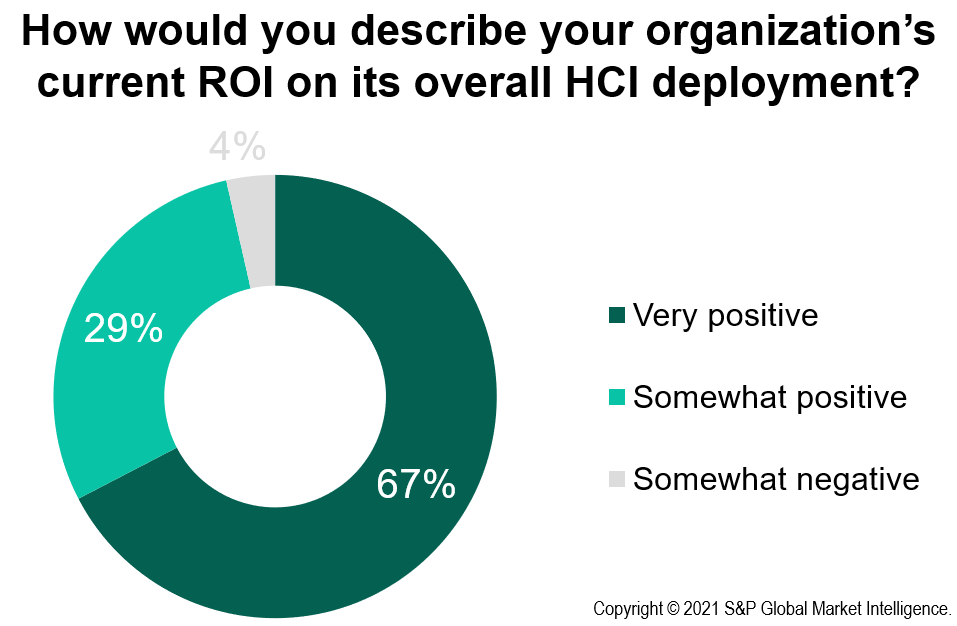 As a member of the 451 Alliance, you can watch Inside the Warp-Speed Evolution of Hyperconverged Infrastructure at your convenience. In fact, all 451 Alliance webinars and research reports are available through our member portal for on-demand viewing, at no cost to Alliance members. It's our way of thanking you for your contribution of IT knowledge and experiences through participation in our quantitative and qualitative studies. We appreciate and welcome your continued participation!