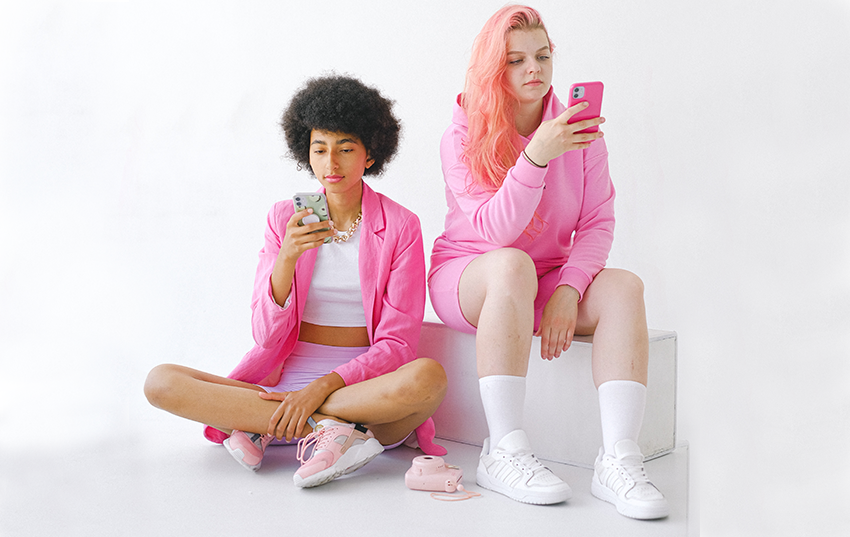 Since 2007, 451 Research has been chronicling the rise of Apple's iPhone. Yet, despite its overwhelming popularity and undeniable influence, only half of the U.S. market has jumped onboard. Over that time, there have been many new entrants, but only Samsung has emerged as the principal long-term alternative to Apple. But the times, they are a-changing.
Current Smartphone Owners
Generation X and Baby Boomers are similar in their smartphone preferences. Just over 40% of each group own an Apple and just under 35% own a Samsung, the strongest competition between manufacturers among generational age groups. Millennials and the Greatest Generation lean more toward Apple, with 51% and 48%, respectively, owning an iPhone. Still, there is a strong presence from Samsung among both groups, with 32% and 29% ownership, respectively.
Generation Z is where things change drastically. Among this age group, a whopping 83% of respondents say they own an iPhone compared to just 10% who have a Samsung device. This makes Gen Z the age group most entrenched in the Apple ecosystem.
The survey was conducted of U.S. adults, so only the oldest of Gen Z are included in these results. However, assuming this trend holds true among the teenagers of Gen Z, then we should expect to see a steady increase in Apple's share of the U.S. adult population each year as more members of Gen Z come of age.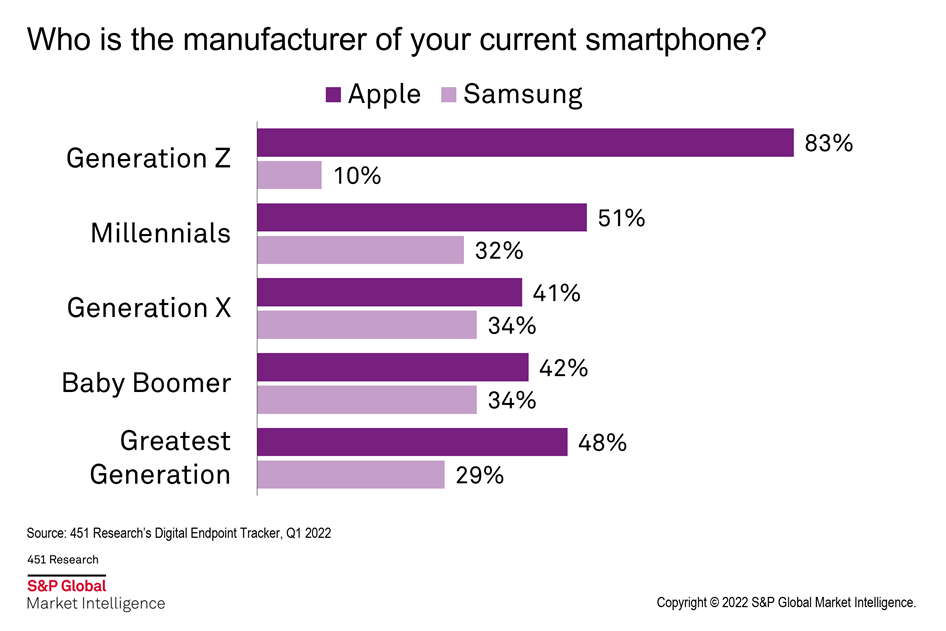 Among Apple users, the iPhone 11 is the most owned device across all age groups. Generation Z (20%) has the highest ownership rate, while Greatest Generation (9%) has the lowest (the iPhone 7, also at 9% is tied as the top Apple device for this cohort). Gen Z's usage of the iPhone XR (12%) is the only other Apple model to reach double digits.
The results for Samsung users are a bit more spread out. The Galaxy S21 series is most used by Millennials (26%) and Gen Z (18%), with the Galaxy A series second (14% and 10%, respectively). Also tied for second among Gen Z is the Galaxy A series 5G (10%). Generation X's top device is evenly split between the Galaxy A series (17%) and Galaxy S21 series (16%). For the Greatest Generation (20%) and Baby Boomers (16%) the Galaxy A series is most used with the Galaxy S21 series second (11% for both).
Planned Smartphone Buyers
Overall, the survey found Apple owners to be the most loyal; 87% of Apple owners who plan to buy a new phone in the next 12 months said they will buy another iPhone. This is higher than Samsung (74%) and all the other top manufacturers. Interestingly, there is an even swap between Apple and Samsung, since 8% of current Apple owners plan to buy a Samsung and 8% of current Samsung owners plan to buy an Apple.
This high brand loyalty helps explain why the smartphone buying environment so closely mirrors what is seen among current owners. Planned buyers in Gen Z heavily favor Apple (81%) over Samsung (10%). Millennials (48% to 33%), Generation X (38% to 36%) and Baby Boomers (40% to 33%) all favor Apple over Samsung as well, but the two brands are much more competitive within those age groups. The Greatest Generation is the only group with a wider gap among planned buyers than current ownership in Apple's favor (44% to 18%).
Importance of Features
Camera quality was cited as the most influential device feature across all age groups – but it was highest among Gen Z. Gen Z also favored water resistance, its second most important feature, more than any other group. Millennials and Generation X favored large internal storage capacity, also their second most important feature, more than any other cohort. For Baby Boomers and the Greatest Generation, durability/shockproof was their second most important feature, which they also valued more than any other group.
Interestingly, almost one quarter of the Greatest Generation said no specific features influence their purchasing decisions, by far the most of any generational group. Likewise, when asked if there were any features that would motivate them to purchase a smartphone sooner than planned, more than half of the Greatest Generation said nothing would make them purchase sooner. This was also more than any other age group. For all other groups, a phone that fully charges in under an hour was the main feature that would motivate them to buy a new phone sooner than planned.
---