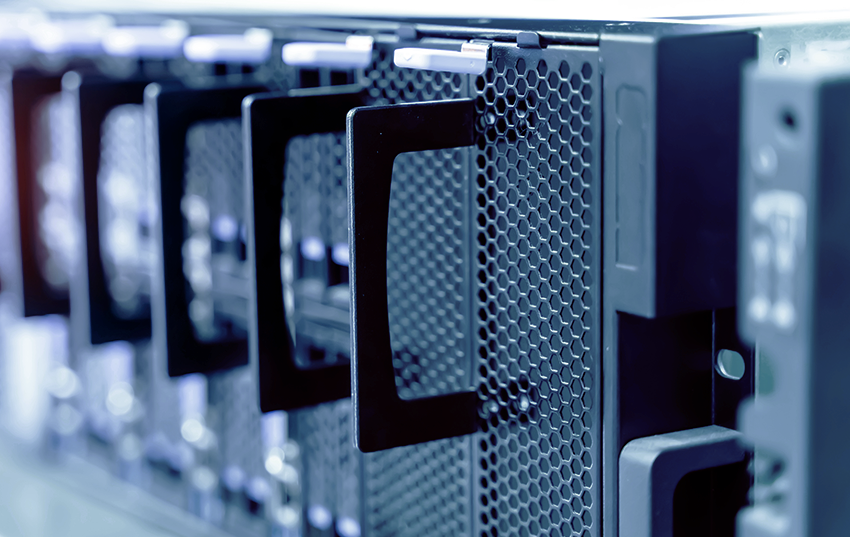 Organizations are looking for more agile, responsive and dynamic wide-area network (WAN), according to 451 Research, a part of S&P Global Market Intelligence. In an IT environment seeing higher levels of hybrid multicloud adoption and increasingly distributed data and applications, flexible and on-demand models of networking seem to be top-of-mind as organizations bear the brunt of coordinating multiple cloud environments and networks.
Younger organizations, those less than 10 years old, seem the most interested in more flexibility, indicating that the demand for cloud-native networking will continue to increase as more companies are "born in the cloud."
Networking going cloud-native is the next stage of IT evolution, following the footsteps of computing and storage. This process dates to the early 2010s, with the software-defined networking craze, and now takes shape as a more flexible, instantaneous automated network driven via software commands. Changes can be made in hours or seconds, as opposed to the weeks associated with traditional telecom services. "Cloud-native WAN" is what 451 Research uses to define the several forms of network as a service that have emerged for this exact purpose. This dynamic, agile networking is especially relevant now, as organizations adopt hybrid multicloud approaches and edge computing.
Younger organizations' need for agility
In a recent, about 16% of respondents who were knowledgeable or directly involved in networking services decision-making at their organization said they continually made changes to wide-area or middle-mile networking (at least once per hour). Another 21% said they made changes daily.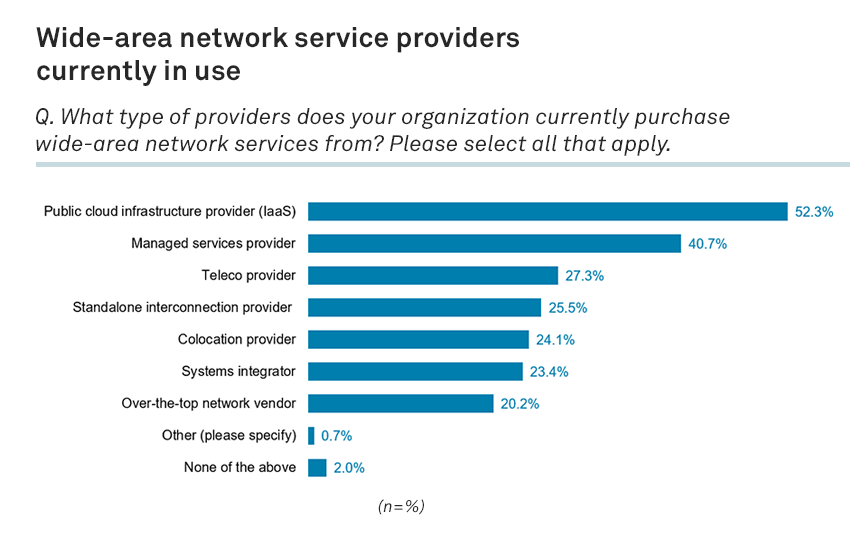 This seems to be an even more noticeable phenomenon for younger organizations, with 56% of those respondents saying they are making changes daily or more frequently.
Cloud providers as core networking providers, but telcos remain relevant
Seventy-six percent (76%) of the respondents surveyed said they used multiple service providers, and 52% said they bought WAN services from public clouds. Yet services offered by public cloud providers are limited and cannot entirely replace those offered by telcos. A smaller number of organizations (42%) said they were using telecom providers for WAN services, although some may be using them indirectly through other providers such as managed services providers (41%) or systems integrators (23%).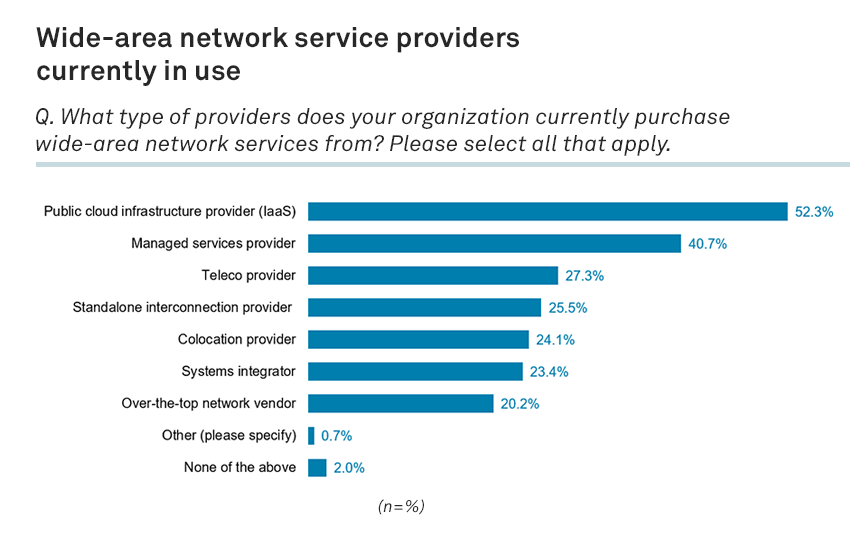 Telco products, however, are still relevant for organizations. Twenty-two percent (22%) of respondents said their organization plans on purchasing virtual private networking services in the next 12 months, while 18% plan to buy multiprotocol label switching services. Forty-two percent (42%) of respondents also still use VPNs in their datacenter and cloud networking portfolios.
Multicloud is complex, and cloud-native WAN provides options
Cost was mentioned by 34% of respondents as the primary obstacle when purchasing network services. Challenges relating to complexity were not far behind, such as dealing with multiple service providers (chosen by 30% of respondents), facing the operational complexity of multicloud connectivity (30%) and requiring connection to multiple silos of data (29%).
One challenge for traditional networking providers is the emergence of several new models in the business. For example, stand-alone interconnection providers were used by 26% of respondents, while over-the-top network startups were used by 20%. Furthermore, for 24% of organizations, their colocation provider doubled as their networking provider, due to some datacenter providers offering network fabrics that can reach the cloud.
Edge drives further networking spending
A sizeable 91% of respondents said that edge technology has driven their organization to increase investments in network service, which makes sense considering edge deployments require a presence in the field that needs to connect back to a datacenter or the cloud. Edge, however, could prove to be a larger headache as edge deployments in multiple locations may add yet another layer of complexity to a situation many already find challenging enough. Tools for managing network services from multiple vendors have emerged, and most organizations (91%) view those as helpful, but they are still in the early stage and perhaps not fully ready for real-world use dealing with disparate networks.
---
Want insights on cloud computing trends delivered to your inbox? Join the 451 Alliance.